Garlic Mashed Potatoes______
Garlic mashed potatoes are everyone's favorite! Mashed potatoes need not be perfectly smooth.  In fact, a few small lumps improve the texture and taste.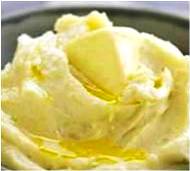 How much garlic to use  depends of course on you and your guests taste, and the amount of potatoes.  Garlic lovers say "the sky's the limit" but too much raw garlic can be bitter, peppery and can overwhelm the potato and butter flavors. 
A safe bet is 1 large garlic clove per pound of potatoes.   Add more as needed.  Pressed and minced garlic, as opposed to chopped, produces a stronger garlic flavor. 


There are different ways to infuse garlic flavor into your mashed potatoes. 
-Some recipes call for adding whole or roughly chopped garlic cloves to the water used to boil the potatoes.

-Other recipes call for adding finely minced raw garlic to the final mashed potatoes. 



-Other recipes instruct to simmer chopped or whole garlic cloves in the milk or cream used to finish the potatoes.  
-My favorite method is to briefly saute finely minced garlic in butter and add to the mashed potatoes.   
-As a last resort, add 1 1/2 teaspoons of garlic salt or less of garlic powder to the almost finished potatoes
-Potatoes can be mashed up to 2 hours in advance.  Place in a 350º F oven for about 30 minutes before serving or reheat in a bowl over a pan of simmering water. 


Rich Garlic Mashed Potatoes
Serves 4-6
3 pounds Russet or Yukon Gold potatoes, peeled and quartered
2-3 tablespoons butter
1/2 to 1 cup heavy cream or half and half
3-6 garlic cloves, finely minced
Kosher salt and freshly ground black pepper, to taste
Pinch nutmeg (optional)
 Put potatoes into a large pot of cold, salted water, covering potatoes by 2-inches.  Bring to a boil and cook potatoes until fork tender (about 20-25 minutes after water comes to a boil). Drain well.  Return potatoes to the cooking pot and dry them over low heat for a few minutes.
While the potatoes are cooking, melt the butter in a small pan.   Over low heat cook the garlic until it begins to soften.  Do not allow to brown.   Slowly add the cream to the pan and bring to boil.  Immediately remove from heat.  Allow the cream and garlic to stand for several minutes while the garlic infuses the cream with its flavor.
While potatoes are still hot, add a little of the cream, garlic, butter mixture.  Coarsely mash them together with a potato masher or fork until the desired texture is obtained. Add more cream mixture if potatoes are too dry.
Taste.  Add salt, pepper and nutmeg if using.

If you are a roasted garlic fan try this:
1 head garlic, cloves separated and peeled
Olive oil
Heat oven to 350º F, place cloves on a foil lined cookie sheet and drizzle a tablespoon of olive oil over the cloves and stir to coat. 

Roast for 20 to 30 minutes until well browned and soft.  Place slightly cooled cloves in a small bowl and roughly mash with a few more drops of olive oil. 
Following the Rich Garlic Mashed Potatoes recipe, substitute the roasted garlic for the raw garlic cloves. Stir in 1/4 cup Parmesan cheese (optional) towards the end of mashing.


Lower Fat Garlic Mashed Potatoes
Serves 2-4
2 pounds potatoes, cut into 1-inch chucks
1 1/2 cups lowfat milk
3 tablespoons margarine
4 cloves garlic, minced
1/8 teaspoon salt
1/8 teaspoon pepper
In large saucepan cook potatoes in 2 inches boiling water, covered, about 10 minutes until tender; drain thoroughly, then shake potatoes over low heat 1 to 2 minutes to dry thoroughly.
Mash potatoes with potato masher or beat with electric hand mixer.  Meanwhile place milk, margarine and garlic in small saucepan; set over medium-low heat and simmer until heated through. Beat into potatoes until thoroughly mixed and fluffy.
Mix in additional milk, if necessary, to reach desired consistency. Season with salt and pepper.


Dairy-Free Garlic Mashed Potatoes
Serves 2-4
2 pounds russet or Yukon Gold potatoes, unpeeled
8 large peeled garlic cloves
Extra-virgin olive oil
Salt and pepper to taste
Cover the potatoes and garlic cloves with cold salted water. Bring to a boil, partially covered, and cook for 30 minutes, or until tender.   Drain the potatoes and garlic reserving the cooking water.  Boil the potato water and reduce to 1 cup.
Peel the potatoes and mash with garlic cloves in the cooking pot.  Over heat whisk in enough potato water to bring the potatoes to a thick, creamy consistency.   Add olive oil to taste.  Season with salt and pepper.