Cooking for a Crowd E-Book

______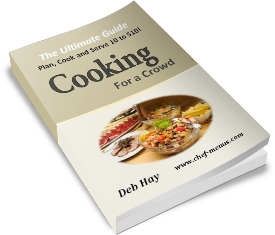 Cooking for a Crowd - The Ultimate Guide


What's Inside?

I have had the great pleasure of publishing Chef-Menus.com for almost 10 years.  Through the years I have received hundreds of questions from website visitors.  Many of the questions are from an impressive number of everyday people who are cooking for crowds of 100 or more!

These extraordinary food lovers are cooking for fundraisers, church functions, holiday celebrations, awards dinners, wedding receptions, community gatherings and family reunions. 
They are typically unpaid, non-professional volunteers who show a diligence and dedication that is truly awesome.  It has been my great privilege to assist them.

This book is dedicated to these "Kitchen Warriors"

Thank you for the inspiration,

Chef Deb

Back to Cooking for a Crowd Ebook
Table of Contents
Introduction

Ready...Set...Plan!

Help!

Budget Talks

The Purpose

The People

Special Dietary Information

Dates, Times and Menus

Where Do You Cook for a Crowd?
The Menu Planning Process

Practical Selection

Courses Rule

Service Styles

The Well Balanced Table

Menu Ideas to Get You Started

Planning Beverages

What To Serve

Serving Alcohol

Don't Forget the Ice

Estimating Food Quantities

Recipes and Cooking for a Crowd

Portion Sizes

Planning for Extra

Food Costs and Purchasing

Costing a Recipe

Purchasing In Bulk

Get Organized!!

To-Do Lists

Kitchen Readiness

Cooking in Advance

The Big Show

Food Safety – First and Foremost

Make a Schedule

Transporting Food

Bringing It All Together - Food Prep and Production

Setting Up A Buffet Table

Tips for a Seated Service.

The Finish Line

Exclusive Food Quantities Chart