Easy Finger Sandwiches

These easy finger sandwiches are light and a cinch to prepare. Finger sandwiches are the most requested party food. The possible combinations of fillings and breads are endless. Perfect on a brunch menu, baby shower menu, bridal shower brunch or birthday party buffet.
See All About Finger Sandwiches for tips and hints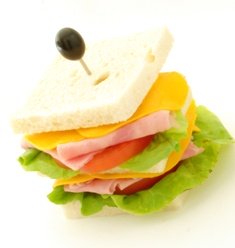 Monte Cristo Sandwiches
Makes 6 whole sandwiches or 24 finger sandwiches

1/4 cup butter; softened or 1/4 cup mayo
2 teaspoon prepared mustard
12 slices white bread; French or Italian, thick slices, slightly stale is preferable
6 slices Swiss cheese
6 slices cooked ham and/or 6 slices cooked turkey breast
Butter; for frying
In a small bowl beat together the butter [or mayo] and mustard until well
blended. Spread on one side of each slice of bread. For each sandwich, top
the non buttered side of bread with a slice of cheese, a slice of ham and/or turkey. Place the second slice of bread, butter side facing up.
Brown both sides of the sandwich on a lightly buttered frying pan or griddle until golden brown. Slice each sandwich in half and serve hot.
Grilled Sweet Onion and Arugula Sandwiches
Makes 20 finger sandwiches or 10 large sandwiches on hard rolls
1/2 cup olive oil
1/2 teaspoon Kosher salt plus more for sprinkling
1/2 teaspoon freshly ground black pepper plus more for sprinkling
3 large sprigs fresh rosemary
3 large sprigs fresh thyme
3 large Vidalia onions, peeled and sliced 1/2 inch thick
1/2 cup mayonnaise
20 medium slices firm textured wheat bread or !0 whole grain or Kaiser rolls or buns
5 ounces arugula leaves, washed and dried
Prepare a grill or turn on the broiler. In a small bowl mix together the oil, salt and pepper and herb sprigs. Place onion slices in a glass baking dish or large Ziploc bag. Evenly pour the marinade over them. Cover baking dish with plastic wrap or seal bag. Allow to marinate for no more then one hour. Grill the onion slices for 6-8 minutes or cook under the broiler turning once, until they are just tender and slightly charred. Assemble sandwiches by spreading mayonnaise on both sides of the bread slices or rolls. On the bottom of each piece of bread, layer arugula leaves and a slice or two of onion. Sprinkle with salt and pepper and top with remaining bread slices. Cut each sandwich in half or serve whole if using hard rolls.
No real recipes here folks, just ideas for tasty combinations for perfectly easy finger sandwiches. The choice of bread is up to you. See Finger Sandwich Basics for more help
---
Whipped cream cheese with chives, spread on both sides of bread, pepperoni slices, sun-dried tomato slivers, thinly sliced black olives
Chopped cooked shrimp mixed with spicy remoulade sauce, baby spinach leaves
Smoked salmon, cream cheese, red onion, cucumber, black olives, watercress
Egg salad made with chopped chives, mayo and mustard
Turkey, Havarti cheese, jarred roasted red pepper, basil leaves, balsamic vinegar
Refried beans, ground cumin, chili sauce, chopped cilantro, extra-sharp cheddar cheese
Soft butter spread, thin sweet onion slices, blue cheese crumbles
Tomato slices, hard boiled egg slices, mayo, black pepper
Tomato slices, chopped raw onion, basil
Chunk tuna, mayo, mango slices, green onion slices
Mini crab cakes, remoulade sauce, chopped green onion

Mini muffulettas. Use Italian sliced bread and cut into finger sandwiches or use small rolls
Roast beef slices, mixture of chopped onion, golden raisins and green olives, Jack cheese
Hummus, minced roasted garlic, olive oil, chopped cilantro
Roast beef, pesto, garlic salt
Strawberry preserves and cream cheese.


Egg and Watercress Sandwiches
For 30 finger sandwiches use:
4 medium eggs,boiled, cooled, shelled and finely chopped
1 cup watercress finely chopped
4 tablespoons mayonnaise
Salt and black pepper
3 tablespoons butter, softened
10 medium slices white bread
Combine finely chopped eggs, watercress, and mayonnaise. Add salt and pepper to taste. Spread butter, then egg mixture evenly over 5 bread slices. Top with remaining bread slices. Using a serrated knife, cut off crusts. Cut each sandwich in half, the then cut each half into 3 even fingers. Serve chilled




Cucumber and Parsley Tea Sandwiches
Makes 30 finger sandwiches
1/2 cucumber, peeled and thinly sliced
1/2 teaspoon salt
6 tablespoons butter, softened
10 medium slices white bread
White pepper to taste
2 tablespoons finely chopped parsley or chervil
Place cucumber slices in a colander. Sprinkle with salt and cover and let stand for 1 hour. This removes excess moisture from the cucumbers. Pat cucumber dry with paper towels.
Spread all the bread slices evenly with the butter. Top 5 bread slices with the cucumber. Sprinkle with white pepper and parsley. Top with remaining bread slices. Using a serrated knife, cut off crusts. Cut each sandwich in half, then cut each half into 3 even fingers. Serve chilled


Old-Fashioned Egg Salad
Makes 36 finger sandwiches
1/4 cup Mayonnaise
2 teaspoons Lemon juice
2 teaspoon minced shallots
1/4 teaspoon Salt
1/4 teaspoon Pepper
6 Hard-cooked eggs, chopped
1/2 cup Finely chopped celery
12 medium slices white bread
In a bowl, combine mayonnaise, lemon juice, shallots, salt and pepper. Stir in eggs and celery. Cover and chill. Spread egg mixture evenly over 6 bread slices. Top with remaining bread slices. Using a serrated knife, cut off crusts. Cut each sandwich in half, then cut each half into 3 even fingers. Serve chilled


Dilled Chicken Salad Pitas
Makes 8-10 mini sandwiches
3/4 cup mayonnaise
1/4 cup Dijon-style mustard
1 teaspoon dried dill weed
1/4 teaspoon pepper
2 1/2 cups diced cooked chicken or 2 (10 oz) cans premium chunk chicken
3 green onions, sliced (1/4 cup)
Lettuce leaves
8-10 mini whole wheat Pita rounds

In medium bowl combine mayonnaise, mustard, dill weed and pepper. Stir in chicken and green onions. Line each pita round with a lettuce leaf. Stuff chicken salad into mini pitas.
Go to top of Easy Finger Sandwiches