Crab Cakes and Delicious Sauces
Do you know anyone who doesn't love crab cakes?  Use these simple crab recipes for a brunch or lunch buffet.  Serve with any of our tempting sauces, mango, remoulade or green goddess.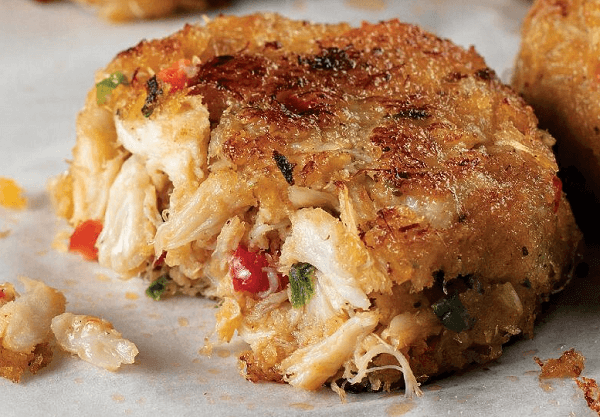 Helpful Hints
Backfin and claw meat are good for mini crab cakes because the size of the pieces are small.  Use lump crabmeat for the full-size version. 
Inspect fresh crabmeat and remove any shells and cartilage
Add mayonnaise a little at a time until crab mixture just holds together but is not too moist.

Pan cooking, make sure cooking oil is hot. To test, splash a few drops of water in the oil.  Stand back!  The water should immediately bead and bounce on the surface and then evaporate
Appetizer, serve 3-4 mini cakes per person



Make Ahead Tips
This dish is best served immediately after cooking but follow these tips to make crab cakes in advance:
One hour ahead:  Cook as directed.  Drain on paper towels and let cool completely.  Wrap each cake tightly in plastic wrap and refrigerate.  Just before serving, unwrap and place on a baking sheet and reheat in a 400º oven for 5 minutes or less. 
Two to three hours ahead: Coat with flour and bread crumbs.  Store loosely covered in the refrigerator.  Fry while cakes are cold, adding 1 minute or so to cooking time

One day ahead: Shape the crab mixture into cakes.  Do not coat and do not cook. Store in a tightly covered container between sheets of wax paper.
 
One month or less ahead: Freeze coated crab cakes, individually wrapped first in plastic wrap then in foil.  Bake from frozen, increasing cooking time by about 3-5 minutes.
Mini Crab Cakes Recipe
Makes about 20
1/2 pound crab meat, backfin or clawmeat
2 shallots, finely minced
1 small garlic clove, finely minced
1 teaspoon Old Bay seasoning
1 teaspoon lemon juice
1/2 teaspoon Worcestershire sauce
3 tablespoons mayonnaise
1/2 cup fresh breadcrumbs
Salt and black pepper
Preheat oven to 400 F.  Mix crab, onion, garlic, dry mustard, red pepper, Worcestershire sauce, lemon juice and mayonnaise.  Add enough bread crumbs to bind, about 2-4 tablespoons. Add salt and pepper to taste.
Using a teaspoon, shape mixture into about 20 walnut-sized balls. Spread remaining breadcrumbs onto a plate and roll balls lightly in crumbs to evenly coat. Slightly flatten and place on a greased baking sheet.  Refrigerate until firm, about 30 minutes.
Bake crab cakes until crisp and golden, about 10 minutes. Cool to warm or room temperature.



Lump Crab Cake Recipe
Makes 6
1 1/2 pounds lump crab meat
1 1/4 cups dry bread crumbs
4 1/2 tablespoons mayonnaise
1 tablespoons Dijon mustard
3/4 teaspoon Tabasco sauce
1 1/4 teaspoons salt
Pinch fresh-ground black pepper
Flour for coating
2 eggs, beaten
Cooking oil -- for frying
In a medium bowl, combine the crab, 1/4 cup of the bread crumbs, the mayonnaise, mustard, Tabasco sauce, salt and pepper. Shape the mixture into 12-16 3/4-inch-thick cakes, about 1/4 cup each.
Place flour, beaten eggs and bread crumbs into three flat plates.  Dust the cakes with the flour and pat off the excess. Dip each cake into the eggs, allowing the excess to flow back into the plate.  Dip into the remaining bread crumbs, making sure to coat completely
In a large nonstick frying pan, heat about 1/2 inch of oil over moderate heat. When the oil is hot, add a few of the cakes and fry until golden brown and crisp, 2 to 3 minutes.
Turn the cakes and fry them until golden brown on the other side, about 2 minutes longer. Drain on paper towels.
Crab Fritters
Makes about 15 fritters
Deep fried mini crab cakes!  Serve with Green Goddess dressing.  

2 cups claw or backfin crabmeat
1/2 cup mayonnaise
1/2 teaspoon freshly ground black pepper
1 tablespoon lemon juice 
1 1/2 cups panko bread crumbs
Vegetable oil, for frying
Heat vegetable oil in a deep fryer or Dutch oven to 375F.  

In a bowl combine crabmeat, mayonnaise, pepper and lemon juice. Form into 1-ounce balls. Roll in panko to evenly coat. Deep-fry fritters in until golden brown, about 5 to 7 minutes.  Drain on paper towels and serve immediately.  

Easy Green Goddess Dressing
Makes about 2 cups
Also delicious as a veggie dip or with salad greens

2 small garlic cloves, minced
3/4 cup mayonnaise
3/4 cup sour cream or Greek yogurt
1/2 cup chopped parsley
1/4 cup chopped tarragon or basil
3 tablespoons chopped chives or finely chopped green onions
2 tablespoons lemon juice
Salt and black pepper to taste
Put all of the ingredients in a blender or food processor and blend until smooth.  Store in the refrigerator for up to 10 days.  
Mango Salsa
Makes about 1 cup, doubles easily
1 mango, finely diced
1/2 medium red onion, finely diced
1 fresh green chile, seeded and finely diced
Juice of 1 small lime
Salt and pepper to taste.  Mix all ingredients until well blended. Add salt and pepper to taste.  Serve chilled or at room temperature


Remoulade Sauce #1
Yields about 2 cups
1/4 cup fresh lemon juice
3/4 cup vegetable oil
1/2 cup chopped onions
1/2 cup chopped green onions
1/4 cup chopped celery
2 tablespoons prepared horseradish
3 tablespoons Creole or whole-grain mustard
3 tablespoons prepared yellow mustard
3 tablespoons ketchup
3 tablespoons chopped parsley
1 teaspoon salt
1/4 teaspoon cayenne pepper
1/8 teaspoon freshly ground black pepper
Combine all the ingredients in a food processor with a metal blade and process for 30 seconds.  Will keep for several days in an airtight container in the refrigerator.


Remoulade Sauce #2
Yields about 1 cup
1/2 cup mayonnaise
2 tablespoons minced gherkins, not sweet
1 tablespoon Dijon mustard
1 tablespoon drained finely chopped capers
1 tablespoon finely chopped flat-leaf parsley
2 teaspoons finely chopped chives, shallots or sweet onion
1 teaspoon minced garlic
Freshly ground pepper
Mix all ingredients until well blended.  Chill before serving