Best Beef Recipes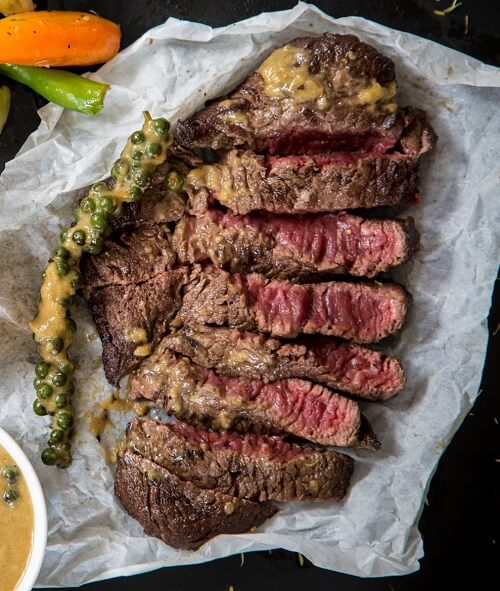 Sliced Ribeye Steak - Great for Sharing
Believe it or not, steaks can be pan-seared in advance, set-aside and finished off just before the meal is served.

Especially great for a dinner party menu, this method will give the cook time to prep side dishes or have a leisurely drink with guests. 
Choose steaks that are not less than 1 1/2 inches thick.  This will guard against overcooking during the hard sear.

Make Ahead Steak Recipe

Serves 4-8
6 filet mignons (about 8 ounces each) or 3-6 New York strip or rib-eye steaks (about 12 ounces each)
Neutral oil
Salt and freshly ground black pepper to taste
Pinch of sugar (aids with browning)
Preheat a large non-stick skillet over high heat until slight wisps of smoke appear.  Meanwhile, pat the steaks dry with paper towels. In a small bowl combine a generous amount of salt and pepper and a pinch of sugar.  Coat steaks with oil and season with the salt mixture. 
Add steaks to hot pan and sear until a deep brown crust develops, about 2 minutes. Flip and cook until a crust also forms on other side, about 1 minute.  Steaks will not be fully cooked.  Reserve cooking juices for making a pan sauce such as Quick Red Wine Butter Sauce below.
Transfer steaks to a wire cooling rack placed over a parchment lined baking sheet. Steaks can be lightly covered and held for 1-2 hours. 
When you are ready to serve, it will take about 20-30 minutes in the oven for the steaks to reach the desired temperature.  Medium-rare is recommended  Take steaks' temperature regularly to prevent overcooking. 


You will find different recommendations for proper beef temperatures.  Use this page from the USDA as a guideline.   
Quick Red Wine Butter Sauce
Makes about 1 cup. Easily doubles

1 cup dry red wine
8 sprigs fresh thyme
Salt and black pepper
2 tablespoons butter, cut into cubes

If available, add reserved juices from steak into skillet and heat briefly.  Add red wine and thyme.  Increase heat to high. Season with salt and pepper. Cook until wine is reduced by half, about 3–4 minutes. 

Add the butter a few cubes at a time and stir constantly until well combined. Remove from heat. Discard thyme stems. Drizzle pan sauce over steaks