Deviled Eggs
Deviled eggs are a must on any party menu.  Everyone loves these easy appetizers  
I don't know anyone who doesn't appreciate good deviled eggs (a.k.a. stuffed eggs). Talk about the consummate finger food! Food historians date these rich appetizers back to ancient Rome. 

The deviled egg recipes on this page include the basics and some unique varieties.  No matter how you flavor the eggs, always serve well-chilled.

For a party, plan on 2 hard-boiled eggs per person which equals 4 deviled egg servings per guest. Always plan for extras.
Deviled eggs are great for a crowd because it is easy to double or triple the ingredients in the recipes without making a mistake in taste or quality.
Deviled Eggs 101__________________________
Boiling the Eggs: Follow these directions for all of the recipes unless otherwise noted.
Put the eggs in a large saucepan with water to cover by 2 inches.  Bring to a rolling boil over high heat.  Immediately remove the pan from the heat, cover and let stand for 10 minutes.

Pour off the hot water and fill the saucepan with cold water. Pour out and add more cold water, once or twice.  Gently crack the eggs in the water to loosen the shells.  Starting from the round end of the egg, peel carefully under the running water if necessary. 
I find egg peeling a hit or miss operation.  If you can grab onto the filmy egg white "skin", you have a better chance of not tearing the white.
To Stuff: Chill egg yolk mixture before filling.  A tried and true and infinitely less messy method is to either use a pastry bag with a decorative tip or scoop the mixture into a sturdy plastic zip-loc bag. 

Push the mixture to one corner of the bag and snip off a small corner to create an opening in which to fill the eggs; like a pastry bag
Make Ahead: Most deviled eggs recipes can can be prepared and refrigerated for up to 6 hours. Sprinkle with herbs or other garnishes just before serving.
Create Your Own: Vary the seasonings, binding ingredients and garnishes. Serve a variety of eggs on one platter by dividing the basic mixture and adding different ingredients.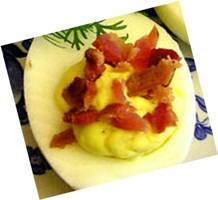 Deviled Eggs with Cooked Bacon

Tasty Additions:
Finely chopped ham, bacon, salami, shrimp, salmon, anchovy, caviar
Finely chopped parsley, chives, tarragon
Pesto
Sweet pickle relish
Horseradish sauce
Half-and-half or sour cream instead of mayonnaise
Dash of ground red pepper or curry powder
1 garlic clove, grated

Garnishes:
Chopped green onions, Olives slices
Capers
Minced pimento
Sliced or minced radish
Deviled Eggs Recipes_______________________

Here is the basic recipe to make 12 deviled eggs. Follow cooking and peeling instructions.
6 hard cooked eggs, peeled
3 tablespoons mayonnaise
1/2 teaspoon prepared mustard
Salt and pepper to taste
Cut cooked eggs in half, lengthwise. Slip out egg yolks and mash with a fork. Mix in mayonnaise, mustard and salt and pepper to taste.  Fill egg whites with yolk mixture, heaping it lightly.  Cover and chill at least 1 hour.  Arrange on serving platter and add garnishes as desired
Deviled Eggs with Pesto and Salmon


Deviled Eggs with Cream
12 hard-cooked eggs
Fine sea salt
1/2 cup mayonnaise
2 tablespoons heavy cream
1 teaspoon sugar
1 tablespoon white wine vinegar
2 teaspoons snipped chives and chervil

Cut a very thin slice from the bottom of each egg so the eggs will stand up. Slice off the top third of each egg and scoop the yolks into a coarse strainer; reserve the whites. Press the egg yolks through the strainer into a bowl. This method produces a smooth, less lumpy mixture. 

Blend in the mayonnaise, cream, sugar and vinegar. Season with salt.  Using a teaspoon or a pastry bag fitted with a star tip, generously fill the egg whites. Arrange the eggs on a plate, sprinkle with the chives and chervil and serve.
 
Creole Stuffed Eggs
12 hard-cooked eggs
1 tablespoon sherry vinegar
1 teaspoon Paprika
1/2 cup (2 stalks) finely chopped celery
1/3 cup finely chopped sour pickles
1/4 cup finely chopped red onions
1/4 cup mayonnaise
2 teaspoon lemon juice
1/2 teaspoon cayenne (ground red) pepper
2 cloves garlic, minced
 Halve eggs lengthwise and transfer yolks to small bowl. Mash the yolks, then combine them with mayonnaise, vinegar, lemon juice, paprika and cayenne pepper. Stir in celery, pickles, onion and garlic.
Stuff whites with filling, then arrange eggs on a platter. Garnish with parsley, if you like. Cool in the refrigerator until ready to serve.
Deviled Eggs with Cheese and Mustard
4 hard-boiled eggs
1/4 cup grated Parmesan cheese
1 teaspoon prepared mustard, regular or Dijon
Dash pepper
Milk
Paprika, chives, dill, parsley for garnish
 Cut cooked eggs in half lengthwise; remove the yolks and mash. To the yolks, add the cheese, mustard and pepper. Stir until well combined. Stir in enough milk to moisten the mixture. Refill the egg whites with the mixture. Sprinkle with paprika.

Olive Stuffed Eggs
 6 hard cooked eggs
 1/4 cup sour cream
 1/4 teaspoon salt
 1/8 teaspoon black pepper
 1 teaspoon parsley flakes
 2 bacon slices, cooked and finely crumbled
 Paprika
 6 pimiento-stuffed olives, halved
Slice in half and carefully remove yolks. Mash yolks and stir in sour cream, salt, pepper, and parsley flakes; mix until smooth.  Stir in bacon. Stuff egg whites with yolk mixture; sprinkle with paprika and top with an olive half.


Deviled Eggs with Smoked Salmon
6 hard cooked eggs
1/4 cup sour cream
1/4 cup mayonnaise
1 tablespoon lemon juice
Salt & pepper; to taste
Paprika
Cut peeled eggs in half lengthwise. Remove egg yolks and mash with fork.  Mix in remaining ingredients. Cover and chill. Fill egg whites with salmon mixture. Garnish with paprika.

Un-Devilish Deviled Eggs
14 hard cooked eggs
15-ounce garbanzo beans, drained
1/4 cup plain lowfat yogurt
1 tablespoon Dijon mustard
1 clove garlic, minced
1 tablespoon red caviar, optional
 Slice eggs in half lengthwise; carefully remove and discard yolks. Position knife blade in food processor bowl; add beans and next 3 ingredients. Process until smooth. Fill egg whites.  Top with caviar.


Reduced-Fat Deviled Eggs
6 hard-cooked eggs
3 teaspoon dry curd cottage cheese
2 teaspoons low-fat plain yogurt
1 teaspoon finely chopped onion
1 teaspoon Dijon mustard
1/2 teaspoon dried parsley
1/4 teaspoon fresh dill
1/8 teaspoon garlic powder
Dash of hot pepper sauce
Salt & pepper to taste,
 Cut eggs in half. Put half of yolks in small bowl; reserve remaining yolks for another use.  With fork, mash yolks together with the cottage cheese and yogurt. Stir in remaining ingredients. Season with salt and pepper.  Fill halves.  Chill before serving.