Fried Chicken Recipes
Take a break from the ordinary with these deliciously different fried chicken recipes!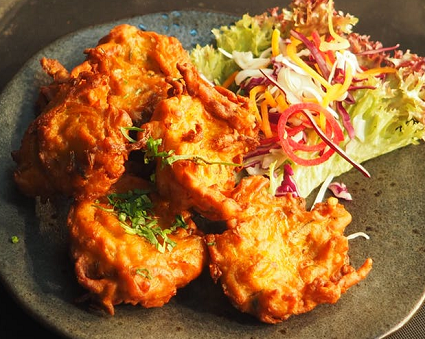 Honey Fried Chicken

Garlic Fried Chicken
Serves 4-6

This fried chicken is a garlic flavor bomb! The marinade and buttery garlic sauce will blow you away (in a good way).  Don't let the lengthy directions scare you, it is worth it!
3 pounds skin on, bone-in chicken pieces, cut breast pieces in half
3 tablespoons extra virgin olive oil
2 tablespoons garlic powder
5 garlic cloves, minced
2 cups all-purpose flour
3-4 large egg whites, lightly beaten
3 quarts vegetable oil for frying
Salt and black pepper to taste
In a large bowl, mix together olive oil, 1 tbsp of garlic powder, minced garlic and salt and pepper.  Mixture will be paste-like.  Put in chicken pieces and toss to throughly coat. Cover and refrigerate for at least 1 hour or up to 24 hours.

In a medium size bowl, whisk flour, 1 tbsp garlic powder and salt and pepper.  Lightly beat the eggs whites together in a separate dish. 
Set a wire rack into a rimmed baking sheet.  Remove chicken from marinade and brush off garlic bits to prevent burning. Dip and coat each piece of chicken with egg whites, letting excess drip back into dish.  Put into flour mixture to coat, pressing firmly so the flour sticks to the chicken.  Transfer chicken to prepared wire-racked baking sheet and refrigerate, uncovered, for at least 30 minutes or up to 2 hours to set coating. 
Add oil to large Dutch oven and heat to 325 degrees. Add half of the chicken to the hot oil and fry until breasts register 160 degrees and drumsticks/thighs are at 175 degrees.  Transfer chicken to wire rack and let cool.


For Garlic Butter Sauce
8 tablespoons unsalted butter, softened
7 garlic cloves, minced
Splash of water (to prevent burning garlic)
3 tablespoons fresh parsley, finely chopped
Salt and black pepper to taste
Melt 1 tablespoon of unsalted butter in small skillet.  Add minced garlic and water. Cook, stirring constantly for 1 minute. Add remaining 7 tablespoons until melted. Add minced parsley, salt and black pepper and whisk together. Spoon or brush over tops of the chicken pieces right before serving.

Honey Fried Chicken
Serves 4-6
3 pounds bone-in chicken breast, pieces cut in half
3/4 cup honey
3/4 -1 cup buttermilk baking mix
2 teaspoon dry mustard
1/2 teaspoon paprika
Salt and pepper, to taste
Vegetable oil
Coat chicken with honey; set aside. Combine buttermilk baking mix, mustard, paprika, salt and pepper; dredge chicken in mixture. Heat 1/2 inch oil to 375ºF in a 12-inch skillet over medium heat.
Carefully place chicken in hot oil and cook about 5 minutes or until underside of chicken is golden; turn chicken pieces and cook about 5 minutes, turning as needed. Reduce heat to low and cook 7 to 10 minutes longer or until juices run clear. Remove chicken; drain on paper towels.

Southwestern Oven Fried Chicken Recipe
Serves 10-12 as appetizer or 6-8 as entrée

 20 to 24 chicken drumsticks OR 5 pounds chicken drummettes or wing pieces
 1/2 cup all-purpose flour
 2 1/2 teaspoons salt
 1/2 teaspoon ground pepper
 2 teaspoons paprika
 1 teaspoon chili powder
 2 1/2 teaspoons dried oregano, crushed
 1/2 cup butter 
Heat oven to 450°.  In a food storage bag, combine flour, salt, pepper, paprika, chili powder and oregano. 
Line 2-13x9-inch pans with heavy duty foil.  Place 1/4 cup butter in each pan.  Place pans in oven to melt butter.  Coat chicken with seasoned flour mixture.  
Place chicken in prepared pans in the melted butter. Bake, uncovered, for 30 minutes. Turn over and bake 15 to 20 minutes longer, or until tender and nicely browned.



Firecracker Fried Chicken
Serves 4-6
8 chicken drumsticks
1/4 cup hot pepper sauce
1/3 cup all-purpose flour
2 tablespoons yellow cornmeal
1/2 teaspoon salt
3 cups vegetable oil
Remove skin from chicken and place in a resealable plastic bag.  Rub hot pepper sauce into chicken, seal bag and refrigerate for at least 1 hour, up to 24 hours. The longer the chicken marinates, the spicier it will be.
In another resealable plastic bag combine the flour, cornmeal and salt.  Add chicken, seal bag and shake to coat.
Heat oil in a large, deep skillet to medium high heat.  Add chicken and fry, uncovered, for 20 to 25 minutes or until juices run clear. Turn occasionally to brown evenly



Mexican Fried Chicken Recipe
Serves 6 to 8
This fried chicken recipe can also be made on the grill.  After marinating, pat pieces dry and cook on a prepared grill, 18-25 minutes or until browned and cooked through
1 clove garlic
1/2 teaspoon salt
2-1/2 to 3 pounds chicken pieces 
1/4 cup lime juice
1 small onion, minced
Vegetable oil
1/2 cup all-purpose flour
1 teaspoon salt
1 teaspoon black pepper
1 teaspoon chili powder
Cayenne pepper to taste (optional)
Mash garlic and 1/2 teaspoon salt into a paste.  Rub chicken with garlic mixture. Arrange chicken in shallow glass or plastic dish. Sprinkle with lime juice and onion. Cover and refrigerate, turning occasionally, at least 3 hours.

Remove chicken from marinade; pat dry.  Heat 1/4 inch oil in skillet until hot. Decrease heat to medium.  In a resealable plastic bag combine flour, 1 teaspoon salt, chili powder, black pepper and cayenne if using.  Add chicken, 2-3 pieces at a time, seal bag and shake to coat. 
Place chicken in skillet skin sides down. Cover and cook 5 minutes. Uncover and cook 15 minutes.  Turn chicken. Cover and cook 5 minutes longer.  Uncover and cook until thickest pieces are done, 10 to 15 minutes; drain.
Oven-Fried Chicken for 50
Makes 100 pieces of chicken

The dried milk serves as a substitute for eggs and makes it easier for the coating to adhere to the chicken.   You can substitute individual pieces of chicken including breast and wings for the leg quarters.  Just remember that the ideal internal temperature for thighs/legs is 170°F and 165°F for breasts and wings. 
50 chicken leg/thigh quarters
1 pound all-purpose flour, for dredging
8 ozs nonfat dry milk
2 tablespoons salt
1 tablespoon poultry seasoning
1 1/2 teaspoons onion powder
1 teaspoon garlic powder
1 tablespoon ground black pepper
1 pound butter or margarine, melted
Mix flour and seasonings.  Dredge chicken with seasoned flour mixture. Place chicken in single layer on greased and/or parchment-lined baking sheets.  

Brush chicken with butter or margarine.  Bake at 350°F for 1 hour or until chicken is browned and tender or until the desirable internal temperature is reached.


Fiery Oven Fried Chicken Tenders
Serves 6-8
Non-stick cooking spray
4 skinless, boneless chicken breast halves - cut into finger-sized pieces
OR
About 2 pounds prepared chicken tenders
1/4 cup all-purpose flour
1 teaspoon garlic powder
1 teaspoon cayenne pepper
1/2 teaspoon salt
3/4 cup bread crumbs
2 egg whites, beaten
1 tablespoon water
Preheat oven to 400F. Coat a baking sheet with cooking spray.   Mix together flour, 1/2 teaspoon garlic powder, 1/2 teaspoon cayenne pepper, and 1/4 teaspoon salt.   On a plate, mix the bread crumbs with the rest of the remaining spices and salt.  Shake the chicken pieces with the seasoned flour. 

Beat egg whites with 1 tablespoon water, and place egg mixture in a shallow dish or bowl. Dip chicken in egg mixture, then roll in bread crumbs.   Place on prepared baking sheet.

Bake for about 8 minutes in the preheated oven. Turn chicken and bake for 8 more minutes or until chicken juices run clear.