Fruit Salad Recipes
Picture a cool fruit salad on your next buffet table.  Fruit salad is a juicy, refreshing taste of sweetness.
Oranges, pineapple, grapes, kiwi and berries are the best fruits to choose and will generally maintain taste and texture.  Great for a breakfast, brunch, lunch or dinner party. 


Helpful Hints for Fabulous Fruit Salads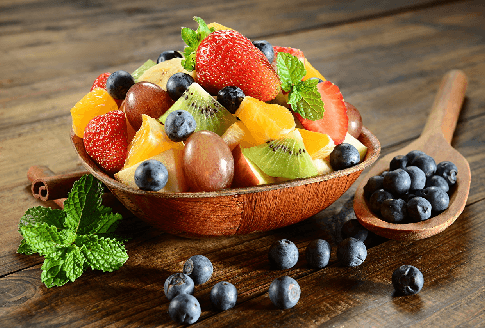 Use arugula, watercress, frisee or any combination of available bitter greens OR use pre-packaged salad mixes

Use combination of bitter greens and romaine if you prefer 

Use canned pear halves if you must. Look for ones canned in their own juices, usually labeled "light"
 
Substitute 2 navel oranges or 2-3 fresh mandarin oranges, tangerines or tangelos for pears.
 
Use canned mandarin oranges if all else fails
 
To toast pecans: Spread the pecans on a baking sheet and lightly toast in oven until just fragrant, about  8-10 minutes.  Remove, let cool. 
Alternatively, place nuts in a small dry, non-stick skillet over low heat.  Toast nuts slowly, stirring around occasionally until fragrant, about 8 minutes.  

Make In Advance Checklist
Up to one week in advance,  toast pecans, cool and store at room temperature in tightly sealed container or plastic bag
Up to 3 days before, make vinaigrette without herbs. Store in the refrigerator tightly sealed. Add herbs just before serving.  Shake or stir
One day before, peel and cut pears in half. Squirt with lemon juice and store in fridge in tightly sealed container. Cut pears into wedges just before serving
One day before, prep salad greens. Store in plastic bag or container
Tropical Fruit Skewers or Salad
Makes about 20 skewers, varies by amount of fruit
This fruit salad recipe is fruit salad on a stick and easily open to variation.  Use your favorite combination of tropical fruits or of whatever fruits that are seasonal and available in your market.  
The fruit dip recipe below is easy and is made healthy with yogurt or fat-free sour cream
2 large mangos
3 firm kiwi
1/4 to 1/2 melon of choice
 20 wooden party toothpicks or skewers, 4-6-inches long
 
Cut each fruit into approximately 20 1/4 to 1/2 inch cubes (depending on sizes of fruit).  Thread 3-4 different fruit cubes on to each skewer.  Cover and refrigerate.  Serve chilled fruit kabobs with chilled fruit dip 


---
Helpful Hints for Tropical Fruit Kebabs
Use firm but ripe fruit that will cube and skewer easily


Use a melon baller to shape fruit into balls instead of cubes or do both


For pretty kabobs, choose colorful fruit combinations, such as mango, strawberry and kiwi


If who prefer, prepare fruit in a bowl lined with lettuce leaves. Serve fruit dip on the side 
Fruit suggestions: fresh melons (all types), fresh or canned, chunked pineapple, strawberries, mangos, kiwi, black or red seedless grapes, firm bananas
Make Ahead
One to two days in advance, make fruit dip, store in refrigerator in sealed container.  Up to four hours in advance, skewer fruit, cover and refrigerate


---

Easy Fruit Dip Recipe
Makes about 1 cup

1 cup sour cream or vanilla yogurt
1/2 cup brown sugar
1/2 teaspoon vanilla or almond extract

Combine ingredients. Serve chilled




Orange, Grape and Almond Salad
Serves 4
Serve Orange, Grape and Almond fruit salad extra cold.  Super easy to make using canned mandarin oranges.  Cold salads are refreshing after a hot and spicy dish 
2 tablespoons olive oil
3 tablespoons red wine vinegar
1/2 teaspoon sugar
1 clove garlic, minced or grated
3 cups finely shredded salad greens, your choice
1 large can (about 11 ounces) mandarin orange sections, chilled and drained
1 1/2 cup seedless grapes, red or black
1/3 cup almond silvers, toasted or not
 
In a small jar, combine oil, vinegar, sugar and garlic. Shake thoroughly. Chill until serving time.  In a large serving bowl, combine lettuce, oranges, grapes and almonds.  Toss salad with dressing just before serving or serve dressing on the side.
 


Orange and Avocado Fruit Salad
Serves 6 
Serve this refreshing salad for brunch or lunch.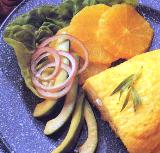 3 oranges, peeled and sliced into rounds
2 avocados, sliced
6 thin slices red onion, separated into rings
4-6 cups salad greens
 
Arrange oranges, avocados and onion on salad greens on 6 salad plates or on a large serving platter. Serve with Orange Dressing
Orange Dressing
Makes 3/4 cup
 
1/4 cup vegetable oil and 1/4 cup olive oil
1 teaspoon grated orange peel
¼ cup orange juice
2 tablespoons sugar
2 tablespoons lemon juice
½ teaspoon dry mustard
¼ teaspoon salt
 
Shake all ingredients in tightly covered container.
Pear Salad with Toasted Pecans, Blue Cheese and Orange Vinaigrette
Serves 4-6
This fruit salad is rich with a variety of taste and textures. Substitute pear slices with mangos, kiwi or pineapple.
8 cups (about 12 ounces) mixed salad greens, washed, trimmed and dried.
2 medium very ripe pears, peeled, cored and sliced into small wedges
1/2 to 3/4 cup blue cheese crumbles
1 cup whole pecans or pecan pieces, toasted
Salt and freshly ground black pepper to taste

Put the greens in a large bowl and scatter fruit throughout. Drizzle a small amount of the vinaigrette over salad and toss to coat. Season with pepper.

Scatter the blue cheese and nuts over the top and serve at once. Serve the remaining dressing at the table.

Orange and Balsamic Vinaigrette
Makes 1/2 cup, can be doubled to 1 cup
1 1/2 tablespoons fresh orange, Clementine or tangerine juice
1 1/2 tablespoons balsamic vinegar
Large pinch of kosher salt or to taste
Small pinch sugar
2 tablespoons extra virgin olive oil or your favorite nut-flavored oil
2 teaspoons fruit zest
1 tablespoon fresh minced parsley, basil or chives (optional)
Freshly ground black pepper to taste

Combine the juice, vinegar and salt in a small jar or bowl. Cover and shake or stir to blend and dissolve salt. Add oil, zest and pepper. Shake or stir again. Add herbs just before serving.
 

Your Way Fruit and Greens Salad with Honey Lime Dressing
Serves 4-6
1/2 cup honey
1/2 cup lime juice
Pinch each, nutmeg and cinnamon
Pinch of sea salt
4 cups sliced, soft seasonal fruit
1 medium head Bibb or Romaine lettuce, torn into bite size pieces. 

Add honey, lime juice and seasoning into a blender or food processor and blend until smooth. Reserve 1-2 tablespoons of dressing. In medium bowl, toss fruit with dressing and chill until ready to serve.  Arrange lettuce leaves on a platter or in a bowl.  Toss with reserved dressing.  Arrange fruit on top of lettuce leaves and serve.