Creole Gumbo


Creole Gumbo with Chicken and Sausage
Gumbo as we love it, combines the cuisines and cooking methods of West Africa, France, Spain and German cultures. Basically, the settlers of Louisiana! 
On this page you will find all the information you need to create an authentic Creole Gumbo.


Gumbo can be described as a cross between a soup and a stew and is a hearty blend of meats, seafood and vegetables. 
Every New Orleans gumbo is an amazing variation of ingredients, tastes and heat, whether prepared by a professional chef or a family cook. 
It is one dish that is open to mass interpretation...
What is the difference between a Creole and a Cajun gumbo?  In a nutshell, I think it is the color and thickness of the broth which is determined by the roux. 
The Creole version is medium brown and slightly thickened. The Cajun gumbo will be darker, thicker and maybe a bit spicier! 


I welcome your opinion on the matter.  Post your comments below.  Thanks! 


How to Make a Roux
A roux is created by cooking equal amounts of flour and fat until a paste-like mixture is formed.  It is the foundation of all gumbos.  This video will show you how to prepare a proper roux.


The Colors of Roux
Making a roux for gumbo will take you through a lot of changes...of color.  Flours differ day by day which will effect results. This is just a guideline.  Roux can take 30-60 minutes to prepare.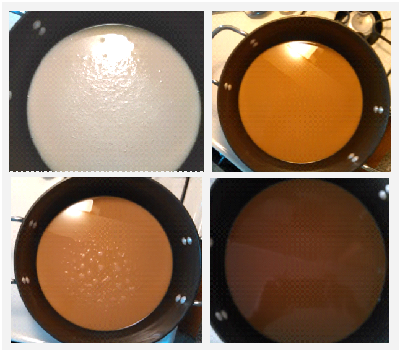 Top left: The Beginning. The flour and oil mixture will be grayish white
Top right: The mixture glows!  It will be yellowish brown
Bottom left: The mixture mellows and begins to brown.  You can stop cooking here and proceed with the rest of the recipe or keep stirring
Bottom right: Dark and thick, rich and lovely.

Helpful Hints
Use homemade chicken stock or a combination of low-sodium chicken stock, shrimp stock, clam juice and water. For best flavor, use more stock than water. 

For pork meat, use Andouille, spicy smoke sausage, kielbasa, diced ham or cooked diced boneless pork loin
Gumbo is always served over white rice. I have seen a few non-native friends eat it without rice.  Appalling.

TIP: Mold rice into a 4-6 oz. bowl or cup. Invert into serving bowl to create a rounded mound of rice. Spoon gumbo around the rice.


Serving Suggestion

In New Orleans, gumbo is often served with baked ham, potato salad and French bread.  It is an excellent main course served with any type of salad and crispy bread or rolls or served in a cup as an unusual first course.


Make Ahead
Gumbo can be made 1-2 days in advance. It is one of those dishes that taste better once the flavors meld. It also freezes beautifully. This makes it a great dinner party dish.

The gumbo itself does not take long to cook. It is the roux and preparation of ingredients that takes the most time.  Vegetables can be cleaned and cut 1-2 days in advance. 
Meats such as sausage and chicken can be seared and refrigerated 1 day in advance 
Roux can be made 2-3 days in advance. Cool, store in tightly covered container. Transfer to saucepan over low heat until melted. Continue with recipe



About Filé
Filé powder is an extremely aromatic herb made from the dried and ground leaves of the sassafras tree. It is a staple in Cajun and Creole cooking.  In gumbo, it is used as a thickening agent during cooking or sprinkled (sparingly) over a finished bowl of gumbo and rice. 
Filé adds a distinctive floral and earthy taste to the dish. 
It is becoming more popular outside of Louisiana so look for in the spice aisle of you local market

Creole Gumbo Recipe
Serves 6-8
This is my mom's gumbo recipe and of course, one of the best!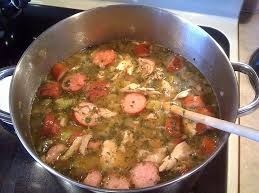 Gumbo with Sausage
1 pound medium shrimp, peeled and de-veined
Old Bay or other spicy seafood seasoning
8 boneless chicken thighs
Creole seasoning or salt and pepper
Oil
1 1/2 pounds sausage, cut into 1/4 inch pieces
1 cup vegetable oil
1 cup flour
2 medium onions, chopped
1 medium green pepper, chopped
1 small red pepper, chopped
3-4 ribs celery, chopped, about 1 cup
3 large cloves garlic, minced
3-4 quarts chicken stock, warm
3 bay leaves
3-4 fresh thyme springs OR 11/2 teaspoons dried thyme
1/2 teaspoon cayenne pepper, or to taste
Salt and ground black pepper, to taste
1/2 cup fresh parsley, chopped
1/2 cup green onion, sliced
File powder (optional)
Season the shrimp with the Old Bay and let marinate in the refrigerator while you prepare the gumbo.  Season the chicken with Creole seasoning.   In a large skillet heat the oil and quickly brown the chicken.  Remove from the pan and quickly.  Brown the sausage in the same pan.  Drain excess fat and reserve meats.
Make the roux: Heat the oil in a Dutch oven or other large heavy pot over a medium-low heat. Sprinkle the flour into the oil and cook, stirring constantly with a large wooden spoon. Reduce heat to low and cook, stirring constantly until roux is a deep, dark brown, 35-45 minutes. Be very careful not to burn.
Increase the heat to medium. Add the onions, peppers, celery and garlic. Cook, stirring constantly, until the vegetables are soft, 7-10 minutes.
Slowly add the stock stirring constantly to prevent lumps from forming. Bring to a boil.   Add the reserved chicken and sausage, thyme, cayenne, black pepper and bay leaves. Stir to blend. Reduce the heat and simmer, uncovered, stirring occasionally, about 30-45 minutes.
Add the shrimp in the last 10 minutes of cooking. Shrimp should be pink and tender. Remove bay leaves and thyme sprigs. Skim any excess oil from the surface. Test for salt and black pepper, adding if necessary. Stir in the parsley and green onion.  Serve over hot rice.