Homemade Salsa Recipes____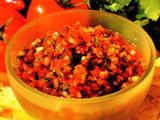 These homemade salsa recipes are much fresher and tastier then store bought and are conveniently versatile.  Try with beans dishes, eggs, burgers, sandwiches, potatoes and seafood.  Easy, quick and so much flavor.


Easy Homemade Salsa Recipe
Makes about 1 1/2 cups
1 15.5 ounce can diced tomatoes, well drained
1 large jalapeño (or to taste), minced
2-3 green onions, white part only, sliced
1 large garlic clove, minced
Juice of one lime
1/4 cup fresh cilantro, chopped
Combine all the ingredients in a small bowl.  Let stand for 1 hour at room temperature to allow flavors to meld




Green Chile and Cilantro Salsa
Makes about 2/3 cup
1 jalepeno chile, seeded and coarsely chopped
1 large bunch cilantro, washed and stems removed, coarsely chopped
3 garlic cloves, coarsely chopped
1/2 cup extra virgin olive oil
Juice of 1 lime
1/2 teaspoon ground cumin
Salt and ground black pepper to taste
In a food processor, add 1/4 cup water and the olive oil.  Add the chile, cilantro and garlic.  Puree until creamy.  Stir in the lime juice, cumin and salt.  Taste and correct the seasonings
For a more traditional Salsa Verde, chop ingredients by hand for a chunkier texture.  Add a tablespoon or two of water and stir.  Use as a dip or on sandwiches or cooked vegetables




Roasted Tomato Chili Salsa
Makes 1 1/4 cups.  Serves 10-12
This is an extra special homemade tomato salsa recipe.   Dry-frying, a method of pan roasting, is simply frying without fat.  Try this cooking method for sweet peppers and other raw vegetables.  Watch the heat and don't allow the food to smoke. 
This tomato salsa recipe can be prepared up to 3 days ahead and stored, covered, in the refrigerator.  Serve as part of this cocktail party menu with tortilla chips or as a sauce for sandwiches and burgers.
2 large banana chilies, Poblano, New Mexican or yellow wax hot chilies
3 large shallots, peeled and halved
5 cloves garlic, peeled
2 medium-sized ripe tomatoes (about 1/2 lb.)
1 tablespoon chopped fresh cilantro
2 tablespoon soy sauce
1 tablespoon fresh lime juice
Heat a large, heavy non-stick skillet over high heat. Add whole chilies and dry-fry for about 4 minutes, pressing down with a wooden spoon and turning occasionally. Add shallots and garlic to the skillet and continue to dry-fry, turning occasionally. for about 5 minutes, or until the chili skins are blackened.
Transfer the mixture to a bowl and cool. Add tomatoes to the skillet and dry-fry for about 5 minutes, turning occasionally, or until the skins are blackened. Let cool.
Remove stems from the chilies and cut in half lengthwise, remove skins if you prefer. Remove seeds if you prefer less heat. Core the tomatoes and cut into quarters, remove skins if you prefer. Place chilies, tomatoes, shallots and garlic in a food processor and, pulsing, process until the mixture is coarsely chopped and salsa-like in texture (not pureed). 
Alternatively, chop vegetables finely with a knife. Transfer the mixture to a small bowl and stir in cilantro, soy sauce and lime juice.





Easy Mango Salsa Recipe
About 2 cups
Some canned or jarred mango tends to be mushy, so use fresh if available
2 cups mango (fresh or jarred), diced
1/2 small red onion, finely diced
1 Serrano chile, seeded and minced
1/4 cup fresh herbs, such as cilantro, parsley, basil, oregano, chopped
1 teaspoon olive oil
1 tablespoon fresh lime juice
Large pinch of salt
In a medium bowl, combine all the ingredients. Allow to stand for 45 minutes before serving to mellow the flavor.  Taste and adjust seasonings