Splendid Shrimp Salad______
---
---

Four tasty extra-special shrimp salad recipes


Perfectly Cooked Shrimp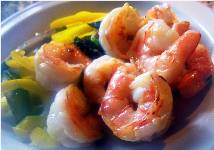 For a tender, flavorful shrimp salad, follow these simple rules for preparing the shrimp.
Fill a large sauce pan or stockpot (depending on how many shrimp you are serving) a little more than half-way with water



Add any combination of white wine, garlic, peppercorns, parsley, lemon slices and bay leaves, to taste.
Bring to boil and reduce heat. Simmer for 10-15 minutes to create a flavorful poaching liquid.
Add unpeeled shrimp and cook until just pink about 2-3 minutes. Drain immediately and transfer to a large bowl or spread out on a baking sheet to cool as quickly as possible. Peel and devein if necessary.
Cut shrimp into 2-3 pieces depending on size. Cover and refrigerate until chilled.
Shrimp can be cooked up to one day in advance, unpeeled. Store tightly covered in refrigerator. Proceed as recipe directs
Shrimp Salad Louis
This shrimp salad is cool and pleasing with tomatoes, avocados and a traditional Louis Dressing. A snap to make. For a buffet or brunch, present salad on a large platter and have guests serve themselves.
Helpful Hints
Shrimp Salad Louis
For each 4 servings
3-4 cups salad greens, your choice
2 cups small or medium shrimp, cooked, peeled and, deveined. Removing tail is optional
1 large avocado, ripe and thinly sliced
16-20 grape tomatoes
2 hard-cooked eggs, cut into fourths
Black or green olives

Arrange shrimp, avocados, tomatoes, eggs and olives on salad greens. Serve with Louis Dressing on the side


Louis Dressing
3/4 cup chili sauce
1/2 cup mayonnaise
1 teaspoon grated white onion or shallot
1/2 teaspoon sugar (optional)
1/4 teaspoon Worcestershire sauce
Salt and pepper to taste

Mix all ingredients. Cover and chill at least 30 minutes
New Orleans Shrimp Salad
In typical New Orleans style, this shrimp salad contains spicy hot peppers and garlic. Delicious! Excellent on your next brunch or luncheon menu

Helpful Hints
For extra taste, use a poaching liquid to cook the unpeeled shrimp
Shrimp are easier to peel if they are slightly warm
This shrimp salad is extra good made one day in advance. Drain off any excess liquid and stir before serving



Our Favorite New Orleans Shrimp Salad Recipe
Serves 6, recipe easily doubles
1 large garlic clove, minced
1 large rib celery, finely chopped
1 tablespoon finely chopped dill pickle (about 1 small pickle)
1 small hot pepper, finely minced (optional, or use ground hot pepper, to taste)
1/4 cup mayonnaise
1 pound shrimp, cooked as above
Salt and black pepper to taste
Lettuce leaves, avocado slices, cherry tomatoes and quartered hard-cooked eggs, for serving
Prepare shrimp. Combine garlic, celery, pickle, hot peppers, mayonnaise and shrimp. Mix thoroughly, adding salt and black pepper and salt and pepper to taste. Cover and refrigerate until chilled.
Serve in individual plates lined with lettuce leaves or in a large lettuce lined serving platter surrounded by avocado, tomatoes and eggs if desired
Basic Shrimp Salad - Serves 25
This shrimp salad is simply flavored and simply delicious. Another outstanding party food. This quantity shrimp salad recipe serves 18-25
Helpful Hints
Use Old Bay or other salted seafood seasoning in place of the salt
Entire salad can be prepared 6-8 hours before serving time
For safety and best flavor, keep salad chilled during service

Basic Shrimp Salad - For 25
Makes about 25 1/2 cup servings

3/4 cup dry white wine
4 garlic cloves, crushed but not chopped
Lemon slices
2 bay leaves
3-4 pounds medium shrimp, unpeeled
1/2 cup celery, diced
1 small red onion, minced
1 cup mayonnaise, more or less to suit your taste
4 tablespoons chopped fresh parsley
Salt and freshly ground black pepper to taste
Prepared shrimp as above.

In a large mixing bowl, toss chilled, cut shrimp, celery and onions. In a medium bowl, combine mayonnaise, parsley and salt and pepper to taste. Mix well.
Add to shrimp and blend well with large spoon or with your hands. Cover and chill salad at least 2 hours before serving
GREAT ACCOMPANIMENTS
Large tortilla chips
Avocado slices
Crumbled bacon
Watercress salad
Barbecued Tandoori Shrimp Salad
A new twist on an old favorite. Flavored with Indian spices and mixed with crisp salad greens, include tandoori shrimp on a cocktail party menu or as a first or main course. You can also serve the shrimp alone on skewers as an appetizer

Helpful Hints
Prepare marinade in a plastic ziploc bag to save cleanup and fridge space

Do not marinade shrimp more then one hour. The yogurt and lemon juice will begin to change the texture of the shrimp

Cook shrimp up to 1 day in advance. Do not peel until read to prepare salad. Cover well

Barbecued Tandoori Shrimp Salad
Serves 6-8 as an appetizer or 4-6 as a first course

1 cup whole-milk or low-fat plain yogurt
1/4 cup fresh lemon juice
6 cardamom pods, crushed OR 1/2 teaspoon ground cardamom
2 tablespoons grated fresh ginger
2 tablespoons crushed garlic
1 teaspoon ground turmeric
2 teaspoons paprika
1/4 teaspoon ground cayenne pepper
Salt to taste
1 1/2 pounds raw medium shrimp, peeled and deveined
6-8 cups mixed salad greens of choice
Lemon wedges
In a large non-metallic bowl, combine all the ingredients except shrimp. Mix well. Add shrimp and toss to coat with the marinade. Cover and marinade in the refrigerator for 1 hour.

Prepare a grill or broiler. Grill or broil the shrimp until cooked through and lightly charred, 2-3 minutes per side, brushing once with the marinade.
Place salad greens in a serving platter or on individual plates. Arrange shrimp atop greens and serve with lemon wedges