Stuffed Mushrooms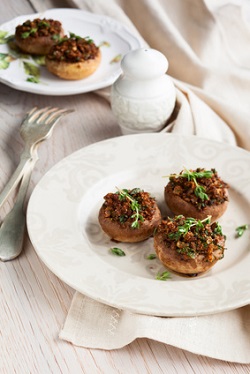 Stuffed mushrooms may seem like an "old-fashioned" appetizer, but are actually a delicious classic treat! 
Plan on 3-4 small stuffed mushrooms per person or 1-2 large stuffed mushrooms on an appetizer buffet.   Our mushroom recipes are easily doubled to serve a crowd
Sausage Stuffed Mushrooms
Helpful Hints
There are three "basic" mushrooms, found in your local supermarket and are perfect for stuffing: 
Simple White Mushrooms - A bit flavorless but are improved when sautéed in olive oil or butter
Cremini Mushrooms - Also called "brown mushrooms".  Have a little more flavor then white mushrooms and also improve with cooking
"Baby Portobello" Mushrooms - Actually large cremini mushrooms and are the most flavorful of the basic mushrooms
~ DO NOT WASH any type of mushroom - Mushrooms are very porous and will become water logged and soggy when you cook them

~ Store raw mushrooms in a paper bag, never in plastic.  This will prevent spoilage
~ Just before service, clean mushrooms of excess dirt with a small soft brush or with a dry paper towel  
~ Preferably, serve mushroom appetizers hot to warm 
~ For good flavor, sprinkle mushrooms with dry white wine before baking
~ Prepare stuffing mixture up to 2 days in advance. Cover and refrigerate  
~ Let mixture come to room temperature before stuffing mushrooms

Recipes________________________
Crabmeat Stuffed Mushrooms
For these crabmeat stuffed mushrooms, backfin or canned crabmeat will work well.  Also, finely chopped cooked shrimp make a good substitute. 
2 cup crabmeat
2 tablespoon fine breadcrumbs
2 tablespoon shallots, minced
3 tablespoon Parmesan cheese, finely grated
1½ teaspoon salt
2½ tablespoons parsley, minced
24-30 large mushroom caps
2 eggs, beaten
Hot sauce to taste
Softened butter
Kosher salt
Remove stems from mushroom caps and chop finely.  In a bowl, mix crabmeat, breadcrumbs, shallots, cheese, salt, parsley and chopped mushroom stems. Add beaten egg and hot sauce, to taste.
Rub mushroom caps with butter and sprinkle lightly with salt.  Stuff mixture into mushrooms.  Bake at 300 degrees until stuffed mushrooms are tender,  20-25 minutes.  Serve hot.


Well worth the effort!
Louisiana Stuffed Mushrooms
24 jumbo fresh mushrooms
1/4 pound melted butter
1/2 cup green onions, finely diced
1/4 cup fresh parsley, finely chopped
1 tablespoon garlic, minced
1/4 cup tasso**, finely diced
1/4 cup red bell pepper, finely diced
3/4 cup crabmeat, use backfin or clawmeat
1 ounce sherry
1 teaspoon fresh lemon juice
Salt and black pepper, to taste
Hot pepper sauce, to taste



1/2 cup seasoned Italian bread crumbs
1/4 pound melted butter
4 ounces sherry
Preheat oven to 450 degrees F.
Clean mushrooms, remove stems and finely chop.  In a sauté pan melt butter over medium-high heat.  Add mushroom stems, green onions, parsley, garlic and red bell pepper. Sauté until vegetables are
wilted, approximately 3-5 minutes. Add crabmeat, sherry and lemon juice.  Continue cooking an additional two to three minutes. Season mixture to taste using salt, pepper and hot pepper sauce to taste. 
Add bread crumbs, a little at a time, until stuffing is of proper texture but not too dry. Using a teaspoon, fill each mushroom cap with a generous amount of stuffing. 
Place mushrooms in baking dish and top with melted butter and sherry.  Bake for ten to fifteen minutes or until mushrooms are golden brown.

**Tasso is a spicy cooked pork sausage widely available in LA. Substitute cooked chorizo or spicy pork sausage (cook in skillet until done)

Sausage Stuffed Mushrooms
32 medium to large mushrooms, use white, cremini or baby Portobello
2 cloves garlic
8 ounces bulk pork sausage
1/2 cup seasoned bread crumbs
1/2 cup grated Parmesan cheese
1/4 cup snipped fresh parsley
Salt and pepper to taste
 
Preheat oven to 350 degrees F.

Clean mushrooms.  Remove and finely chop stems (stems may not be present on some pre-packaged Portabellas).   Add sausage, mushroom stems and garlic to medium skillet and cook until sausage is brown.  Remove skillet from heat and drain well.  Stir in remaining ingredients, mix well; taste to adjust the seasonings.
Stuff each mushroom cap with about 1 tablespoon of the sausage mixture.  Bake until mushrooms are tender, about 10-12 minutes.



Cheese and Bacon Stuffed Mushrooms 
14 to 16 large mushrooms, cremini ( Baby Portobello) or white mushrooms
8 oz cream cheese, softened to room temperature
2 tablespoons Worcestershire sauce
Chopped chives
10 slices bacon, cooked, cooled and crumbled
Parmesan cheese, grated (optional)
Preheat oven to 350F.  Clean the mushrooms and remove the stems (discard).  Mix cream cheese with the Worcestershire sauce. Add the crumbled bacon. Using a teaspoon, stuff the mushroom caps. 
Place the stuffed mushroom caps on a cookie sheet and bake about 15 minutes or until hot.
Alternatively, broil in oven 5 minutes or until tops are light brown. Sprinkle with parmesan cheese.  Serve hot or warm


Sausage and Spinach Mushrooms

1 pound bulk pork sausage, plain, hot or sage variety
 1 (10 ounce) package frozen chopped spinach, thawed and well drained
 1/4 cup dry bread crumbs
 1/4 cup grated Parmesan cheese
 40 small white or brown mushrooms, stems removed
 Preheat oven to 350 degrees F.

In large skillet over medium heat, crumble and cook sausage until browned. Remove from heat and drain well.  Stir in spinach, bread crumbs and cheese until well combined.  Using a teaspoon, stuff the mushroom caps.
Place mushroom on a baking sheet and bake 15-20 minutes or until tender.