Buffalo Wings Recipes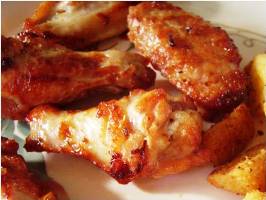 Crispy, well-cooked and flavorful. These buffalo wings recipes are a cut above the rest. Serve this crowd pleasing tradition as an appetizer on any party menu

Buffalo wings originated at the Anchor Bar in Buffalo, New York in the 1960's. As with most popular dishes, recipes vary from cook to cook.
In our first version, cornstarch produces a crispier crust then flour and the traditional hot sauce flavor has been deepened by adding brown sugar and cider vinegar.

The second recipe is baked not fried. This cuts the fat in half - but not the flavor.

Serve either with blue cheese, ranch or Spicy Remoulade Sauce and non-traditional whole peperoncini, celery and carrots. Dill pickles are good too!




Spicy Rémoulade Sauce
Makes 1/2 cup
This well know mayonnaise is perfect for seafood, smoked meats, vegetables and just about anything else.

1/2 cup mayonnaise
2 tablespoons chopped pickled gherkins
2 tablespoons chopped onion
2 teaspoons fresh lemon juice
1 teaspoon Creole, Dijon or stone-ground mustard
1/2 teaspoon finely grated lemon zest
Salt and freshly ground pepper
Hot pepper sauce -- to taste

In a small bowl, combine all of the ingredients. Chill before serving.

More New Orleans Recipes

Buffalo Wings Recipe
Serves 6-8 as an appetizer

Sauce
4 tablespoons butter
1/2 cup Frank's Hot Sauce
2 tablespoons Tabasco or other hot sauce, plus more to taste
1 tablespoon dark brown sugar
2 teaspoons cider vinegar

Wings
1-2 quarts peanut oil, for frying
1 teaspoon cayenne, or to taste
1 teaspoon salt
3 tablespoons cornstarch
18 chicken wings (about 3 pounds), wing tips removed, and separated into two parts, if desired


For the sauce: Melt butter in small saucepan over low heat. Whisk in hot sauces,brown sugar and vinegar until combined. Remover from heat and set aside

For the wings: Preheat oven to 200F. Heat 2 1/2 inches of oil in a large Dutch oven over medium-high heat to 360 degrees. While oil heats, mix together cayenne, black pepper, salt and cornstarch. Dry chicken with paper towels and place in a large mixing bowl. Sprinkle with spice mixture, tossing to coat evenly.

Fry the wings in batches until golden crisp, 10-12 minutes. Transfer to a large plate lined with paper towels. Keep chicken warm in oven while frying next batch

Pour sauce mixture into large bowl, add wings and toss until evenly coated
Buffalo Wings Recipe - Baked not Fried
Serves 4 as an appetizer
8-10 whole wings- when cut 16 total
4 -8 oz Frank's or Texas Pete hot sauce, or to taste
1/3 stick butter
1 cup flour
1 tsp. garlic powder
1 tsp. black pepper
1/2 tsp. salt
Cut wings in half at the joint. Place flour, salt, pepper, garlic in a large ziploc bag. Add wings and seal and shake. Place wings on a nonstick cookie sheet, use pam if you like. Bake for 45 minutes at 375.
After 45 minutes they should be very crispy and brown, if not let them stay in until they are nicely browned. Don't overcook
While chicken is baking, place Texas Pete in a sauce pan with butter and heat until butter is melted. When the wings are done place in a Tupperware just big enough to hold all of them. Pour the hot sauce over and seal and shake.
Remove from plastic container and serve with ranch dressing