Cheesecake Recipes________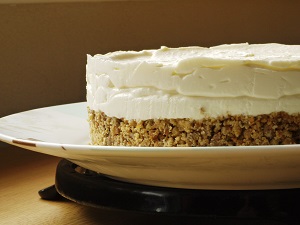 Easy Cheesecake Recipe
Makes 1 9" cake

10 ounces package Lorna Doone cookies, crushed
1/4 pound butter, melted
1/4 cup sugar
1 envelope Knox unflavored gelatin
16 ounces cream cheese, room temp
8 ounces sour cream
2 large eggs
2 tablespoons butter
2 tablespoons cornstarch
1 cup sugar
1 teaspoon vanilla
Crushed cookie crumbs

CRUST
Mix crumbs with butter, sugar and gelatin. Pat out evenly over bottom of greased 9" Springform pan. Bake at 350 for 8 minutes.

FILLING
Beat with electric mixer cream cheese, sour cream, eggs, butter, cornstarch, sugar and vanilla. When the filling is perfectly smooth and creamy pour into
crust. Return to 350~ oven and bake 30 to 35 minutes or until a knife inserted
comes out clean.

Cool in pan on rack 20 minutes before releasing springform from the cake. Cool
another 20 minutes before cutting. Sprinkle top with cookie crumbs.



Caramel Pecan Cheesecake
Makes 1 9" cake

Crust
2 cups pecans (about 8 oz)
1/4 cup sugar
1/4 cup melted butter

Caramel Layer
26 Kraft caramels
1-1/2 Tbsp. sweetened condensed milk

Filling
32 ounces cream cheese
1 cup sugar
3 eggs
1 Tablespoon vanilla

Topping
1 cup whipping cream
2 Tablespoons sugar
1/2 teaspoon vanilla

Preheat oven to 325 degrees.  In a food processor, finely grind the pecans and sugar. Add the melted butter and mix to form moist crumbs.  Press into the bottom (not sides) of a 9-inch springform pan.  Wrap foil around the bottom of the pan.  This is to prevent water from entering the pan. 

Cook the caramels and sweetened condensed milk in the top of a double boiler
over simmering water until the caramels are melted and smooth, stirring
occasionally (mixture will be very sticky).  Drizzle over the crust.

Using an electric mixer, beat the cream cheese and sugar until well blended. Add
eggs, one at a time, beating just until each is well blended., do not overbeat.  Mix in vanilla.

Place a pan of hot water on the floor of the oven. Pour filling into the crust and
bake at 325 degrees for about one hour or until the edges are just set.

Cool to room temperature. Refrigerate overnight. Release pan sides and remove. 

Beat the whipping cream, sugar, and vanilla together to stiff peaks.  Decorate the cheesecake or garnish each serving with the whipped cream.




Bailey's Chocolate Chip Cheesecake
Makes 1 9" cake

Crust
2 cups Graham cracker crumbs
1/4 cup sugar
6 tablespoon butter, melted

Cake
2 1/4 pound cream cheese
1 2/3 cup sugar
5 eggs
1 Cup Bailey's Irish Cream
1 tablespoon Vanilla Extract
1 Cup semisweet Chocolate Chips

Topping
1 Cup whipping cream
2 Tablespoon sugar
1 Teaspoon Instant coffee powder

Chocolate curls for garnish if desired

Preheat oven to 325 degrees. Coat a 9" springform pan with nonstick vegetable
spray. Combine crumbs and 1/4 cup of sugar in the pan and stir in the melted
butter.
Press mixture into bottom and 1 inch up the sides of the pan. Bake until
light brown, about 7 minutes.
In a food processor, beat cream cheese, add 1-2/3 cup sugar and eggs and mix. Blend in Bailey's and vanilla. Sprinkle half of the chocolate chips over crust and spoon in filling. Sprinkle with remaining chocolate chips. Bake cake until puffed, springy in center and golden brown, about 1 hour and 20 minutes.
Cool cake completely. Beat whipping cream, 2 tablespoons sugar and coffee powder until peaks form. Spread mixture over cooled cake and garnish with chocolate curls.



Honey Vanilla Cheesecake Recipe
Makes 1 10" cake

Crust
32 crisp gingersnap cookies, crushed
2 tablespoons sugar
1 egg white

Filling
4 Ounce Reduced-fat cream cheese
16 Ounce Low-fat cottage cheese
1 Cup Fat-free ricotta cheese
2 Tablespoon Cornstarch
1 Cup Honey
1 Tablespoon Vanilla extract
1 Cup Fat-free egg substitute
Pureed raspberries, or strawberries, if desired
Sugar (as topping, if desired)

For the Crust
Combine cookies and sugar thoroughly in food processor.   Add egg white blending until mixture is moistened.  Press mixture on bottom and up sides of 8- or 9-inch springform pan. 
Fill an oven-proof dish with about 1 inch of warm water and place it at the back of the oven to provide steam for the cheesecake while it bakes.
Bake at 350 degrees for 10 to 12 minutes. Remove from oven.  Reduce heat to 300 degrees.

For the Cheesecake
In a food processor or blender, blend until smooth cream cheese, cottage cheese, ricotta cheese, and cornstarch. Add honey and vanilla extract and blend again. Add egg substitute and blend until mixture is smooth.

Pour into prepared crust.  Bake 20 minutes at 300 degrees then reduce oven
temperature to 250 degrees and bake 60 minutes longer or until sides are set and
center is fluid but not sloshing.  Turn off oven and allow cake to cool 1 hour in oven. Remove and cool to room temperature.

Chill, covered, overnight before slicing. Serve topped with pureed strawberries or
raspberries, adding bit a sugar, if desired.