Chicken Satay Recipe_______

with Dipping Sauces

| | |
| --- | --- |
| Satay or sate is a kebab or skewer style dish that has long been popular in Asian cultures.  They are usually made from long slices (as opposed to cubes) of beef, chicken or lamb. | |
For any meat, the marinade can consist of a combination of soy sauce, fish sauce, oyster sauce, ginger, garlic, green onion and brown sugar. 
The pieces of meat are skewered and usually grilled.  Traditional accompaniments are rice and a peanut dipping sauce.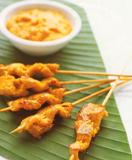 Use bamboo Link or flat or round metal skewers found in party supply stores.  They can be marinated up to 1 day in advance and threaded onto the skewers up to 1 day in advance (after marinating). 

Chicken satay are great on any party menu and could be considered a hearty appetizer.  Plan to serve about 3 per person (along with other appetizers). 



Shake it up and serve the traditional peanut sauce and/or a variety of sauces.  For 20 satay you will need about 2 cups of dipping sauce.  Sauces can be prepared up to 2 days in advance. Keep covered in the refrigerator.  


Chicken Satay Recipe
Makes about 20 satay

Vary the marinade ingredients in this chicken satay recipe such as using Hoisan sauce or curry paste for the oyster sauce.  The end result may not be exactly traditional but still delicious. 
The dish takes only minutes to cook and is a big hit at kids parties served with Honey Mustard Sauce  

Marinade
2 tablespoons peanut oil
2 tablespoons oyster sauce
1 tablespoon grated fresh ginger
1 teaspoon minced garlic
Dash of hot pepper sauce
Pinch of salt and ground black pepper

2 pounds boneless, skinless chicken breasts

20 six-inch bamboo skewers

Soak the bamboo skewers in water for about 15 minutes.  This will prevent the skewers from burning.

Mix the marinade ingredients together in a small bowl.  Pound the chicken breasts slightly to even out to about 1/2 inch thickness. Cut the chicken into 1/2 inch wide strips and lay in a single layer in a shallow dish or sealable plastic storage bag.  Pour marinade over the chicken.  Cover dish or seal bag and marinate for 4-6 hours or overnight.

Preheat oven to 350 degrees F.  Remove the skewers from the marinade and brush some of it from the chicken.  Thread chicken strips and lay them out in a single layer on a baking sheet.   Bake for 12-15 minutes or until just tender.
Dipping Sauces for Chicken Satay Recipe_______________

Ginger Peanut Sauce
Makes about 1 3/4 cup

2 tablespoons smooth peanut butter
1/4 cup fresh lemon juice
1 1-inch piece fresh ginger, peeled and grated
1/2 teaspoon chili powder or ground red pepper, or to taste
2 garlic cloves, minced or grated
1 1/2 cups low sodium chicken broth

Mix peanut butter, lemon juice, ginger, chili powder or red pepper and garlic in a blender or food processor. Add 1/2 cup chicken broth and process until smooth, roughly 1 minute

Transfer to a small saucepan, add remaining chicken broth and simmer until sauce coats the back of a spoon, but not thickly, about 12 minutes. Thin with small drops of broth if necessary.   Cool, serve at room temperature


Quick Peanut Sauce
Makes about 1/2 cup.  Recipe easily doubles or triples. No chili oil? Combine 1/2 teaspoon vegetable oil and 1/2 teaspoon ground red pepper.  Voila!

3 tablespoons peanut butter
2 tablespoons rice or white wine vinegar
1 garlic clove, finely minced or put through a press
2 teaspoons soy sauce or to taste
1/2 teaspoon chile oil
Salt
Warm water

Combine all ingredients except salt.  Add warm water to make peanut sauce the consistency you wish.  Add salt to taste.

Coconut Peanut Dipping Sauce
Makes about 1 1/2 cups

1 (10 ounce) can coconut milk
1/2 cup crunchy peanut butter
1/2 small onion, grated
1 tablespoon dark soy sauce
2 teaspoons brown sugar
1/2 teaspoon red pepper flakes

In a saucepan over medium heat, combine coconut milk, peanut butter, onion, soy sauce, brown sugar and pepper flakes. Bring to a boil, stirring frequently. Remove from heat, and keep warm


Soy Ginger Sauce
Makes about 1/2 cup. Recipe easily doubles or triples

1/4 cup low-sodium chicken broth
1/4 cup rice vinegar
1/4 low-sodium soy sauce
2 tablespoons sugar
1 tablespoon sesame oil
2 teaspoons fresh ginger, grated

In a small jar with a lid, combine broth, vinegar, soy sauce, sugar, oil and ginger. Shake well. 


Honey Mustard Dipping Sauce
Makes about 1/2 cup. Recipe easily doubles or triples

1/4 cup honey
1/4 cup Dijon mustard
2 tablespoons fresh lemon juice

Mix the honey, mustard and lemon juice together in a small bowl.  Serve alongside the chicken for easy dipping


Crazy Simple Dipping Sauce
Makes about 2 cups.  Also good with cocktail franks and meatballs.  Great for the kiddos

2 cups orange juice
1/2 cup pancake syrup
Red pepper flakes to taste (optional)

In medium sauce pan heat orange juice and pancake syrup. Bring to simmer stirring frequently.  Add red pepper flakes, if using