Easy Cakes and Desserts 
Love it! Easy cakes, easy desserts!  On the perfect party menu, dessert is a must!  Depending on your guests, dessert can be the "star of the show". 
Plan a simple menu and go all out for the sweet finish.  These cake and dessert recipes are easy peasy!  Helpful hints and make ahead advice are included.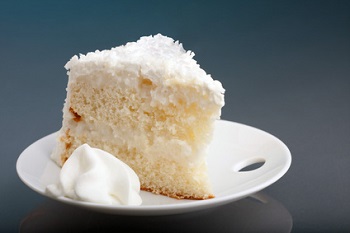 Spiced Coconut Cake 
Spiced Coconut Cake Recipe
Makes one 9-inch cake, about 12 servings
This Spiced Coconut Cake recipe is a tropical twist on an old favorite. Rich with coconut, sweet spices and nuts, this will be your new all-time favorite cake recipe. Serve with sorbet or soft whipped cream.   
Be careful not to overcook the coconut cream/egg mixture or it will curdle.  If it does, pour the hot mixture into a blender and puree at high speed until smooth.  
To toast the coconut for the outside of the cake; spread coconut out on a baking sheet and toast in a 300F degree oven for about 10 minutes or until golden brown.  Stir often.  Cool before applying to cake.

1 teaspoon ground cardamom
1 2/3 cups all-purpose flour
1 1/2 teaspoons ground cinnamon
1/2 teaspoon ground cloves
1/2 teaspoon ground nutmeg
1 1/2 teaspoons baking powder
1/2 teaspoon baking soda
1/4 teaspoon salt
8 tablespoons (1 stick) unsalted butter
1 cup granulated sugar
2 large eggs
2 teaspoons vanilla extract
1/2 cup sour cream
2 cups (7 ounces) sweetened grated coconut
2/3 cup chopped toasted macadamia or cashew nuts
Two 9-inch layer pans, buttered, bottoms lined with parchment or wax paper
Finish with Coconut Buttercream Frosting
For the nuts: Preheat oven to 350F.  Spread nuts out on a baking sheet.  Toast until golden, about 5-7 minutes.  Watch closely, do not burn
Preheat oven to 350F.  Set oven rack at the middle level.  Into a medium-size bowl sift together the flour, cardamom, cinnamon, cloves, nutmeg, baking powder, baking soda and salt. 
In a large bowl of an electric mixer, beat the butter with the sugar until fluffy.  Beat in the eggs one at a time, beating until smooth after each addition.  Beat in the vanilla extract. 
Beat half of the flour mixture into the butter mixture and continue to beat until smooth.  Beat in the sour cream, then the coconut and finally the remaining flour mixture.  Stir in the toasted nuts until well distributed.
Divide the batter evenly between the prepared pans.  Bake for about 25 minutes or until the cake are firm in the center.
Cool in the pans for 5 minutes, then remove layers to a rack, remove paper and let cool completely.  Top with Coconut Buttercream Frosting  

Coconut Buttercream Frosting
1 cup canned coconut cream
2 eggs
2 sticks unsalted butter
2 tablespoon white rum
2 teaspoons vanilla extract
2 cups (7 ounces) sweetened grated coconut
In a small saucepan, bring the coconut cream to a boil over low heat.  Meanwhile, beat the eggs together in a bowl.  Whisk the boiling coconut cream into the eggs a little at a time and return the cream/egg mixture to the saucepan.  Cook over low heat, stirring constantly until the mixture is slightly thickened.  Strain into bowl and cool to room temperature. 
In the bowl of an electric mixer, beat the butter until soft and light.  Beat in the cooled coconut mixture, a little at a time, until smooth.  Mix in the rum and vanilla, a few drops at a time.
To Finish the Cake
Place one cake layer on a plate, smooth the buttercream on the top surface.  Place the other cake layer on top.  Cover the top and sides of the of the cake with the coconut buttercream.  Press the grated coconut all over the cake (toasting optional)

Easy Rum Orange Cake Recipe
Makes one 10-inch Bundt cake
Easy Rum Orange Cake is a delightful mix of flavors with a rich and delicious texture.  This cake can be made 1 day in advance.  Cover with plastic wrap and store at room temperature.  
For more rum flavor, add 3-4 tablespoons of rum to the cake batter and either leave in, omit or decrease the rum from the glace.
1 (18.25 ounce) package yellow cake mix 
1 (3 ounce) package instant lemon pudding mix
3/4 cup fresh orange juice, about 2 medium oranges
1/2 cup vegetable oil
4 eggs, room temperature
1 teaspoon lemon extract
Rum Glaze
1/3 cup fresh orange juice, about 1/2 orange
2/3 cup white sugar
1/4 cup butter
3-4 tablespoons dark rum
Confectioners' sugar, for sprinkling
Grease a  10-inch Bundt pan.  Preheat oven to 325 F .
In a large bowl, stir together cake mix and pudding mix. Add 3/4 cup orange juice, oil, eggs and lemon extract. Beat on low speed until blended. Scrape bowl, and beat 4 minutes on medium speed. Pour batter into prepared pan.
Bake in preheated oven for 50 to 60 minutes. Let cool in pan for 10 minutes, then turn out onto a wire rack and cool completely.
Rum Glaze:  In a saucepan over medium heat, cook 1/3 cup orange juice, sugar, butter and rum for two minutes. Drizzle over cake.  Sprinkle cake with confectioner sugar just before serving.  Delicious with fresh berries and whipped cream
Easy Chocolate Cake Recipe
Makes 1 10-inch tube cake
1 (18.25 ounce) package dark chocolate cake mix
1 (3.9 ounce) package instant chocolate pudding mix
1 (16 ounce) container sour cream
 3 eggs
1/3 cup vegetable oil
1/2 cup coffee flavored liqueur
2 cups semisweet chocolate chips
Preheat oven to 350ºF. Grease and flour a 10 inch Bundt pan.  
In a large mixing bowl, combine cake mix, pudding mix, sour cream, eggs, oil and coffee liqueur.  Beat on low until ingredients are well blended.  Beat on medium until well mixed.  Fold in chocolate chips. Batter will be thick. Spoon into prepared pan.  
Bake for 1 hour, or until cake springs back when lightly tapped. Cool 10 minutes in pan, then turn out and cool completely on wire rack.  Spread with your favorite frosting or sprinkle with confectioners sugar.  Also serve plain chocolate cake with ice cream or whipped cream

Bourbon Chocolate Cake Recipe
 Makes 1 9" round cake
Cake
1 package chocolate cake mix with pudding
3 eggs
1/2 cup  bourbon
1/2 cup cold water
1/3 cup vegetable oil
 Frosting
 16 ounces whipping cream
 1/3 cup unsweetened cocoa powder
 1/2 cup confectioners sugar
 1 teaspoon vanilla extract
 1/2 cup bourbon
 1 cup pecans, walnuts or almonds, finely chopped
Preheat oven to 350°F.  Grease and flour two 9" round cake pans. 
Combine cake mix, eggs, bourbon, cold water and vegetable oil in large bowl of mixer. Beat for 2 minutes on high speed until very light. Pour into pans. Bake for 30 minutes or until tests done. Cool in pans 10 minutes. Remove cakes and cool completely. Split layers in half horizontally.
Place one layer on a cake plate. Spread frosting evenly over the cake layer. Sprinkle with some of the nuts.  Place next layer on top and spread that layer with frosting and sprinkle with nuts.  Repeat with the remaining two layers.  Cover the sides with frosting if desired.  Chill at least 2 hours.  Refrigerate leftovers
Frosting
In large mixing bowl, combine whipping cream, cocoa, powdered sugar and vanilla. Beat until stiff then fold in the bourbon. 

 
White Chocolate Crème Brulee Recipe
Serves 4
So simple, so rich, so fabulous!  Garnish each ramekin with a few raspberries and a mint sprig, and serve chilled. Creme brulee can be made up to 2 days in advance, covered and stored in the refrigerator.
4 egg yolks
1/3 cup sugar
2 cups heavy whipping cream
4 ounces high-quality baking white chocolate, broken into l/4-inch pieces, or 3/4 cup white chocolate pieces
1/2 teaspoon pure vanilla extract
4 teaspoons sugar for finishing
Fresh berries and fresh mint sprigs for garnish (optional)
Position a rack in the center of the oven and preheat the oven to 300ºF.  Arrange 4 ¾-cup ramekins or custard cups in a 9 x 13-inch baking pan.
In a medium-sized bowl, whisk the egg yolks and sugar until frothy and smooth.  
In a 2-quart saucepan, bring the whipping cream to a simmer over medium-high heat.  Remove from heat, add the white chocolate and let sit for 1-2 minutes. 
Whisk the mixture until the white chocolate is smooth.   Gradually add to the egg yolk mixture, whisking continuously until smooth. Add the vanilla extract.
Divide the custard among the ramekins.  Pour boiling water into the roasting pan (do not allow any water to fall into the ramekins) until the water is halfway up the sides of the ramekins.
Bake until the custards are firm yet jiggle slightly when shaken, about 45 minutes.  Remove from the oven and allow to cool.  Cover with plastic wrap and refrigerate until well chilled, at least 2 hours. 
Just before serving, preheat the broiler and sprinkle 1 teaspoon sugar over each ramekin.  Place under the broiler until sugar has caramelized, watching closely to avoid burning.  
For best results, use a small, hand-held torch to melt sugar.  Re-chill custards for a few minutes before serving.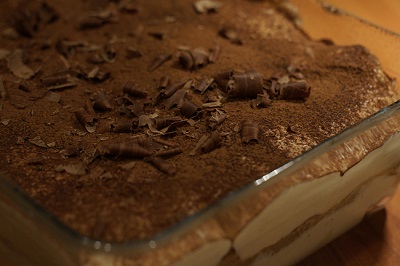 Tiramisu Recipe
Serves 12-15
Tiramisu means "pick me up", which make sense since it contains coffee.   This luscious dessert is not as complicated as it may sound. 
Mascarpone cheese is an extra thick Italian cream cheese found in your grocers deli cheese case.  If not available, use softened cream cheese instead.  
If you are not a coffee drinker,  buy a cup of coffee from a coffee shop and try espresso for extra richness.  This tiramisu can be made in any sized dish. Adjust layering accordingly.  Make tiramisu up to one day in advance and keep tightly covered in refrigerator

36 ladyfinger cookies, soft or crunchy type
 1 1/2 cups strong brewed coffee, cooled
 12 ounces mascarpone cheese
 1/2 cup sugar
 3 tablespoons coffee liqueur
 1 1/2 teaspoons vanilla extract
 2 1/4 cups heavy whipping cream
 4-5 ounce dark chocolate bar, grated
In the bottom of a 13x 9 x2 inch baking pan or serving dish, place half of the ladyfingers in a single layer.  Sprinkle ladyfingers with half of the coffee. 
In a large bowl, beat the mascarpone cheese and the sugar until light and fluffy.  Beat in the coffee liqueur and vanilla extract. 
In a separate bowl, beat the whipping cream until stiff peaks form.  Carefully fold the cream into the cheese mixture.
Spoon half of the cream and cheese mixture over the ladyfingers and spread evenly with a spatula.  Sprinkle with half of the grated chocolate.  Repeat this process for the second layer.  Cover and refrigerate for at least 4 hours or overnight

Chocolate Toffee Trifle
Serves 10-12
This dramatic but easy dessert is the perfect ending to a dinner party.  If you're pressed for time, use a purchased chocolate pound cake.
Trifle can be prepared 1 day ahead and kept refrigerated.  The chocolate cake can be prepared 1 day ahead.  Cover with foil and store at room temperature.
1 1/2 ounces unsweetened chocolate, finely chopped
1 cup sifted cake flour
1 teaspoon baking soda
1/4 teaspoon salt
1 3/4 cups (packed) light brown sugar
1/2 cup (1 stick) unsalted butter, room temperature
1 large egg
1 large egg yolk
1/4 cup buttermilk
1/2 cup boiling water
1 teaspoon vanilla extract
3 cups chilled whipping cream
1 1/2 cups chocolate-covered English toffee bits (two 6-ounce bags)
Semisweet chocolate shavings for serving
Preheat oven to 375°F. Butter and flour a 9-inch square baking pan with 2-inch-high sides. Melt 1 1/2 ounces chocolate in top of double boiler set over simmering water, stirring until smooth. Remove from over water. Let cool 10 minutes.
Sift flour, baking soda and salt into medium bowl. Beat brown sugar and butter in large bowl until blended. Add egg; beat well.  Beat in yolk.  Add melted chocolate; beat until blended. Mix in dry ingredients alternately with buttermilk, beginning and ending with dry ingredients. Add 1/2 cup boiling water and vanilla; stir until blended (batter will be thin.)
Pour batter into prepared pan. Bake until tester inserted into center comes out clean, about 35 minutes. Transfer pan to rack and cool completely
Beat cream in large bowl until stiff peaks form. Spoon 1 1/2 cups whipped cream into bottom of large glass trifle bowl. Sprinkle with 1/2 cup toffee bits.
Crumble 1/3 of cake over toffee. Repeat layering of whipped cream, toffee bits and cake, creating 3 layers of each. Spoon remaining whipped cream over top, spreading to cover. Cover trifle; refrigerate at least 4 hours.   Sprinkle trifle with chocolate shavings and serve.
Adapted from Bon Appetit Nov. 1996

Spanish Flan Recipe  (Carmel Custard)
Makes 8 servings
To make this Spanish Flan recipe, use a traditional Spanish flan mold OR eight 6 oz. ramekins OR  one 2 quart baking dish.  Dish should have at least a 1 ½ depth.  Use a 13x9 dish for the water bath. 
Caramel
3/4 cup sugar
Custard
4 cups whole milk
Pinch of sea salt
1/2 cup sugar
 2-inch cinnamon stick or vanilla bean
 Small piece of orange or lemon rind (optional)
 4 eggs
 6 egg yolks
To make the caramel:
Heat 3/4 cup sugar in a small, heavy frying pan  over low heat until it begins to dissolve. Shake the pan slightly (do not  stir) until all the sugar has melted. Increase the flame and let the sugar  bubble and color. Pour the caramel into the mold and quickly turn it around  in
up the sides has been lightly coated with the caramel.  If the caramel thickens and becomes sluggish, gently heat the mold in a pan  of hot water or over low heat, depending on the material, and continue the  coating action. Set aside to cool. 
To make the custard:
Put the milk, salt, sugar, and cinnamon or vanilla into a saucepan and bring slowly to a boil, stirring until the sugar has dissolved. Continue boiling slowly, taking care that it does not boil over, until the milk has reduced by about 2/3 cup. Set aside to cool.
Place an oven rack on the lowest rung of the oven and heat to 325 F.
Beat the eggs and yolks together and stir into the tepid milk. Pour the mixture through a strainer into the flan mold and place it in a hot water bath in the oven. Test after 2 hours with a skewer or cake tester; if it comes out quite clean, the flan is cooked. Remove from the oven, but allow to sit in the water bath for about 15 minutes longer.
Remove and set aside  to cool completely before refrigerating.   



Mexican Dessert Recipe: Tequila-Flamed Mangos
Serves 6

Tequila-Flamed Mangos is a toothsome Mexican dessert recipe reminiscent of Bananas Foster except the fruit is slowly-baked, producing a buttery, lush sauce. 
Although this dish is best prepared and served within a few hours, you may bake the mangoes 1 day ahead.  Cool and refrigerate, well covered.  Reheat in a microwave or low oven before flaming. 
Heaven help us, but you can also use a similar amount of unsweetened jarred mango slices, well drained.  You may need to reduce the cooking time by 5-15 minutes.
This dessert can be improvised using pineapple and rum, apples and brandy or peaches and brandy

4 medium ripe mangos
1/4 cup butter
1/2 cup brown sugar
1/4 to 1/3 cup unflavored tequila
3 tablespoons granulated sugar
Sour cream, creme fraiche, whipped cream or ice cream for serving
Preheat oven to 350F.   Peel mangoes with a sharp paring knife and slice into 1/2 inch wedges or chunks.   Place the butter in a baking dish and place in the oven to melt the butter, about 5 minutes.   
Add mango pieces and sprinkle with the brown sugar.  Stir to coat the mangoes completely, then spread out evenly in the dish.  Bake about 30 minutes, shaking the dish occasionally to prevent sticking. 
Just before serving, pour the tequila into a small saucepan and slowly heat over a low flame.  Do not allow the tequila to get too hot because the alcohol will burn off and it will not flame.  
Sprinkle the hot mangoes with the granulated sugar.  Pour the tequila over the mangoes and quickly light it with a long kitchen match or butane lighter.  When the flames subside, spoon mangoes into serving dishes and serve as above.
Peanut Chocolate Cookies  Recipe
Makes about 24 cookies
Peanut Chocolate Cookies have salty crisp peanuts, creamy peanut butter chips and of course, chocolate---totally addictive flavors in one little cookie.  
For a variation, use two cups of peanuts instead of the peanut butter chips.  The cookies can be stored in an airtight container for up to 3 days.

1/2 pound good-quality semisweet chocolate, coarsely chopped
 1 3/4 cups all-purpose flour
 1/3 cup unsweetened cocoa powder
 1 teaspoon baking soda
 1/2 teaspoon salt
 1/2 pound unsalted butter (2 sticks), softened
 1 cup light brown sugar
 1/2 cup granulated sugar
 2 teaspoons pure vanilla extract
 2 large eggs
 2 large egg whites
 1 cup unsalted peanuts (about 6 ounces)
 1 cup peanut butter chips (about 6 ounces)

Preheat the oven to 375º. Lightly butter 2 large baking sheets. In a small bowl, melt the chocolate over a pan of simmering water; let cool.
In another small bowl, combine the flour, cocoa, baking soda and salt. In a large bowl, beat the butter until light and fluffy. Add the brown sugar, granulated sugar and vanilla and blend until  smooth.
Add the melted chocolate, whole eggs and egg whites and mix until incorporated. Stir in the dry  ingredients just until combined. Add the peanuts and peanut butter chips.
For each cookie, scoop a scant 1/4 cup of the dough onto the prepared baking sheets, leaving about 2 inches between the cookies. Bake for 10 to 12 minutes, or until just set in the middle; bake about 3 minutes longer for crisper cookies. Transfer to a wire rack to cool.
Chocolate Walnut Biscotti Recipe
Makes about 48 cookies
Don't be put off by the different steps involved in this biscotti recipe.  These crispy cookies come together easily and are superb for dunking in your morning coffee or as a light dessert.
1 cup walnut halves (about 4 ounces)
4 1/2 cups all-purpose flour
1 tablespoon baking powder
1/2 teaspoon salt
2 sticks unsalted butter (1/2 pound) softened
1 1/2 cups sugar
4 large eggs
1 tablespoon pure vanilla extract
5 1/2 ounces bittersweet chocolate, cut into 1/2-inch chunks (about 1 cup)
Preheat the oven to 400º. Toast the walnuts for about 8 minutes, or until golden brown. Let the nuts cool, then coarsely chop them. Lower the oven temperature to 325º.
In a large bowl, sift together the flour, baking powder and salt. In a large bowl, cream the butter with the sugar. Beat in the eggs, 1 at a time, blending thoroughly after each addition.    Add the vanilla. Gradually stir in the flour mixture, then fold in the nuts and the chocolate until just blended.
Divide the dough into 4 pieces and shape each piece into a 12-inch log. Set the logs on 2 lightly buttered baking sheets and refrigerate until chilled, at least 30 minutes.
Bake the dough logs for about 20 minutes, or until they are firm and starting to brown.  Transfer the logs to a rack and let cool slightly. Lower the oven temperature to 250º.
Using a serrated knife, cut the logs crosswise diagonally, 1/2 inch thick. Set the cookies on their side on the baking sheets and bake for about 15 minutes, or until golden brown. Let cool before serving.

Top of Easy Cakes and Desserts