Easy Dessert Recipes________
What are easy dessert recipes?  They are dessert recipes that only require a few ingredients you probably already have on hand. 
And yes, they also taste great and get you out the kitchen, pronto.  Does that sound delicious?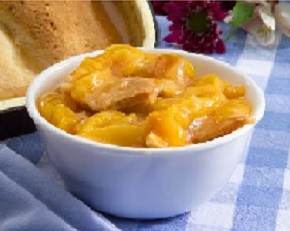 Fruit Cobbler in 30

Simply Quick Trifle
Serves 8
This easy dessert recipe is highly recommended because it is easy AND versatile. 
Use other frozen fruits such as strawberries, blackberries or peaches. 

The angel food cake can be replaced with pound cake, plain muffins or any plain unfrosted cake. 

Also use liqueurs such as Amaretto, Grand Marnier or Kahlua.  Frozen or plain Greek yogurt or creme fraiche are good substitutes for the whipped cream. 

For the cookie topping use almond cookies, ginger snaps or chocolate or vanilla wafers. 

You may also use a round serving bowl to create one large trifle instead of individual serving glasses.
2 12-ounce packages whole frozen raspberries or strawberries
1/2 cup sugar, or to taste
1/2 angel food cake, cut into 1" cubes
1 teaspoon cream sherry per serving
2 1/2 cups whole raspberries or sliced strawberries
8-ounces whipped cream or whipped topping
Crushed cookie crumbs
Gently wash and drain berries. Set aside.  Process thawed raspberries in food processor or blender until smooth.  Strain through a fine sieve to remove seeds. Stir in sugar until dissolved. Set aside. 

Cover the bottom of 8 dessert glasses with about 1 1/2 tablespoons raspberry purée.  Add angel food cake cubes and fill to half full.  Sprinkle with sherry.  Drizzle 3 to 4 tablespoons raspberry purée over cake. Fill with fresh fruit. Top with whipped topping and top with crushed cookies.

Banana's Foster Crisp
Serves 4-6
Serve warm or cold with whipped cream or ice cream. Also, sprinkle with toasted chopped pecans, walnuts or almonds after cooking
6 medium bananas, peeled
1/4 teaspoon salt
1/2 tablespoon dark rum (optional)
3/4 cup vanilla wafer crumbs
1/4 cup unsalted butter, melted
1/3 cup brown sugar, packed
1 teaspoon ground cinnamon
Preheat oven to 350 F. Slice the bananas into 1/2-inch rounds. Grease a large casserole and arrange the banana slices on the bottom. Sprinkle with salt and rum if using.
Combine the vanilla wafer crumbs with the melted butter. Add the brown sugar and cinnamon and mix well. Sprinkle over the bananas. Bake about 20 minutes or until browned.



Fruit Cobbler in 30
Serve 12
Vary fruit filling of this easy dessert recipe by using blackberry, bosenberry,  apple or any canned pie filling.  Don't omit the topping.  It makes this dessert sing
2 21-ounce cans cherry filling and topping
1 teaspoon almond extract
1 cup all-purpose flour
2 tablespoons granulated sugar
2 teaspoons baking powder
1/2 cup orange juice
Topping
1 tablespoon slivered almonds, coarsely chopped
1 tablespoon granulated sugar
1 teaspoon grated orange peel
1/2 teaspoon ground cinnamon
Preheat oven to 350ºF
Combine cherry filling and almond extract in an ungreased 8 × 8 × 2-inch baking pan.  
Combine flour, sugar and baking powder in a medium mixing bowl; mix well. Add orange juice, stirring just until dry ingredients are moistened.
Drop batter by tablespoons over cherry filling, making at least 8 dumplings.  
For the topping: Combine almonds, sugar, orange peel and cinnamon in a small bowl; mix well. Sprinkle on top of cobbler.   Bake 30 to 35 minutes, or until filling is bubbly and dumplings are brown.



French Pear Pie Recipe
Serves 6-8

6 Cups Bartlett pears, pared and thinly sliced
1/2 Teaspoon Lemon rind
3 Teaspoons frozen orange juice.
1 Unbaked 9-inch pie shell

Spicy Crumb Topping
3/4 Cup Unbleached flour
1/2 Cup Sugar
1/2 Teaspoon Ginger, ground
1 Teaspoon Cinnamon; ground
1/8 Teaspoon Salt
1/4 Cup Butter

Combine the pears, orange juice concentrate and lemon rind in a bowl and
toss lightly. Arrange the pear mixture in the unbaked pie shell.

For the crumb topping
Combine the flour, sugar, spices and salt in a bowl. Cut in the butter using a pastry blender or fork, until the mixture is crumbly.  Sprinkle over the pears in the pie shell. 

Bake in a preheated 400 degree F oven for 40 minutes or until the pears are tender. Cover loosely with aluminum foil after 30 minutes if the top becomes too brown.  Cool on a wire rack before serving.



Luscious Lemon Tart with Almond Crust
Serves 6-8

This lemon dessert can be prepared 1 day ahead. Keep covered and refrigerated.   Serve the tart at slightly above room temperature.  Garnish finished tart with lemon slices, seasonal berries or fruit

Nut Crust
1/2 cup almonds, pecans or walnuts
1/4 cup white or whole-wheat pastry flour
1/4 teaspoon salt
3 tablespoons light brown sugar
5 tablespoons cold butter, cut into small pieces
1/2 teaspoon vanilla mixed with 2 tablespoons water

Filling
2/3 cup fresh lemon juice
1/2 cup sugar
3 tablespoons crème fraîche or sour cream
4 large eggs

Make crust:
Preheat oven to 350ºF.  Toast the nuts on a baking sheet until just fragrant, about 8 minutes.  Cool.  Chop half of the nuts finely and the other half coarsely.  Toss all the nuts, flour, salt and sugar in a bowl. 
Cut in the butter using your fingers.  Add the vanilla and water a little at a time.  Use your hands to bring the dough together into a ball.   Press the dough into a 9-inch tart shell or pie pan, pressing it evenly up the sides.  Freeze until firm before filling and baking
Make filling:
Whisk lemon juice and sugar in medium bowl to blend. Whisk in crème fraîche. Whisk in eggs 1 at a time until well blended. Pour mixture into crust.   Bake tart until filling is set, about 35 minutes. Cool tart completely in pan on rack. 
Refrigerate until cold, about 2 hours.   Remove tart from the pan as directed.  Cut into wedges and serve

Cocoa Cake Express
Serves 4
2 cups all-purpose flour
4 tablespoons cocoa powder
1 cup cold coffee
1 teaspoon vanilla
1 cup sugar
2 teaspoons baking soda
1 cup mayonnaise
Preheat oven to 350 degrees. Grease and flour an 8-inch round cake pan.  Mix all of the dry ingredients. Blend in the coffee, mayonnaise and vanilla.  
Pour in the batter and bake for about 45 minutes, depending on oven.  Cake is done when a toothpick is inserted in center and comes out clean.  
Top with powdered sugar or a simple vanilla glaze.  



A Chocolate Filled Angel
Serves 6

Serve with whipped cream and chocolate syrup

1 small purchased angel food cake
1 pint heavy whipping cream, whipped
3 tablespoons cocoa powder
1 teaspoon vanilla
1 tablespoon sugar
Cut off top of angel food cake.  Cut out center, leaving sides about an inch thick. This may be easier if the cake is slightly frozen. Place cake in freezer, 30-45 minutes.  Gently fold cocoa powder, vanilla and sugar into the whipped cream.  Replace top and refrigerate for at 3 hours before serving.



Berry Easy Cream Pie
1 14-oz can sweetened condensed milk
1/2 cup fresh lemon juice
1½ to 2 cups assorted fresh berries.  Best to use are strawberries, raspberries and blackberries.  Slice larger berries in half
1 8-oz container frozen non-dairy whipped topping, thawed
1 8-9 inch homemade or purchased graham cracker or cookie crust. If homemade, try vanilla or chocolate wafers or animal crackers for a change of pace
In a large bowl, mix together sweetened condensed milk and lemon juice. Stir well.  Mix in berries.  Fold in whipped topping.  
Spoon mixture into crust. Freeze 5 hours or until firm.  Let stand 20 to 30 minutes before serving.
Garnish with chopped berries, mint leaves or chocolate curls if desired.  Store leftovers in freezer.


Baked Apples with Fig Stuffing
Serves 4
4 firm, tart apples
1 teaspoon ground cinnamon
Zest of 1 lemon
1/2 cup dried figs, chopped
1/2 cup orange juice
 Core apples and peel 1/3 way down. Mix cinnamon, zest and chopped figs with 2 tablespoons of orange juice. Using a small spoon stuff center fairly tightly. Cover tops of apples with fig mixture. Arrange in shallow baking dish and pour remaining orange juice over apples. Bake at 350 degrees 45 to 60  minutes, basting occasionally with orange juice, until apples are tender. 

 
Easiest Peach Cobbler Ever
Serves 4 
Serve this super easy dessert recipe cobbler warm with poured cream. Sprinkle with more nutmeg
1 cup flour
3/4 cup sugar
2 teaspoon baking powder
1/8 teaspoon nutmeg, cinnamon or pumpkin pie spice, or to taste
1 cup milk
1 large can peaches, drained, juice reserved
 Whisk together flour, sugar, baking powder spices and milk.  Melt 1 stick of margarine in the bottom of a 9x13 inch baking dish. Pour flour/milk mixture into dish. Spoon peaches over mixture and pour 1/4 cup of peach juice over the top.    Bake in preheated oven at 400 degrees for 10 minutes. Reduce heat to 375 degrees for 30 minutes.


Easy Chocolate Cake
Makes 1 sheet cake
Dust with a mixture of cocoa powder and powdered sugar for a super fast topping.  Serve with berries and whipped cream
2-2/3 cup flour
2 teaspoons baking soda
2/3 cup cocoa powder
2 cups white sugar
1 tablespoon salt
2 cups water
2 teaspoon vanilla
2/3 cup vegetable oil
2 teaspoons white vinegar
Sift dry ingredients into a bowl. Add liquid. Mix well. Transfer to greased 13"x9"x2" pan. Bake at 350' for 35 minutes.

KISSweetie
Makes 16 rolls
1/2 cup sugar
2 1/2 teaspoon vanilla (to taste)
Juice of 1 lemon
8-ounces cream cheese, softened to room temperature
2 cans refrigerated crescent rolls
Preheat oven to 350 F.  Mix first 4 ingredients together in bowl. Separate rolls, and roll them out about 1/8 inch thick.  Place 2 - 3 tablespoons of filling in middle of long edge.  Fold corners up and roll up remaining flap.
Bake at until brown, about 10-12 minutes. 


Thanks for your comments on Easy Dessert Recipes