Drunken Fruit Recipe
This spirited fruit recipe is perfect for the holidays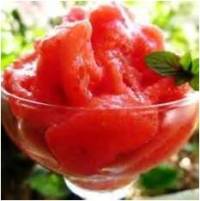 Watermelon in Triple Sec with Basil

Fruit marinated in alcohol is an easy fruit recipe. You can create endless combinations of fresh fruit and wine, spirits or liqueurs.
Use these suggestions as a guide to improvise and create your own using your favorite flavor combinations of fruit and spirits.

Soaking fruit in alcohol is nothing new. Many cuisines have special recipes that may include dried fruit such as raisins, currants and prunes.
These mixtures are often soaked for months and result in a potent brew!
If you want a relatively quick booze laced bowl of fruit follow this general rule of thumb:

About 1 lb of prepared fruit (cleaned and cut into bite-sized pieces) to a scant one cup of liquor.
For smaller portions, use about 1 cup of fruit to 1-2 tablespoons of alcohol.

For a buffet, estimate a 1/2 cup to 1 cup serving of fruit per person

Finish the drunken fruit with citrus zest, herbs or other spices and you will have a simple and sophisticated fruit course.
Wine and fruit is also fantastic as a dessert. Serve with ice cream or whipped cream, coconut, chopped nuts or cake.
More Fruit Recipes
Cool Fruit Salads
Easy Ambrosia
Flavorings to Use:

Ground Spices: cinnamon, nutmeg, allspice, cloves, cardamom, anise, rosemary, cayenne, black pepper, salt. Start with 1/8 teaspoon of ground spices, taste and add more if desired

Zest: Lemon, orange, grapefruit, lime, tangerine/tangelo. Start with 1/2 tablespoon of zest, add more if desired

Herbs and Spices: Fresh basil leaves, mint or geranium leaves and grated ginger






Good combinations to consider:

Oranges with Brandy or Grand Marnier, nutmeg and orange or lemon zest

Oranges or grapefruit with Port and lemon zest

Strawberries with Kirsch or Marsala and orange zest
Strawberries with Kahlua and toasted almond silvers

Grapes. strawberries, kiwi or pineapple with Brandy or cognac, pinch of nutmeg
Melons, pineapple, papaya, mango or peaches with Champagne or dry white wine and lime zest, pinch of ground clove
HELPFUL HINTS
For best results choose soft, fleshy fruits such as strawberries, honeydew, Crenshaw melons, watermelon, seedless grapes, peaches, kiwi, oranges, and grapefruit

Using a fork, poke a few holes into the fruit pieces to allow the alcohol to marinate throughout. Let the fruit marinate in the refrigerator for at least one hour. Serve chilled

Use a combination of these fruits for an extra special treat. Make sure the fruit is ripe and sweet. Peel and slice into bite size pieces

Soaking the fruit in sugar (macerating) for a few hours helps bring out the fruit's sweetness and full flavor. This tip will also boost the flavor of not so sweet or out of season fruit. The sugar will also draw out the fruits' juices, producing a delicious and fragrant syrup with the alcohol

Unlike cooking with spirits, the alcohol in the fruit will be full strength. Don't forget to make a bowl of fruit without alcohol for strict teetotalers, the kids or expectant mothers.