Grilled Steak Recipes_______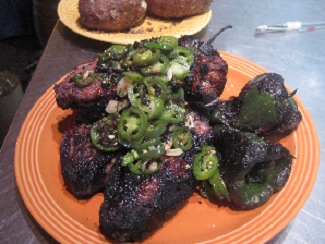 Steve Raichlen's Fiery T-Bones
Grilled Strip Steak with Garlic Shrimp
Serves 4

An easy New York strip steak recipe with a butter, wine and shallot sauce.  Serve the steaks topped with Garlic Shrimp or alone with a garnish of freshly chopped parsley.   If topping with Garlic Shrimp, cut shrimp recipe in half if desired
Directions are included  for grilling and stovetop pan-searing

4 1-1½-inch-thick New York strip steaks
3 tablespoons extra virgin olive oil
3 tablespoons seasoning mix, such as steak seasoning or Cajun seasoning
2 tablespoons butter
1 large shallot, chopped
1 large garlic clove, chopped
¼ cup white wine or vermouth
Handful chopped parsley for garnish

Drizzle the steaks on both sides with about 2 tablespoons of the olive oil and coat with the seasoning mix. 
On the Grill:
Grill for about 4- 6 minutes.  Turn the steak over and grill for about 3 minutes or until an internal temperature of  140 to 145°F is reached for medium-rare.
On the Stove:
Heat a large non-stick skillet, cast iron pan or griddle over high heat.  Cook the meat for 5 minutes on each side for medium-rare.  When done, remove steaks to a plate and allow to rest for 3 minutes. 
If strip steaks were prepared on the stove, use same skillet with pan drippings. Otherwise...
Over medium heat, add 1 tablespoon olive oil plus 1 tablespoon butter to a skillet.  When melted add the shallots and the garlic and cook for 2 minutes.  Add the wine and cook and stir for about 1 minute.  Add the remaining tablespoon of butter and cook and stir until sauce is slightly thickened. 
Serve the steaks topped with Garlic Shrimp or alone with a garnish of parsley.  If topping with Garlic Shrimp, cut shrimp recipe in half if desired


Citrus and Herb Grilled Steak Recipe
Serves 4
This versatile grilled steak recipe can be prepared with your favorite citrus such as lemon, lime or orange and your favorite dried herb such as thyme, parsley, savory, oregano or sage. 

1 pound boneless beef top loin steaks, about 1 inch thick
Salt and pepper to taste
2 large garlic cloves, minced
1 teaspoon citrus zest
1/2 teaspoon dried herbs
1/4 teaspoon pepper

In small bowl, combine ingredients and press into both sides of steaks.  Grill  16 to 18 minutes for medium rare, turning occasionally.  Carve steaks crosswise into thick slices; season with salt, as desired.




Steven Raichlen's Fiery Grilled T-Bone Steaks Recipe
Serves: 4

For the rub:
2 teaspoons ground ancho chili powder
2 teaspoons coarse salt
1 teaspoon dried oregano
1 teaspoon ground cumin
1 teaspoon garlic powder
1 teaspoon freshly ground black pepper
1 teaspoon mustard powder
4 12-ounce T-bone steaks (each at least 1-1/4 inches thick and 12 to 14 ounces)
For the relish:
1/2 cup best quality extra virgin olive oil
4 jalapenos, thinly sliced 
4 cloves garlic, peeled and thinly sliced
1/2 cup fresh cilantro leaves, chopped

You'll also need: 
1 cup mesquite chips or chunks, soaked in water to cover for 1 hour, then  drained

Set up your grill for direct grilling and preheat to high. Toss the mesquite chips on the coals or put them in your grill's smoker box.

Season the steaks generously on both sides with the rub. Grill for about 4- 6 minutes.  Turn the steak over and grill for about 3 minutes or until an internal temperature of  140 to 145°F is reached for medium-rare.
Meanwhile, heat the olive oil almost to smoking in frying pan.  Add the jalapenos, garlic, and cilantro and cook until fragrant and just beginning to brown, 2 minutes. Spoon this mixture over the steaks and serve at once.
Grilled Round Steak with Beer BBQ Sauce
Serves 8

 BBQ Sauce
Makes 2 cups

 1 tablespoon vegetable oil
 1/2 cup minced onion
 1 1/2 cups ketchup
 1 can beer
 3 tablespoons cider vinegar
 3 tablespoons light molasses
 1 tablespoon dry mustard
 1 teaspoon hot pepper sauce
 1 teaspoon freshly ground powder

 Steak Dry Rub:
 1 1/2 teaspoons chili powder
 1 1/2 teaspoons paprika
 1 teaspoon salt
 1 teaspoon sugar
 1 teaspoon freshly ground pepper
 1/8 teaspoon ground red pepper
 1 top round steak, 1 1/2 inches thick


Make barbecue sauce: Heat oil in medium saucepan over medium high heat. Add onion and cook until translucent, 3 to 5 minutes. Add remaining sauce ingredients and bring to a boil, stirring. Reduce heat to low and simmer, partially covered, 20-25 minutes or until thickened. Stir occasionally.

Prepare grill. Combine chili powder, paprika, salt, sugar and black and red peppers. Rub spice mixture all over steak. Let steak marinade in spice rub at room temperature for one hour.  Grill about 6 minutes per side or until an internal temperature of  140 to 145°F is reached for medium-rare.

Brush entire steak with 1/2 cup barbecue sauce. Cook 1 to 2 minutes per side. 

In the oven: Place steak in a broiler pan and position in broiler 3-4 inches from the flame.  Broil 5-8 minutes per side until browned but medium rare in the center.   Let stand 10 minutes before slicing. Serve with remaining sauce.
Grilled Steak and Cheese Salad with Pink Mayonnaise
Serves 6-8
Steak Marinade
1 cup dry red wine
2 tablespoons extra virgin olive oil + additional for basting
2 garlic cloves, grated
1/2 tablespoon coarsely ground black pepper
1 to 1 1/2 pound boneless beef top round steak, about 1 1/4- inch thick

Salad
2 red or sweet onions, sliced into 1/4-inch thick rings
4 cups romaine lettuce leaves, thinly shredded or torn into bite-sized pieces Cherry or grape tomatoes
Garlic croutons
Shaved Parmesan cheese
Place the steak in a plastic Ziploc bag. Combine the marinade ingredients and pour in the bag with the steak. Seal bag and refrigerate at least 2 hours or overnight. Discard marinade when done. 

Grill beef over medium-high heat for 5 minutes on each side or until desired doneness. Baste steak with olive oil as it cooks.  Brush oil onto a piece of foil and grill the onions on the foil until tender.
Arrange lettuce on serving platter. Thinly slice steak and arrange on lettuce. Arrange tomatoes around the platter. Top with cheese and croutons .  Serve with Pink Mayonnaise on the side
Pink Mayonnaise 
Makes about 3/4 cup

1/4 cup mayonnaise
1/4 cup plain Greek yogurt or fat-free sour cream
1/2 tablespoon tomato paste
1 tablespoon thinly sliced green onion
1 garlic clove, grated
Pinch sugar
Salt and pepper to taste

Combine all ingredients and stir until well blended.  Serve chilled.
Brandied Mushrooms
Serves 4-6
1 pound button or cremini mushrooms
2 tablespoons butter or olive oil
1 shallot, minced
1 or 2 cloves garlic, minced
1/4 cup brandy (or whiskey or sherry)
Salt and pepper to taste
Parsley, for garnish

Scrub off dirt from mushrooms and slice into quarters or halves depending on size.  Mince the shallot and garlic and set aside.  Heat a heavy pot, add oil or butter along with mushrooms.  Cook until mushrooms release their liquid, about 5 minutes. 
Add shallots and garlic and continue to cook until mushrooms are tender.  Add brandy and deglaze pan, scraping up any bits stuck to it. 
Continue to cook until brandy is evaporated, about a minute.  Season with salt and pepper, garnish with parsley, and serve immediately.