How to Oven Roast Vegetables
 
Oven roasted vegetables have a deep, sweet and concentrated flavor.  They require little effort and a minimal amount of fat.  These veggies are perfect on any party menu to add color, variety and nutrition.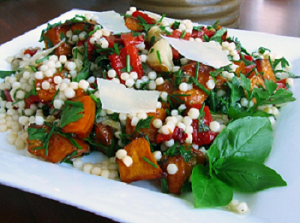 Oven Roasted Peppers with Fregola
Roasted vegetables are perfect on a party menu because they can be served hot, warm or at room temperature.  They are especially delicious when topped with a vinaigrette or creamy sauce.  


---
How to Oven Roast Vegetables
Good Vegetables to Oven Roast
Make Ahead Tips
Recipes
Dressings for Roasted Vegetables
---



How To Oven Roast Vegetables
Roast vegetables at generally high temperatures, 375ºF to 450ºF, uncovered.  Use a cookie or baking sheet or shallow baking dish


Roast vegetables of similar density.  For example, potatoes, carrots and turnips are hard vegetables.  Peppers, zucchini and eggplant are medium-soft vegetables. 


Make sure veggies are cut into uniform pieces so they cook in the same time.  Leave small vegetables whole or cut into large chunks or slices.  Small pieces will burn into charred inedible bits


Arrange veg into one even layer to assure the food roasts and not steams
Vegetables need to be stirred or turned to prevent sticking and assure even cooking. 


If roasting a variety of vegetables, check and remove as each becomes tender


Oven roasted vegetables shrink A LOT, so prepare a lot. 


Top with salt and pepper if desired.  Use dried herbs such as oregano, thyme and savory at the beginning of roasting. 


Sprinkle with chopped soft fresh herbs such as basil, parsley, cilantro, tarragon and marjoram immediately after removing from the oven


Vegetables may seem dry after roasting; add additional olive oil or a small bit of butter




Good Vegetables to Oven Roast
Roasted Sweet Peppers: Use red, yellow and orange.  Green peppers are often too thin to roast properly.  Cut off the tops of the pepper, cut in half and remove the seeds and veins.  Cut in half and press down to flatten.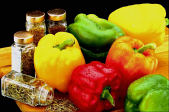 Brush both surfaces of the peppers with olive oil and place skin down on a lightly greased (or use cooking spray) baking sheet.  Roast at 400 F until the skins are wrinkled and slightly charred and the flesh is tender, about 10-20 minutes
To remove the skins: the easy  method is to cover the peppers with a piece of paper towel.  You can also invert a glass bowl over the peppers or transfer peppers to a large bowl and cover with plastic wrap.  Either way, let peppers steam for 10-15 minutes.
Using your fingers, peel off blackened skin. DO NOT rinse or you will rinse away the flavor.   Cut peppers if desired and place in an airtight container with any liquids.  Serve on salads, sandwiches, pasta, pizza and on and on!
Chili Peppers can oven roasted in the same manner.  Use sturdy large jalapeño, Serrano and poblanos


Roasted Tomatoes: Use Roma (plum) tomatoes or large cherry tomatoes.  Regular tomatoes are a little too juicy for roasting.  Cut tomatoes in half lengthwise.  Place on baking sheet in a single layer and drizzle with olive oil and season with a little salt and pepper. 
Oven roast tomatoes until soft and shriveled, 35-60 minutes.   Place in an airtight container with any liquids. Store in the fridge.  Use for tomato sauce, salads and sandwiches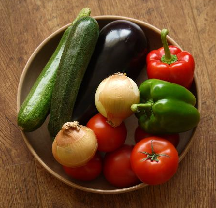 Roasted Onions:  All onions are good for roasting; red, yellow or white.  Also use cipoline and shallots.   Make sure the onions are firm with no blemishes or dark spots.  Remove excess or loosened skins but do not peel.  
Place onions in a baking dish, add about a 1/2 inch of water and cover with aluminum foil.   Bake at 375 F about 1 hour.  Remove foil and roast the onions another 15-20 minutes until they are tender when pierced with a knife and slightly charred around the edges.  All cooking times depend on the sizes and number of onions.   
Delicious on their own as a side dish or alongside other roasted or otherwise cooked veggies.  Good on sandwiches or on crackers as an appetizer
Roasted potatoes: Use small red or white new potatoes. Cut into large same-sized chunks or wedges.  Leave at least a little skin on the potatoes to preserve moisture and flavor.  Toss with enough olive oil to lightly coat.  Roast at 425 F until tender when pierced with a knife, 25-40 minutes depending on size.  Stir for even cooking and to avoid sticking.

Oven roasted beets:  Preheat oven to 350ºF.  Wash and dry the beets.  Put them in a small baking dish, drizzle with a about 1 tablespoon of the olive oil and salt and pepper.  Cover with foil.  Bake  until the beets are tender when pierced with a fork, about 1 hour and 15 minutes.  Use a small knife to peel and trim beets when  cooled. 

Roasted Squash: Lightly toss summer or winter squash with olive oil and salt.   Spread the zucchini in a single layer on a baking sheet. Roast until the squash is tender and browning around the edges, 10 to 13 minutes. Remove from the oven and transfer to a plate. Season with salt and pepper. 

Whole roasted eggplant:  Preheat oven to 425ºF.  Slash the eggplant in several places so it won't explode!  Place in a shallow dish or rimmed baking sheet.  Roast until it is browned and collapsed, 30-40 minutes.  When cooled, peel off the skin if desired and finely chop the flesh

To make roasted vegetables one day in advance;  peel and clean carrots and store in sealed plastic bags.  Cut onions and squash and store in tightly sealed plastic bags. 
Wash and peel potatoes. Leave whole. Store in the fridge in a bowl of cold water, tightly covered. 
On morning of the party, slice (if necessary) and dry potatoes thoroughly on paper towels before cooking.  One to 2 hours before serving, cook potatoes and carrots. Reheat covered, in low oven or in the microwave or, in an electric skillet at the buffet table
Oven Roasted Vegetable Recipes

Roasted Butternut Squash Salad with Pomegranates and Zatar
Serves 4-6 
A colorful, healthy warm salad full of bright flavor. Substitute sweet potatoes for the squash and vary the nuts and fruit by using roasted almond silvers, pecans or walnuts and dried cranberries, cherries or golden raisins.
Za'atar is a Middle Eastern spice combo that varies by brand but can contain toasted sesame seeds, thyme, marjoram, and sumac.


3–3 1/2 pounds butternut squash, peeled, seeded, and cut into ½-inch pieces (8–10 cups)
5 tablespoons extra-virgin olive oil
Salt and pepper
1 teaspoon za'atar spice blend
1 small shallot, minced
2 tablespoons lemon juice
2 tablespoons honey
1/2 cup fresh whole parsley leaves
1/3 cup pepitas, toasted
1/2 cup pomegranate seeds
Adjust oven rack to lowest position and heat oven to 450 degrees. Toss squash with 2 tablespoons oil in bowl and season with salt and pepper. Lay squash in single layer on parchment lined, rimmed baking sheet and roast until well browned and tender, 30 to 35 minutes, stirring halfway through roasting time. Remove squash from oven and sprinkle with za'atar while squash is hot.  Let cool for 15 minutes.
Whisk shallot, lemon juice, honey, and 1/4 teaspoon salt together in large bowl. Whisking constantly, drizzle in remaining 3 tablespoons oil. Add squash, parsley, and pepitas and toss gently to combine. Arrange on platter, sprinkle with pomegranate seeds, and serve.

Roasted Asparagus with Orange Vinaigrette
Serves 4-6 
Roasted asparagus are bursting with robust flavor.  Serve this recipe with Orange Vinaigrette or Orange Mayonnaise (recipes follow) on a bed of salad greens with lemon wedges and thin shavings of Parmesan cheese

2-3 pounds asparagus, trimmed
Salt and freshly ground black pepper


Preheat oven to 425ºF.  Toss trimmed asparagus in olive oil to coat.  Lightly season with salt and pepper.  Place stalks in a shallow baking dish, no more then 2 stalks deep.  Sprinkle with a few tablespoons of water. 
Roast asparagus for 15 minutes, stirring at least once.  Check for doneness and continue cooking until tender, 5-8 minutes more.  
Toss hot roasted asparagus with about 3 tablespoons of very soft butter or extra virgin olive oil and additional salt and pepper as needed
Lemon and Thyme Roasted Potatoes and Carrots
Serves 6-8
Use baby carrots or cleaned regular carrots.  To cut down on carbs, omit potatoes and use extra carrot.  Use lemon concentrate if you must. The frozen variety is better

3 to 3 1/2 pounds potatoes and carrots in combination, about 8 cups
2 medium onions, peeled and cut into 4-8 wedges
1 to 1 1/2 cups water
1/4 cup fresh lemon juice
2 tablespoons fresh thyme leaves, stripped from stems, not chopped
2 tablespoons olive oil
1 teaspoon kosher salt
2 bay leaves
Freshly ground black pepper to taste
Preheat oven to 375ºF.
Place the potatoes and carrots in a shallow casserole large enough to arrange them in one layer. In a small bowl combine the water, lemon juice, thyme, salt and 1 tablespoon of the olive oil. Pour over the veggies and nestle in the bay leaves.
Bake, stirring occasionally to prevent sticking, until most of the liquid is absorbed and they are very tender, 45 minutes to 1 hour. Add additional water if veggies began to stick. 
Toss potatoes and carrots with the remaining tablespoon of olive oil and return to oven for 10 minutes until glazed and golden brown. Discard the bay leaves. Test for salt and black pepper. 


Stuffed Squash with Rice and Toasted Pecans
Serves 4
2 acorn squash, halved and seeded
1 tablespoon melted butter or margarine
1/4 teaspoon salt
1/4 teaspoon ground cinnamon
2 cups cooked white or brown rice (cooked in chicken broth)
1 cup unsweetened applesauce
1/2 cup chopped celery
1/2 cup chopped toasted pecans
1/4 cup firmly packed brown sugar
1/2 teaspoon onion powder
1/2 teaspoon ground ginger
Line a shallow baking pan with parchment paper.  Place squash cut-side down in pan.  Bake at 350ºF for 30 minutes.  Turn squash cut-side up; brush with butter. Sprinkle with salt and cinnamon.  Meanwhile, combine rice, applesauce, celery, pecans, brown sugar, onion powder and ginger.  Fill squash evenly with rice stuffing. Bake, uncovered, 20 to 30 minutes. 



Oven Roasted Peppers with Fregola
Serves 2
Use any combination of sweet peppers you have on hand.  Fregola is a toasted pasta similar to Israeli couscous but with a nutty flavor.  This recipe also makes a luscious chilled pasta salad with penne, ziti, gemeli or other small pasta
  
1/2 cup fregola
1/4 cup red wine vinegar
1 tsp Dijon mustard
Salt and fresh black pepper to taste
1 garlic clove, minced
1/2 cup extra-virgin olive oil
2 red bell peppers, roasted, peeled and diced (see instructions above)
2 oz feta cheese, crumbled
10 basil leaves, cut into thin strips

Cook fregola according to package direction.  
While the pasta is cooking,  make the vinaigrette.  Whisk together the vinegar, mustard, salt, pepper and garlic in a small bowl.   While whisking, pour in the olive oil in a slow stream until the vinaigrette thickens. 
Drain the fregola to a mixing bowl.  Add 2 tablespoons of the vinaigrette to the pasta and toss to combine.  Add the roasted peppers, feta and basil, and stir well.  Add additional vinaigrette to taste.  Serve at once. 


Roasted Beet Salad with Toasted Walnuts
Serves 4-6

This salad recipe calls for fresh roasted beets.  If this is not an option for you, use high-quality jarred beets (not pickled or sweet and sour).  The flavor will not be quite the same but will be satisfying 
4 medium beets
Salt and freshly ground black pepper
1 large shallot, finely sliced
1 tablespoon olive oil
4-cups loose leaf lettuce, your choice
1 bunch watercress, tough stems removed and leaves washed and dried well
Generous 2/3 cups walnuts, toasted
Parsley for garnish

To toast walnuts: Spread the nuts on a baking sheet and lightly toast in oven until just fragrant, about  8-10 minutes.  Remove, let cool.  Alternatively, place nuts in a small dry, non-stick skillet over low heat.  Toast nuts slowly, stirring around occasionally until fragrant, about 8 minutes. 
Prepare beets as directed above.  Peel the cooled beets with a sharp knife and cut into 1/2-inch wedges.    Toss the beets with the shallots and the walnut oil.  Toss the watercress and the lettuce with a teaspoon of lemon juice and 1 tablespoon of olive oil and season with salt and pepper.
Place salad on individual plates (or one large serving platter) and place beets to one side of the lettuce.  Sprinkle with walnuts and parsley and Horseradish Cream or dressing of choice.


Roasted Eggplant Dip
Makes about 1 cup
1 roasted eggplant (see above), skin removed
2 tablespoons olive oil
2 large garlic cloves, minced or us a garlic press
Salt and fresh black pepper
Chopped fresh parsley for serving

Stir oil and garlic into the chopped eggplant.  Season with salt and pepper.  Top with parsley.  Serve in a bowl with crackers or toasted pita bread



Dressing for Oven Roasted Vegetables
Vinaigrettes and creamy sauces are perfect for oven roasted vegetables.  Top veggies while still warm.  The veg will absorb the tang from dressing and really pop with flavor

Orange Vinaigrette
Makes 1/2 cup, can be doubled to 1 cup
1/4 cup fresh orange, clementine or tangerine juice
2 teaspoons white wine vinegar
Large pinch of kosher salt or to taste
Small pinch sugar
4 tablespoons extra virgin olive oil or your favorite nut-flavored oil
1 teaspoons finely minced orange/fruit zest
Freshly ground black pepper to taste
1 tablespoon fresh minced parsley, basil or chives (optional)
Combine the juice, vinegar, salt and sugar in a small jar or bowl. Cover and shake or stir to blend and dissolve salt and sugar.  Add oil, zest and pepper. Shake or stir again.  Taste for seasonings.  Add herbs just before serving.


Citrus Vinaigrette
Makes about 1/2 cup, can be doubled to 1 cup
Can be made up to 1 day ahead.  Keep covered in the refrigerator

1 tablespoon fresh orange, clementine or tangerine juice
2 tablespoons fresh lime juice
2 1/2 tablespoons white wine vinegar
Small pinch sugar
1/4 cup extra virgin olive oil or your favorite nut-flavored oil
1 tablespoon fresh minced parsley, basil or chives
Kosher salt and freshly ground black pepper to taste
In a small jar or bowl, combine the juices, vinegar and sugar.  Slowly whisk in the oil until emulsified.  Taste for salt and pepper.  Add herbs just before serving. 
Orange Mayonnaise
Makes 1 cup
1 cup bottled or homemade mayonnaise
2 teaspoons finely minced orange zest
Fresh orange juice
Freshly ground black pepper or red pepper to taste
Stir the zest into the mayonnaise.  Add juice to mixture until desired consistency is achieved.  Add pepper if using.  Keep covered


Horseradish Dressing
Can be made up to 1 day ahead.  Keep covered in the refrigerator
2 tablespoons prepared horseradish, drained
1 tablespoon Dijon mustard
1/4 cup heavy cream
1 tablespoon fresh lemon juice
1 tablespoon olive oil

In a small bowl, combine the horseradish, mustard, cream, a little of the lemon juice and olive oil.  Season with salt and pepper to taste.  Whisk lightly. 
  
 Top of How To Oven Roast Vegetables