Oven Baked French Toast____
These oven baked French toast recipes are warm and comforting and perfect for a breakfast or brunch menu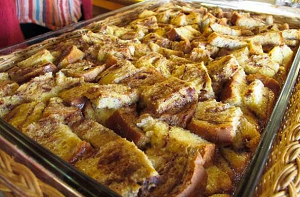 You can make large batches ahead of time and keep warm in a 200º oven for up to 30 minutes. 
Try the overnight French toast recipes for even more make ahead convenience. 
Serving 50 or more guests?  French toast is a real crowd pleaser


Cinnamon Raisin French Toast
Serves 10-12
22-24 1" slices cinnamon raisin bread
1/4 cup butter, melted
9 eggs
4 cups milk
1 pint whipping cream
3/4 cup sugar
1 1/2 tablespoons vanilla extract
Fresh berries
Whipped cream
Preheat oven to 375º. Grease a large baking dish.  Lay bread slices in dish and brush tops with melted butter. 
Whisk together eggs, milk, cream, sugar and vanilla. Pour over bread and let sit 15 minutes.  Bake for 35-40 minutes. Serve with berries and whipped cream if desired.

Overnight Stuffed French Toast
Serves 4-6
This oven-baked French toast recipe is an all-in-one breakfast or brunch meal
8 thick slices bread
1 8-ounce packages cream cheese, softened
4-8 thin ham slices
5 large eggs
1 cup milk
1/3 cup maple syrup or other table syrup
Grease a 8x8-inch baking dish. Spread bread slices with cream cheese and place 4 cream cheese side up slices across the bottom of the dish.  Do not overlap slices.  Place 1-2 pieces of ham on top of each slice.  Cover with remaining bread, cream cheese side down.  Whisk together eggs, milk and maple syrup; pour over bread and refrigerate overnight. 
Preheat oven to 375º and bake for 45 minutes. Sprinkle with powdered sugar if desired and serve with more syrup and a side of scrambled eggs. 
Honey Orange Oven Baked French Toast
Serves 3
3 tablespoons butter
2 tablespoons honey
 1 teaspoon ground cinnamon
 1/2 teaspoon ground nutmeg
 4 eggs
 1/2 cup fresh or carton orange juice
 6 slices white or whole wheat bread
 Powdered sugar for dusting, optional
 Preheat oven to 350 F. 
 Place butter and honey in a 13" x 9" pan. Put in hot oven until butter is melted.  Sprinkle with cinnamon and nutmeg. Combine eggs and orange juice; beat well.
In a flat dish, let bread slices soak in egg mixture for about 10 minutes.  Drain excess egg mixture from bread slices and arrange on honey mixture in single layer.  
Bake until lightly browned on bottom of bread slice, about 5 minutes.  Turn and bake on about 3 minutes longer or until egg is set and bread is golden brown on both sides. 
Sprinkle with powdered sugar if desired and serve with syrup and butter
Overnight Custardy French Toast
Serves 4
1/2 cup flour
1 1/2 cups milk
1 tablespoon sugar
1/2 teaspoon vanilla
1 teaspoon ground cinnamon
1/4 teaspoon salt
6 eggs
8 slices white sandwich bread
Butter for cooking
Beat flour, milk, sugar, vanilla, cinnamon, salt and eggs until smooth.  Arrange bread slices just to fit in 1-2 large glass baking dishes.  Pour the egg mixture over the bread slices.  Turn to coat both sides completely.  Cover tightly with foil and refrigerate overnight. 
Bread can be cooked directly from refrigerator.  Grease a griddle with butter and cook about 8 minutes per side or until golden brown.  Alternatively, use a large non-stick pan 

French Toast for a Crowd
Serves 50, 1 slice each
French toast is great for a crowd at breakfast or brunch and may be easier to execute then pancakes.  Use white, wheat or raisin bread if desired.  Keep the batter refrigerated and cook bread in small batches if possible. 
Otherwise, keep cooked French toast warm in a steam tray.  Double the ingredients to serve 50 guests, 2 slices each or serve 100 guests, one slice each. 
24 large eggs
1 1/2 quarts milk
1 tablespoon salt
1/2 cup granulated sugar
1 teaspoon ground cinnamon
1/2 teaspoon grated nutmeg
50 stale bread slices
Powdered sugar (optional)
In a large bowl lightly whisk together the eggs.  Stir in the milk, salt, sugar and spices until well blended.   Dip bread slices into egg mixture being careful not to over moisten.  
Fry on a well-greased griddle or in large skillets until golden brown.   Sprinkle with powdered sugar or serve on the side