Pasta Salad Recipes
These pasta salad recipes are versatile and always welcome. Pasta salads are just the thing on a brunch menu. 

Most pasta salads are best served lightly chilled or at room temperature.  Pasta salads become hearty dishes with the addition of canned tuna, chicken or pork and cooked shrimp or crab. 
Serve salads on a bed of lettuce with tomatoes and crunchy crackers.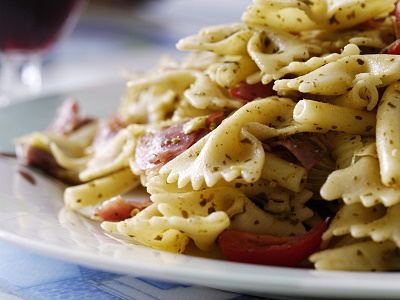 Pasta Salad with Salami and Tomatoes

Make Ahead Pasta Salad
Prepare the dressing for the salad according to recipe directions, up to 2 days in advance
Entire salad can be made one day in advance without dressing and without "watery" ingredients such as tomatoes, cucumbers, zucchini, mushrooms, soft cheese, etc.  Keep salad well covered in the refrigerator. Add
additional ingredients and dressing just before serving.

Pasta can also be cooked 1 day ahead.  Drain well and add a little olive oil before refrigerating.


Pasta Salad Recipes
Asian Pasta Salad with Chicken
Serves 4
8 ounces orzo or other small pasta, uncooked
2 cups cooked chicken, cut into chunks
4 ounces spinach leaves, stems removed and sliced into strips
1/2 cup bean sprouts
1/2 red bell pepper, cleaned and cut into strips
2 green onions, sliced
3 tablespoons red wine vinegar
1 tablespoon reduced-sodium soy sauce
1 tablespoon sesame oil
2 teaspoons prepared teriyaki sauce
1 1/2 tablespoons prepared chili sauce
1 tablespoon fresh grated ginger
3 tablespoons slivered almonds, toasted
Prepare pasta according to package directions; drain and cool to room temperature.   In large mixing bowl, combine pasta, chicken, spinach, sprouts, pepper, and green onions.
In a small mixing bowl, mix together remaining ingredients except almonds; whisk well. Toss dressing with pasta mixture and refrigerate until ready to serve. Sprinkle almonds over top just before serving.
Cold Sesame Noodles
Serves 6
1 pound ramen noodles, Asian egg noodles or spaghetti
1 teaspoon toasted sesame oil
6 tablespoons sesame paste (tahini), peanut butter or almond butter
1 tablespoon rice vinegar or white vinegar
3 tablespoons low-sodium soy sauce
3 tsp chili garlic sauce
1 1/2 teaspoons brown sugar
Water as needed
2 garlic cloves, minced
1 scallion (white and green parts), thinly sliced
1/2 tablespoon finely chopped ginger
2 tbsps toasted sesame seeds
Bring a large pot of water to a boil, add the noodles, and cook according to the package instructions or until just barely tender.  Drain well. Toss noodles with the sesame oil to coat. Cover and refrigerate.
Whisk together the vinegar, soy sauce, garlic chili sauce and sugar. Add the mixture to the sesame paste.  If desired, add a few drops of warm water to thin mixture to a creamy consistency.  Stir in the garlic, half of the scallion and the ginger.

Toss the chilled noodles with the sauce and if desired, refrigerate for at least 1/2 hour. Just before serving top with the remaining scallion and sesame seeds.


Antipasto Pasta Salad
Serves 6-8
Dressing
1/2 cup olive or salad oil
1 teaspoon salt
1/8 teaspoon crushed red pepper
1 clove garlic, minced
1/4 cup lemon juice
1/4 teaspoon freshly ground black pepper
1 tablespoon snipped fresh basil or 1 teaspoon dried basil leaves
Salad
1 tablespoon salt
8 ounces spiral-shaped or other short pasta
1/2 cup cubed red pepper
1/2 cup cubed green pepper
1/4 pound provolone cheese, cubed
1 20-oz can canned garbanzo beans, rinsed and drained
1/4 pound salami, slice into quarters or matchsticks
1/4 cup small pitted black olives

Make dressing in a jar with a tight fitting lid: combine oil, lemon juice, 1 teaspoon salt, black pepper, red pepper, garlic, and basil; shake until well combined.

In a large kettle bring 3 quarts water and  salt to a boil. Add pasta; bring back to boiling; cook uncovered stirring occasionally until tender, about 7 to 8 minutes. Do not over cook. Drain well; do not rinse.

Turn into large bowl; add dressing; toss to combine. Cool completely. To pasta mixture, add green and red peppers, sliced mushrooms, provolone cheese, garbanzo beans, salami, olives, and parsley; toss lightly to combine. Refrigerate covered 1 hour.




Tabbouleh Salad with Pearl Couscous
Serves 4-6
A staple dish in Lebanon, tabbouleh or tabouli is traditionally prepared with bulgar.  Shake it up a bit and use quinoa, farro, brown rice or other grains and pastas.  This recipe uses pearl or Israeli couscous.  Garnish salad with fresh baby greens or microgreens.  
Tabbouleh with Pearl Couscous
1 1/2 cups pearl couscous
1 cup low sodium chicken broth
3/4 cup water
1/2 cup fresh lemon juice 
2 1/2 teaspoons kosher salt
1/3 cup olive oil
1/2 cup seedless cucumber, cut into 1/4-inch pieces
3 cups cherry tomatoes, cut in half
3/4 cup minced green onions, white and green parts
1 1/2 cups loosely packed fresh Italian parsley leaves, minced
1/2 cup loosely packed fresh mint leaves, minced

In a saucepan combine the broth, water, 1/4 cup lemon juice and 1½ teaspoons salt, bring the mixture to a boil, and stir in the couscous. Cover the pan, and let the couscous simmer for 10 minutes. Fluff the couscous with a fork and let cool. 

In a large bowl stir together the cucumber, tomatoes, green onions, olive oil, remaining 1/4 cup lemon juice, and remaining 1 teaspoon salt and let the mixture stand for 15 minutes.  Add the couscous, parsley, and mint and stir well. Cover and chill for about 1 hour.
Pizza Party Pasta Salad
Serves 6

1 pound rotini or other spiral-shaped pastas
3 ounces sliced pepperoni
4 ounces Provolone or extra-sharp cheddar cheese
1/2 cup grated Parmesan cheese
1/2 cup Italian salad dressing
1 teaspoon Italian seasoning
1/2 teaspoon minced garlic
1 1/2 cups cherry or grape tomatoes, halved
1 green bell pepper, ribs and seeds removed, slice into thin rings or strips

Prepare pasta according to package directions. While pasta is cooking, stack pepperoni slices and cut into strips.  Slice the cheese into matchstick-size pieces. Place in a large bowl. Add Parmesan cheese, Italian dressing, Italian seasoning and garlic.  Mix lightly.

When pasta is done, drain and rinse with cold water.  Drain pasta again and allow to cool.  Add pasta to cheese mixture and mix well.  Put pasta salad in a serving platter and garnish with cherry tomatoes halves and green pepper slices.
Chicken and Artichoke Pasta Salad
Serves 8

1 pound pasta shells
2 tablespoons olive oil
1 1/2 cups mayonnaise
3 tablespoons lemon juice
3 tablespoons chopped parsley
1 teaspoon dried parsley
3 cups diced cooked chicken
6 ounces canned artichokes, chopped
Dash of hot pepper sauce
Toasted almonds

Cook pasta in large pot of boiling salted water until tender but firm, 8 to 12 minutes.  Drain well and rinse with cold water. Shake out excess water and toss pasta with oil.   Combine mayonnaise, lemon juice, parsley and basil.  Place pasta in large bowl. Add mayonnaise mixture, chicken, artichokes and hot sauce.  
Toss well and garnish with almonds.   For a decorative presentation, serve in avocado halves, in tomato cups or on lettuce leaves.
Colorful Pasta Salad Recipe
Serves 6-8

1 7-ounce jar sun-dried tomatoes in olive oil, drained and chopped
1 pound tricolor rotini or fusilli, or other short, colored pasta
2 cups bell pepper, mixed red, yellow and green, chopped
1/4 cup fresh basil, chopped
1/2 cup red onion, chopped

Dressing
1/3 cup extra-virgin olive oil
1/4 cup balsamic vinegar
1/4 cup Parmesan cheese
2 teaspoons mince garlic
1 tablespoon Worcestershire sauce
1 tablespoon sugar
Dash hot pepper sauce
Fresh basil leaves, torn into pieces

Cook pasta according to package directions.  Combine the dressing ingredients in a bowl.  Add the oil from the sun-dried tomatoes if using and whisk thoroughly.   Drain the cooked pasta and rinse it under warm water and drain again. 
In a large bowl, toss the pasta with the bell peppers, red onions, tomatoes and basil.  Pour the dressing over the salad and toss well.   Garnish with additional basil and serve.
Tortellini and Sautéed Vegetable Salad
Serves 4

1 tablespoon olive oil
1 medium red onion, chopped
2 medium zucchini, chopped
2 medium yellow squash, chopped
1 medium red bell pepper, chopped
2 cups mushrooms, sliced
2 cloves garlic, minced
Salt and pepper to taste
1/4 teaspoon dried oregano
1 pound cooked cheese tortellini
1/4 cup grated Parmesan cheese

Heat olive oil in a large skillet over high heat.  Add onion, zucchini, squash and bell peppers, mushrooms, garlic, oregano.  Cook and stir for about 7 minutes or until vegetables are tender-crisp.  

Toss with pasta and cheese.  Serve warm or at room temperature.