Brunch Menus
Thought of as a combination of breakfast and lunch, these brunch menus are a most delicious way to entertain

People go crazy for brunch! It seems that breakfast and brunches are enjoying a resurgence in popularity these days. Brunch foods are a welcome change for the host because they can be light and easy to prepare.

Brunch menus are open to just about any food. Although we always think of brunch as breakfast and lunch, you can also prepare brunch with no or limited breakfast foods.


Let your imagination and taste buds go wild and consider foods you may not ordinarily serve for breakfast such as seafood, steak and pasta. Keep everything fresh, seasonal and not overly filling.

Good brunch menus almost always start with Mimosas and Bloody Mary's
Make sure to include fruit juices, mineral water, milk and tea. Pull out the expresso or cappuccino maker and offer specialty coffees as well.
More Brunch Menus
Breakfast Menus


Planning Ahead
This is especially important for a brunch party unless you like to rise at the crack of dawn to prepare the meal.

Look for recipes that can be made in advance such as breakfast casseroles
Up to 1 month ahead of time make muffins and quick breads. Wrap well and freeze
About 2 weeks ahead, prepare but do not bake quiches and other custard tarts. Freeze well wrapped
Salad dressings, dips and mayonnaise based sauces can be made 2-3 days ahead. Make salsas the day before
Cook sausages and bacon up to one day ahead. Drain well and store in the fridge between parchment paper layers
Cook plain pastas, toss with olive oil and store in Ziploc bags
Prepare fruit salads first thing in the morning and allow the flavors to blend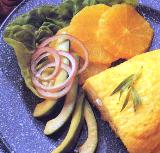 Brunch is traditionally served between 11a.m. and 1 to 3 p.m. and is normally presented buffet-style. Avoid too many dense, rich foods. Brunch should start your day--not put you back to sleep.


Brunch Menus 

Fresh and Light Brunch Menu
Serve this simple menu with coffee, tea and sparkling water
 Meat and Vegetable Trays with Ranch Dressing Dipping Sauce
Adjust amounts to number of guests
Baked Eggs with Tarragon and Leeks
Also consider omelets or a breakfast casserole
Caribbean Chicken and Rice Salad
Cinnamon Rolls, Tea Cakes, Cookies as desired

Simple Brunch
Serve with fruit teas, juices, white wine spritzers and coffee
Fruit Danishes, Corn Muffins or Coffee Cake  
Serve with mixed green salad, rolls, crackers
Melon wedges, orange slices, black grapes
Very Veggie Brunch Menu
It is unlikely that all of your guests will be vegetarian so compliment this all veggie brunch with an egg dish and Rum and Pineapple Glazed Ham or Easy Baked Citrus Chicken.  Serve with coffee and sparkling cider.

Flatbreads, Pita Chips, Cheese Crackers
Eggs
Prepared any style served with Salsa
Spicy Grilled Eggplant with Mint

Orzo Stuffed Peppers with Feta, Olives and Fresh Herbs

Spicy Black Bean, Zucchini and Corn Salad 


Plentiful Champagne Brunch
This is a big buffet menu, but is light, pleasing and very easy to prepare. Perfect for a bridal shower brunch.  Serve champagne before and during the meal.  
Fruit Danishes, Muffins or Coffee Cake, Croissants or Biscuits

Cinnamon Oranges
Sprinkle peeled orange slices with cinnamon and nutmeg

Grillades and Grits
Breakfast Meats of Your Choice
Pasta with Shrimp, Tomatoes and Basil
Ripe Tomato Slices with Lemon Juice and Fresh Basil  
Vegetable and Cheese Platter with Breadsticks
Strawberries and Chantilly Cream 
Sweet and Easy
Also serve mineral water, champagne and coffee. Also consider:
Omelet Bar, Spinach Frittata

Grapefruit Juice

Overnight French Toast

Scrambled Eggs with Seared Canadian Bacon

Orange Slices in Brandy and Nutmeg

Gingerbread Cookies

 
Luscious Louisiana Brunch
Shrimp and grits may seem like an odd pairing but is marvelous and very Southern. Try this well-seasoned version and I'm sure you will be a convert

Fresh Croissants - Butter - Jams Preserves - Apple Butter

Buttery Creole Shrimp and Cheese Grits

Homemade Breakfast Sausage
Scrambled Eggs

Orange Avocado Salad

Sliced Tomatoes with Olive Oil and Fresh Basil
Assorted Crackers
Strawberries and Chantilly Cream

All Occasions Brunch
This satisfying menu is good for any occasion. Serve with fruit teas, champagne and white wine or white wine spritzers

Olives and Relishes

Simple Green Salad with Cherry Tomatoes, Lemon and Olive Oil
Spinach and Garlic Frittata

Roasted Mustard Potatoes

Orange, Grape and Almond Salad

Shrimp Scampi Shrimp with Green Mayonnaise
Chocolate Walnut Biscotti
Sugar and Spice Brunch

Buttermilk Pancakes with Walnut Butter

Tomato Omelet

Southwestern Layered Salad with Cilantro Dressing

Luscious Lemon Tart with Almond Crust
Brunch Southern Style
An unusual combination of tastes, but the flavors will take you home. Add a pineapple and kiwi fruit salad for added sweetness

Oven Roasted Peanuts in the Shell

Crabmeat Stuffed Mushrooms

Orange Cornbread Muffins

Barbecued Pork Tenderloin
Serve with soft breadsticks or rolls and thin radish and cucumber slices

Lemony Green Bean and Tomato Salad

Purchased Lemon Layer Cake


Hearty Brunch
Also consider: Spinach Frittata; Slow Roasted Lemon Chicken

Yogurt and Fresh Berries

Bacon and Eggs and Whole Wheat Toast and Butter

Flank Steak with Roasted Garlic and Rosemary

Spicy Black Bean, Zucchini and Corn Salad

Caesar Salad
With or without Shrimp or Chicken

Ambrosia

Light and Elegant Brunch
Start with cheese Danish and add a simple green salad. Serve with mineral water, champagne and coffee. Also consider; Southwestern Scrambled Eggs and Orange Grape Salad

Glazed Grapefruit

Spicy Honey-Orange Glazed Ham Steaks
Hot Biscuits and Butter



Hurry Up Easter Brunch
One year my annual Easter Brunch almost didn't happen because of a rushed scheduled. This is what I pulled out of the hat. I served with Mimosas, iced tea and coffee.

Croissants with Jams and Butter

Cheese and Ham Omelets

Seasonal Fruit salad

Tossed Green Salad

Roast Beef Finger Sandwiches

Chicken Breast with Wine Sauce
I also served:

Pasta with Cheese to Serve with the Chicken
Toss cooked angel hair pasta with olive oil, lots of minced garlic, pinch of hot red pepper flakes, lots of softened butter and shredded Parmesan cheese. Keep in a low oven while other dishes are finishing and cheese is melted. I was amazed that this simple dish was the hit of the brunch! 

Yogurt Parfaits with Granola and Fruit
Mix plain yogurt with a dash of vanilla or almond extract. Top with lemon curd, granola, cut fruit (such as any berry or peaches) and toasted almond slices.

Variations: Try flavored yogurt such as lemon, peach, vanilla or strawberry.
Use crumbled brown sugar, oatmeal or even chocolate chip cookies in place of the granola. Use a fruit jam or other types of nuts. Fruits are not at there best by Easter time, so I won't tell anyone if you use canned fruit. The combinations are deliciously endless and easy!


Happy Easter Brunch Menu
Because of a previous year's near debacle (meaning not up to persnickety standards), I took the time to plan this Easter brunch. It turned out pretty great.

Papaya MImosas

Baked Egg Cups with Cheese, Scrambled Eggs or Made to Order Omelets
Top with a fresh tomato sauce and fresh basil

Salmon Cakes or Grilled Salmon Salad
Olives, Nuts, Pickled Onions, Hummus and Crackers

Cucumber and Parsley Tea Sandwiches

Chicken, Cheese and Grape Skewers

Strawberry and Spinach Salad




Simple Holiday Brunch

Coffee - Tea - Juices

Homemade Breakfast Sausage

Toast - Butter - Preserves

Cheese and Herb Potato Pancakes
Serve with applesauce

Multi Layer Salad

Warm Pears and Sauce


Thanksgiving or Christmas Brunch Menu

Mimosas - Juices - Coffee - Tea

Easy Party Punch

Mixed Fruit Salad with Yogurt

Cranberry, Pumpkin or Sweet Potato Muffins

Creamy Ham Ziti