Skillet Chicken Breast
These succulent skillet chicken breast recipes are easy, tasty and healthy.
Wine and Herb Marinated Chicken Breast Recipe
Serves 4
This fresh skillet chicken breast dish is served over mixed salad greens.  Garnish with tomato, avocado and or orange slices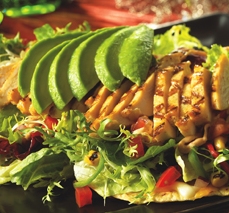 2 teaspoons Dijon mustard
2 cloves garlic, minced
1/2 teaspoon salt
1/8 teaspoon ground black pepper
1/8 teaspoon dried savory
1/8 teaspoon dried thyme
1/2 teaspoon chopped fresh tarragon
1/4 cup dry white wine
2 tablespoons olive oil

4 boneless, skinless chicken breast halves
2 tablespoons olive oil
Splash of dry white wine or, white or red wine vinegar
1/2 cup warm water
4 cups mixed salad greens, romaine or green leaf lettuce or radicchio and watercress

Fresh thyme stems for garnish
Combine mustard, garlic, salt, pepper, herbs, wine and 1 tablespoon oil in a gallon-sized plastic Ziploc bag. Place chicken breast halves in the bag, close bag  and rub the marinade into the chicken through the bag.   Marinate in the refrigerator for 4 hours to overnight.   
Heat remaining tablespoon of oil in a large skillet over medium heat until hot.  Add chicken, reserving marinade.  Cook 15 minutes or until browned and no longer pink in center, turning occasionally.  
Remove chicken from skillet and keep warm.  Reduce heat to low.  Add 2 tablespoons of olive oil, white wine, reserved marinade and warm water to the skillet.  Increase heat to medium and bring to a boil.  Cook and stir about 3 minutes or until sauce is slightly reduced and thickened.
Arrange salad greens on a large platter.   If desired, coat salad leaves with a small amount of olive oil and sprinkle with Kosher salt and freshly ground black pepper.
Cut warm chicken breast into 1/2 inch slices.  Arrange on top of salad greens and pour warm sauce over all.   Garnish with thyme stems and serve at once
Easy Chicken Provencal
Servings: 4, easily doubles to serve 8
Super easy, super flavor.  Used dried herbs instead of fresh or create your own Herbs de Provence blend.
2 tablespoons olive oil
1 garlic cloves, crushed
1 pound chicken breast, boneless
1 pound zucchini
1 tablespoon chopped fresh basil leaves
1/2 tablespoon fresh oregano leaves
1 teaspoon salt
1/8 teaspoon black pepper
1 cup cherry tomatoes
1/2 cup black olives
2 tablespoon lemon juice
 Slice raw chicken breast into 1/2" thick slices. Slice zucchini into half rounds. Heat oil in wok or large skillet. Stir fry garlic, chicken, and zucchini over high heat 4-5 minutes or until chicken is no longer pink and slightly browned and zucchini is slightly browned. 
Add basil, oregano, salt, and pepper; cook for 1 minute more. Add tomatoes and olives. Cook and stir for 2 minutes or until tomatoes soften. Stir in lemon juice.  Delicious with jasmine rice.


Chicken Breast with Wine Sauce and Buttered Mushrooms
Serves 6
A simple chicken recipe with an elegant presentation

6 boneless chicken breast halves
6 tablespoons olive oil
Sauce
1 15.5 oz. can low-sodium chicken broth
1 cup Madeira or dry Sherry
1/4 teaspoon celery seed
1 tablespoon fresh thyme leaves, chopped
1/4 cup chopped fresh parsley
Bay Leaf
1 tablespoons garlic, minced
1 tablespoons shallots, minced
Salt and ground black pepper to taste
4 tablespoons butter
4 tablespoons flour
1 pound small mushrooms, sliced or leave whole
2 tablespoons butter
Preheat oven to 400ºF.  In a large skillet, brown chicken in oil over high heat until golden brown, about 2-3 minutes per side.  Place chicken in a ovenproof dish.  Cover with foil and bake in oven for 20-25 minutes or until tender. 
Combine stock, wine, herbs, bay leaf, garlic, shallots and salt in saucepan.  Cook over low heat, 2 minutes to blend flavors. Set aside.  Discard bay leaf. 
Prepare a roux: In a small pan, melt 4 tablespoons butter, add flour.  Cook, stirring until well blended.  Slowly stir the wine sauce into the roux.  Continue cooking and stirring over medium heat until  sauce thickens.
In a small skillet, sauté mushrooms in butter over high heat for 2 minutes.
To serve: Place warm chicken on warmed serving platter and pour wine sauce
over chicken. Top with mushrooms.
Serve with Curried Rice Pilaf, Cheesy Baked Ziti or Garlic Mashed Potatoes