Potato Recipes
Potatoes are the perfect food!!  At least in my opinion.  These tubers are open to a multitude of cooking methods and a slew of flavor additions.  This uber versatility makes them the perfect food for any party menu. 


Mashed Potatoes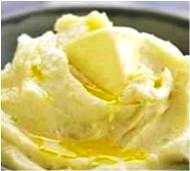 Rich Garlic Mashed Potatoes
Serves 4-6
Potatoes can be mashed up to 2 hours in advance.  Place in a 350º F oven for about 30 minutes before serving or reheat in a bowl placed over a pan of simmering water. 

3 pounds Russet or Yukon Gold potatoes, peeled and quartered
2-3 tablespoons butter
1/2 to 1 cup heavy cream or half and half.  For lower-fat potatoes use low-fat milk to desired taste and texture
3-6 garlic cloves, finely minced
Kosher salt and freshly ground black pepper, to taste
Pinch nutmeg (optional)
Put potatoes into a large pot of cold, salted water, covering potatoes by 2-inches.  Bring to a boil and cook potatoes until fork tender (about 20-25 minutes after water comes to a boil). Drain well.  Return potatoes to the cooking pot and dry them over low heat for a few minutes.

While the potatoes are cooking, melt the butter in a small pan.   Over low heat cook the garlic until it begins to soften.  Do not allow to brown.   Slowly add the cream to the pan and bring to boil.  Immediately remove from heat.  Allow the cream and garlic to stand for several minutes while the garlic infuses the cream with its flavor.
While potatoes are still hot, add a little of the cream, garlic, butter mixture.  Coarsely mash them together with a potato masher or fork until the desired texture is obtained. Add more cream mixture if potatoes are too dry.   Taste for salt, pepper and nutmeg if using.
Make Ahead Mashed Potato Casserole
Serves 6-8
This potato casserole is super rich and tastes best when made ahead.  Be sure to bake in oven to get a golden brown top.  When ready to serve, reheat in a microwave or low oven.  
3 pounds small russet potatoes, peeled and cut into 3-inch chunks
1 tablespoon kosher salt
6 whole garlic cloves, peeled (optional)
4 (3-inch) thyme sprigs
1 (8-ounce) package cream cheese, at room temperature
6 tablespoons butter, at room temperature
1 cup sour cream 
3/4 to 1 cup whole milk, warmed
1 teaspoon seasoned salt, or to taste
Freshly ground black pepper, to taste
2 tablespoons butter, cut into bits and chilled
Generously butter a shallow 2 1/2-quart gratin dish or baking dish. 
Place the potatoes in a large pot and cover with cold water.  Add salt, garlic (if using) and thyme. Bring to a boil over high heat, then reduce the heat, partially cover, and simmer until the potatoes are tender but do not fall apart when pierced with a knife, about 20 minutes.  Drain well immediately and let stand until the potatoes steam dry. Discard thyme stems.  
Press the hot potatoes and garlic through a food mill or ricer into a large bowl.  Alternatively, mash them as smooth as possible with a hand-held potato masher.  Add the cream cheese, butter, sour cream, and 3/4 cup of the milk to the warm potatoes; stir until smooth. The mixture will firm up as it chills overnight, so at this point it should be slightly softer than you want to serve it. Season with seasoned salt and pepper.
Scrape the potatoes into the prepared dish and smooth the top. Dot the top with the bits of chilled butter. Cover the dish tightly with plastic wrap and refrigerate overnight or up to 2 days ahead.
When ready to bake, preheat the oven to 350°F. Remove the plastic wrap and bake until the top is golden brown and the potatoes are heated through, about 1 hour. Serve warm.
Potatoes Au Gratin
Super Easy Potatoes Au Gratin
Serves 6

6 medium baking potatoes
2 cups cheddar cheese, shredded
4-5 tablespoons butter
1 1/2 cups fat-free sour cream
3 green onions, chopped
Salt and ground black or red pepper to taste

Bake or boil potatoes in skins, cool. Peel and shred into a large bowl, on a coarse grater.   Preheat oven to 325ºF. 

Combine 1¼ cups cheese and 3 tablespoons butter in saucepan; heat and stir until cheese is almost melted. Remove from heat.   Blend in sour cream, onions, salt, and pepper. Fold in potatoes.  Spoon into a greased 2-quart casserole dish. Dot with 1-2 tablespoons butter and sprinkle the remaining cheese on top. 
Cover with aluminum foil and bake about  20-25 minutes.  Remove foil and continue baking about 5-8 minutes or until cheese is slightly browned in spots.

Variation:  Instead of baking and grating the potatoes, prepare mashed potatoes your way. Continue with the rest of recipe.



Potatoes Au Gratin with Mustard and Ham
Serves 4

1 clove garlic, minced
1/3 cup chopped green onions
1/3 cup Dijon Mustard
2/3 cup shredded cheddar cheese, divided
2 tablespoons chopped parsley
2 pounds potatoes, thinly sliced
1 1/2 cups diced cooked ham
2 tablespoons butter
1 1/2 cups light cream or half-and-half

Cook green onions and garlic in butter until tender. Reduce heat to low and stir in cream, mustard and 1/3 cup Cheddar cheese; cook and stir until cheese melts and mixture is smooth. Remove from heat and stir in 1 tablespoon parsley.

Layer 1/3 each of the potatoes, ham and cream sauce in greased 9-inch square baking dish. Repeat layers twice, ending with cream sauce. Sprinkle top with remaining cheese.

Bake covered at 375°F for 45 minutes. Uncover; bake 15 or 20 minutes more or until potatoes are tender and cheese is browned in spots. Let stand 5 minutes before serving; garnish with remaining parsley.
Twice Baked Potatoes

Do not allow the potatoes to cool completely before cutting. The flesh will become gummy.  Here are a few great flavor combinations for twice-baked potatoes

Flavorings for Twice Baked Potatoes
Use alone or in combination

Adjust amounts of butter, sour cream and milk to prevent an overly moist potato mixture

Crisp, crumbled bacon , about 8 strips

1 small onion, finely diced and sautéed in butter until soft

1 tablespoon minced chipolte in adobe sauce

1-2 tablespoons parsley, cilantro or chives

1-2 tablespoons finely chopped garlic, sautéed in butter or olive oil until slightly browned

1-1/2 cups cooked vegetables, such as peas, corn and small diced green beans, broccoli or cauliflower

1/3 cup pesto, pasta sauce, eggplant spread or other favorite prepared sauce
Twice Baked Potatoes
Serves 6-8
These rich potatoes are made even better with the addition of sauteed minced garlic and/or crisped and crumbled bacon, prosciutto or pancetta for mixing into the potato mixture.
6 large russet potatoes, scrubbed
2-3 tablespoons melted butter, for brushing potato shells
Kosher or sea salt or to taste
6 ounces plain or flavored soft-cheese, such as Boursin
1/2 cup half-and-half, more or less for desired texture
3 tablespoons butter, softened to room temperature
Black pepper to taste

Preheat the oven to 400°. Bake potatoes 50-60 minutes.  Cool slightly. 

Carefully slice off the top quarter of each potato.  Scoop out the flesh of each potato into a large bowl.  Set aside.   Be very careful to leave a 1/4 inch layer of potato on the inner surface to form the shell.   Brush each shell inside and out with the melted butter and sprinkle the insides with salt.
Raise the heat of the oven to 475°. Place the buttered potato shells on a wire rack and roast in the oven for 15 minutes, or until the shells are slightly browned and crisped.  
Meanwhile, press the potato flesh through a ricer or food mill.  Alternatively, mash with a fork or potato masher until as smooth as possible.  If potatoes have cooled, heat until just warm.  Gently fold in the half-half, soft cheese, butter and salt and pepper until well combined.

Remove the potato shells from the oven and fill them with the potato-cheese mixture.  Bake for 15 minutes, or until warmed through and golden brown on top.
Red Potato Recipes
Basic Roasted Red Potato Recipe
Serves 4-6

Cooking Spray
4 cups small red potatoes, unpeeled, scrubbed and cut into 1 inch cubes
1/4 cup olive oil
1 tablespoon fresh rosemary chopped or 1 1/2 teaspoon dried
1 1/2 teaspoons paprika
Kosher salt and freshly ground pepper to taste
Pinch cayenne pepper, optional

Preheat oven to 350F.  Spray a roasting pan with the cooking spray until well coated.  Prick the potatoes several times with the tines of a fork.  In a large bowl, combine the potatoes with the rest of the ingredients and toss to
coat the potatoes evenly. 

Pour the potatoes into the prepared pan, leaving a little space between them.  Bake about 35-45 minutes or until the potatoes are tender, golden and crisp. Sprinkle with salt while still warm. 

Serve with Griilled Salmon Salad


Spicy Roasted Mustard Red Potatoes
Serves 6-8

Cooking Spray
5 tablespoons Dijon-style mustard
3 teaspoons paprika
1 teaspoons ground cumin
1 1/2 teaspoon chili powder
1/4 teaspoon cayenne pepper, or to taste
20-24 small red potatoes, unpeeled, scrubbed
Kosher salt, optional

Preheat oven to 400F.  Spray a roasting pan with the cooking spray until well coated.   Put the mustard, paprika, cumin, chili powder, and cayenne pepper in a large bowl.  Stir to blend well.

Prick the potatoes several times with the tines of a fork and add tem to the bowl.  Toss to coat the potatoes evenly.

Pour the potatoes into the prepared pan, leaving a little space between them.  Bake about 45 minutes to 1 hour or until the potatoes are fork tender.  Sprinkle with salt while still warm.  Serve hot or warm

Potato Pancake Recipes

Try potato pancakes as an appetizer with sour cream and crispy prosciutto or as a dinner party side dish with seared steaks and creamed spinach. 
Make Ahead Tips
Cook potato pancakes several hours ahead to point just before final crisping.  Remove from pan, blot off excess oil.  Leave at room temperature and toast to crisp just before serving.

You can also lightly brown pancakes.  Once cooled, the pancakes may be frozen. Place in a freezer-safe container making sure that they don't overlap and put a double thickness of wax paper between each layer.   Freeze for up to 1 month.  Thaw slightly and proceed with recipe.
Cheese and Herb Potato Pancake
Makes 10-12 pancakes; recipe can be doubled

Your guests will be pleased to find a creamy cheese and fresh herbs inside these golden-brown potato cakes.   Serve cakes atop fresh salad greens with a tangy balsamic vinaigrette.    You may use any soft cheese such as feta, blue, Swiss, havarti or fontina

1 1/2 pounds baking potatoes (about 3)
Salt and pepper
6 ounces mild goat cheese, crumbled; or other soft cheese.
1/3 cup minced soft herbs, such as parsley, basil, oregano or cilantro

Dressing and Salad
1 tablespoon sherry vinegar or balsamic vinegar
1/2 teaspoon Dijon mustard
1 3/4 teaspoons salt
Fresh-ground black pepper
4 tablespoons olive oil
1 tablespoon minced shallot
1 small clove garlic, minced
1 tablespoons chopped green onions
1/4 pound mixed salad greens
Prepare the potatoes:
Peel the potatoes and grate them on the coarse side of a grater; or cut the potatoes into julienne with a mandolin. Squeeze any excess liquid from the potatoes and stir in 1 1/2 teaspoons salt and 1/8 teaspoon pepper.
Brush a large nonstick frying pan with about 1 tablespoon of oil. You may need to use two pans. Use about a hand-full of grated potatoes to make piles in the pan and press them into flat cakes about 2 1/2 inches in diameter.
Top each round of potatoes with a sixth of the cheese and a teaspoon of herbs.  Press the remaining grated potatoes onto the goat cheese so that the cheese is completely covered.

Put the pan over moderate heat and cook the potatoes just until they form a crust on the bottom, about 1 minute. Reduce the heat to low, cover the pan and cook the potato cakes until they are lightly browned on the bottom, about 10 minutes. Flip each potato cake. Cover and continue cooking until the potatoes are cooked through, about 10 minutes longer.

Uncover the pan and toast the potato cakes over low to moderately low heat until crisp and golden brown on the bottom, about 4-8 minutes longer. Flip the potato cakes and toast them on the second side until crisp and golden, about 5 minutes longer.

Prepare salad dressing and salad
In a large bowl, whisk the vinegar with the mustard, 1/4 teaspoon of the salt and a pinch of pepper. Add 3 tablespoons of the oil slowly, whisking. Stir in the shallots, garlic and 2 tablespoons of the green onions or chives. Set this dressing aside

Just before the potato cakes are done, toss the salad with the dressing. Divide the greens among six plates and put the hot potato cakes on the greens.


Easy Cook Potato Pancakes
Makes about 8 pancakes

Potato pancakes can be prepared with mashed potatoes instead of grated potatoes.  Here's how. 

1/2 pound potatoes, peeled and cut
1/4 cup buttermilk
1 egg
2 tablespoons all-purpose flour
1/4 teaspoon salt
1/4 teaspoon pepper
2 tablespoons unsalted butter

In medium saucepan, add potatoes to 2 inches boiling water. Return to a boil; reduce heat to medium. Cook, covered, about 12 minutes or until tender; drain.  Mash potatoes until smooth. Beat in buttermilk and egg until blended. Stir in flour, salt and pepper.

In large nonstick skillet, heat butter over medium heat. For each pancake, drop 2 tablespoons potato mixture into pan. Cook 8 to 10 minutes or until golden brown, turning once. Drain on paper towels.

Variation:
Mix these add-ins to the mashed potatoes before adding the flour:
1 bacon slice, cooked and crumbled
2 tablespoons snipped chives
1/2 teaspoon finely chopped fresh thyme or parsley leaves