Easy Appetizer Recipes
These easy appetizer recipes will keep you out of the kitchen and in the party action



Fruit and Cheese Appetizers

The Basics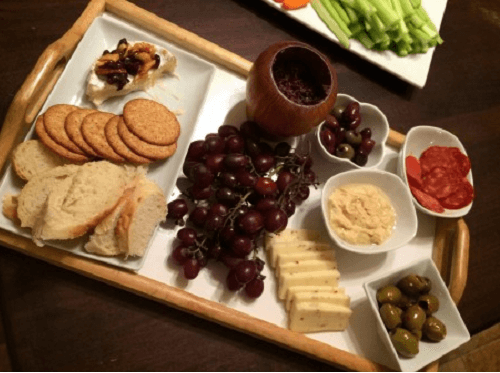 The quintessential and easiest easy appetizer recipe.  Put bite-sized pieces of Swiss, Gruyere, Brie or your favorite cheeses on a wooden board or large platter.  Arrange apples, pears, grapes, dates and unsalted nuts nearby. Serve with crackers, biscuits and/or breads.  Add fig or other preserves for a sweet note.

Melon and Prosciutto
You should get about 8-12 slices from a large melon. Estimate about 2 slices per guest. Drizzle with Honey Vinaigrette (recipe below) or serve on the side

1 large cantaloupe, casaba or honeydew melon
1/4 to 1/2 thinly sliced prosciutto or ham, cut into 1-inch strips
Fresh lemon or lime juice
Freshly grated black pepper (optional)
Toothpicks

Cut melon in half. Scoop out the seeds and fibers. Cut each half into 4-6 slices and remove the rind. Cut crosswise slits 1 inch apart in each melon slice. Sprinkle each slice with lemon or lime juice. Place 1 or 2 pieces of prosciutto around each slice. Push ham into the slits using the edge of a knife. This will secure the ham around the melon. Sprinkle with black pepper if using.

Alternatively, cut each melon slice into 3-4 pieces. Wrap each piece in strips of prosciutto and secure with toothpicks.


Marinated  Cheese Skewers
Here's a different and unique way to serve a cheese appetizer.  Experiment with your favorite cheese cubes. Works best with firm-textured cheeses like cheddar, Colby or Monterey Jack.  Substitute toasted fennel seeds, cumin seeds, sesame seeds or a combination of your favorite herbs and spices. Serve with fruit and nuts

Can be made up to 3 days in advance.

7-8 ounces of cheese
1 tablespoon of Herbes de provinces
1 tablespoon lemon juice
1 teaspoon lemon zest
2 cloves garlic, finely minced (optional, but tasty)
2 tablespoons extra virgin olive oil
Freshly ground black pepper
1/4 cup fresh parsley, finely chopped

Cut cheese into 3/4 inch cubes. Combine the remaining ingredients, preferably in a glass container. Add the cheese cubes and toss to coat. Cover tightly and refrigerate at least 4 hours to let the flavors blend.

Presentation Suggestions
Put each cheese cube on a 5-6 inch wooden skewer or a regular toothpick. Then thread onto the skewers a small piece of any two of the following items:
Small cube of bread, cucumber, black olive, red pepper, onion, green onion. Thread a leaf of fresh basil, mint, cilantro, or parsley on the end of the skewer or toothpick.  Keep color and texture in mind


More....
Easy Appetizer Recipes
Skewer Appetizers and Recipes
Canapes
Finger Foods



Vegetable Crudités
Although simple, chilled raw vegetables are among the most popular and nutritious easy appetizers around. Paired with a cool and well flavored dip, crudite can be the star of the show.
In choosing the vegetables keep in mind the color, shape and texture. Cut vegetables in pieces that are easily held in the hand, and eaten in one or two bites.

Most importantly, use veggies at their seasonal best. Presenting only one or two types of vegetables is impressive and cost efficient.


Make Ahead
Up to one day in advance. Wash and pare your chosen vegetables. Arrange in an airtight container and cover with damp paper towels. Cover and refrigerate.


Baby Carrots
True baby carrots are bred to be small. Most "baby" carrots however are specially bred, long, slender carrots that are chopped into smaller pieces. Leave whole for presentation

Baby Potatoes
Cute, delicious and versatile. Bake, boil or roast whole.  Be careful not to overcook

Celery
Use the palest and most tender stalks. Cut into sticks about 3 inches long and 1/4 inch thick


Cherry or Grape Tomatoes
Try to find varying colors and shapes. Leave whole

Cucumbers
Leave unpeeled for color effect. Scrape out the seeds if possible. Cut into sticks bout 3 inches long and 1/4 inch thick.

Radishes
If using fresh, unpackaged radishes, trim the root but leave a little green for color and to act as a "handle" for dipping.

Cauliflower
Cut into small, bite-sized florets. Squirt with lemon juice to prevent browning

Broccoli
Same as cauliflower, although I prefer slightly steamed---See below


Raw Vegetables On Ice
Serve bowls of delicious raw vegetables in crushed ice. The usual suspects such a celery carrots, green onions, radishes can be enhanced by cauliflower florets, raw asparagus, thinly sliced turnips and raw mushrooms.
Fill a large bowl (mixing or punch type bowl) with crushed ice. Put each veggie in its own small bowl (or mix them up). Nestle these bowls in the ice. You may also place a piece of clear plastic wrap over the ice bowl and push it down into the ice and arrange the vegetables on top. Serve with Herb Dipping Sauce (recipe below)


Tender-Crisp Vegetable Crudites
A variation on raw vegetable crudites--a colorful array of warm tender-crisp vegetables are another easy appetizer.

This version uses"baby vegetables". If not available at your grocer, cut and slice vegetables into small pieces for easy handling.

Make Ahead
Up to one day in advance. Wash and pare your chosen vegetables. Arrange in an airtight container and cover with damp paper towels. Cover with the container lid and refrigerate.

For every 4-6 guests prepare this amount.

TO STEAM
12 slender green beans
12 baby carrots,
1 cup small cauliflower florets
10-12 very thin asparagus, whole
8 small shallots, split into 2 pieces if necessary, peeled
8-10 baby zucchini, cleaned and left whole
6 baby yellow squash
3 cups baby salad greens
1 cup of baby spinach leaves
1 jar baby artichokes (15-ounce) can quartered artichoke hearts in water, drained
16-20 grape tomatoes
Olive oil
Salt and freshly ground black pepper
Lemon juice
Parmesan cheese to taste (optional)

All vegetables are served whole. Bring water to a boil over high heat in a steamer. Place the basket into the steamer and put in the green beans, carrots,cauliflower and shallots.

Cover and cook about 3 minutes. Add the zucchini and yellow squash. Cover and cook for 2 minutes more or until vegetables are tender-crisp or to taste.

Arrange the baby greens on a large serving platter. Follow with the baby spinach leaves. Toss with a light coating of extra virgin olive oil.

Arrange the steamed vegetables and the artichokes and tomatoes on the greens, each in a single pile. Sprinkle lightly with salt, pepper and lemon juice.

Sprinkle on cheese if using while veggies are still warm. Serve warm or at room temperature
Dips and Sauces

Low-Fat Creamy Garlic Dressing
Serve as a dipping sauce with raw vegetable or tender vegetables.
Makes about 1 1/2 cup

1 cup plain non-fat yogurt
3 tablespoons Dijon mustard
2 tablespoons mayonnaise
Dash hot pepper sauce
3 garlic cloves, minced or grated
1 teaspoon fresh lemon juice

Put all ingredients in a blender and process until smooth. Serve chilled

 
Honey Vinaigrette
Makes about 1 cup
3⁄4 cup olive oil
1⁄4 cup apple cider or white wine vinegar
2 tablespoons water
2 tablespoons honey
1 1⁄2 teaspoons salt
1⁄4 teaspoon pepper
Combine vinegar, water, honey, salt and pepper into a blender jar. Drizzle olive oil into blender until combined.  Alternatively, combine ingriedients in a glass jar and shake vigorously until well blended


Herb Dipping Sauce
1/2 pint mayonnaise
1/2 pint sour cream
3 garlic cloves, finely chopped
2 tablespoons chopped capers
1/2 cup chopped parsley
1 teaspoon Tabasco
1/2 cup chopped chives

Mix all ingredients together. Place in a small bowl in the center of the ice bowl. Serves 20
Pan-Fried Onion Dip Recipe
Serve this onion dip with crispy crackers, potato chips or vegetable crudités for dipping.   Make dip up to 2 days in advance. 
Makes about 2 cups

2 large yellow onions
4 tablespoons unsalted butter
1/4 cup vegetable oil
1/4 teaspoon ground cayenne pepper
1 teaspoon kosher salt
1/2 teaspoon freshly ground black pepper
4 ounces cream cheese, room temperature
1/2 cup sour cream
1/2 cup mayonnaise

Cut the onions in half, and then slice them into 1/8-inch thick half-rounds. (You will have about 3 cups of onions) Heat the butter and oil in a large sauté pan on medium heat. Add the onions, cayenne, salt and pepper and sauté for 10 minutes.

Reduce heat to medium-low and cook, stirring occasionally, for 20 more minutes, until the onions are browned and caramelized. Allow the onions to cool.

Place the cream cheese, sour cream, and mayonnaise in the bowl of an electric mixer (use a paddle attachment if you have one). Beat until smooth. Add the onions and mix well by hand.  Taste for seasonings. Serve at room temperature.


Easy Fruit Dip Recipe
About 1 cup
1 cup sour cream or vanilla yogurt
1/2 cup brown sugar
1/2 teaspoon vanilla or almond extract

Combine ingredients. Serve chilled with your favorite selection of sliced fruit
Jazzy Red Bean Dip
Super fast!
Makes 1 cup
15.5 ounce can red kidney beans, drained and rinsed
2 tablespoons fresh lemon juice
2 tablespoons olive oil
1/2 tablespoon Creole seasoning
1/2 small red bell pepper, cut into small pieces
1/2 stalk celery, sliced into small pieces
1/2 small sweet onion, cut into small pieces
1 garlic clove
Red pepper flakes or hot sauce, to taste

Purée beans, lemon juice, olive oil, Cajun seasoning red bell pepper, celery, onions, and garlic, red pepper flakes or hot sauce if using, in a blender until very smooth. Transfer to a serving bowl. Serve with carrot and celery sticks, tortilla chips, pita chips or other crackers.