Easy Appetizer Recipes
You will love these really easy appetizer recipes.  Don't wait to have a party to enjoy these simple and delicious anytime treats.  
Don't miss these fruit and veggie easy appetizer recipes.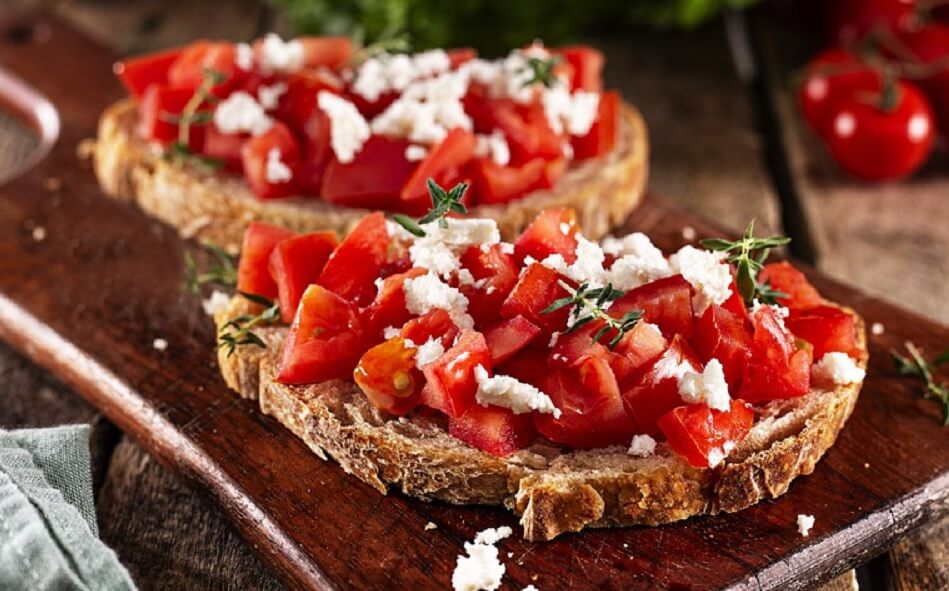 Tomato Bruschetta with Feta and Thyme

Sweet and Spicy Candied Pecans
Makes 1 1/2 cups

Nonstick vegetable oil spray
3 tablespoons light corn syrup
1 1/2 tablespoons sugar
3/4 teaspoon salt
1/4 teaspoon (generous) freshly ground black pepper
1/8 teaspoon cayenne pepper
1 1/2 cups pecan pieces

Preheat oven to 325°F. Spray baking sheet with nonstick spray. Combine corn syrup and next 4 ingredients in large bowl. Stir to blend. Add pecans; stir gently to coat. Transfer to baking sheet.

Place large piece of foil on work surface. Bake pecans 5 minutes. Using fork, stir pecans to coat with melted spice mixture. Continue baking until pecans are golden and coating bubbles, about 10 minutes. Transfer to foil. Working quickly, separate nuts with fork. Cool.

Can be made 3 days ahead. Store airtight at room temperature


Sweet and Savory Popcorn and Nuts
Serves 4
Popcorn is a great easy appetizer recipe. Serve the popcorn and nuts in one bowl or in separate bowls but along side of each other

2 oz popcorn kernels OR 1 large bag of microwaved popcorn OR 1 8-10 bag of high-quality bagged plain popcorn
2 oz butter
1 large garlic clove, crushed
1 1/2 cups unsalted nuts. Use your favorite combinations; walnuts, pecans, almonds, cashews, hazelnuts or Macadamia
1 tsp Worcestershire sauce
1 tsp curry powder
1/4 tsp chili powder
1/3 cup raisins
Salt to taste

Pop popcorn in a pan with oil and empty into a large bowl OR empty the microwaved or bagged popcorn into a large serving bowl.

Melt butter in a large skillet and add the garlic and nuts. Stir in the Worcestershire, curry and chili powders and cook over medium heat, stirring
frequently, 2-3 minutes or until the nuts are lightly toasted.
Remove from heat and stir in raisins. Stir the nut mixture into the popcorn and season with salt if necessary. Serve warm or room temperature.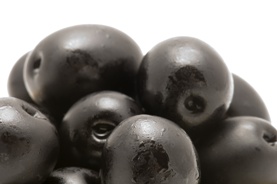 Garlic and Pepper Olives
Serves 8-10
The herbs and garlic hike up the flavor of plain grocery store olives.
2 cups large green or black olives. Not Spanish stuffed olives
30 black peppercorns
2-3 large garlic cloves, minced
Thyme leaves removed from about 6 thyme sprigs
2 tablespoons olive oil
Drain olives and place in glass or other non-reactive container. Using a meat mallet or the back of a heavy saucepan, crack the peppercorns into large pieces. Add the cracked pepper, garlic and thyme leaves to the olives. Add the olive oil and stir to coat the olive mixture. Cover with plastic wrap and refrigerate at least 24 hrs.  
Can be made up to a week in advance
Tapenade (Olive Spread)
Makes about 1 cup, serves about 10-12
1/2 pound pitted mixed olives
2 anchovy fillets, rinsed (optional)
1 small clove garlic, minced
2 tablespoons capers
2 to 3 fresh basil leaves
1 tablespoon freshly squeezed lemon juice
2 tablespoons extra-virgin olive oil

Thoroughly rinse the olives in cool water. Place all ingredients in the bowl of a food processor. Process to combine, stopping to scrape down the sides of the bowl, until the mixture becomes a coarse paste, approximately 1 to 2 minutes. Serve at room temperature with bread, crackers or vegetable crudities.


Italian Tomato Bruschetta
Makes about 2 cups of sauce, serves about 20

1 ciabatta or other thin baguette, cut into1/2-inch slices
1 garlic clove, minced
2 tablespoons olive oil
1 canned diced tomatoes, well drained in a colander
Kosher salt and freshly ground black pepper to taste
1/2 cup fresh basil, chopped

Toast the bread slices under the broiler until lightly browned. Combine the garlic and olive oil and brush over one side of the bread. Spread the tomatoes over the bread. Sprinkle with salt and pepper. Broil for about 30 seconds to heat the tomatoes. Sprinkle with basil and serve.


Fast Spinach Dip
10 ounces frozen chopped baby spinach, very well drained
16 oz sour cream
1/2 cup mayonnaise
1 package onion soup mix
1/2 cup green onion, green and white parts
1 tablespoon garlic, minced
Combine all ingredients and mix until well blended. Chill about 1 hr. Serve with your favorite crackers or chips of choice. This rich dip can also be served in a bread bowl.
Blue Cheese and Walnut Spread
Makes about 1 1/3 cups

4 ounces cream cheese, room temperature
1/2 cup walnuts, finely chopped
Coarse salt and ground pepper
1 cup crumbled blue cheese
Crackers or crostini, for serving

In a medium bowl, stir cream cheese with a wooden spoon until softened. Mix in walnuts; season with salt and pepper. Gently fold in blue cheese, breaking up as little as possible.



Really Good Pimento Cheese Spread
Makes about 2 cups

A Southern classic now enjoying a comeback! This recipe produces a chunky product but whip it up in a blender or food processor for a smoother spread. 
1 (8-ounce) package cream cheese, room temperature
½ cup diced roasted red peppers or 4 ozs. jarred diced pimentos or roasted red peppers, drained
2 cups extra-sharp cheddar cheese, shredded
1/2 cup thinly-sliced green onions, white and green parts
1/3 cup mayonnaise
1/4 teaspoon garlic powder
1/4 teaspoon onion powder
1/4 teaspoon paprika
Hot sauce, to taste
Salt and black pepper, to taste
In a mixing bowl, combine all of the ingredients and stir until well combined.  Taste and season with additional salt, pepper and/or hot sauce, if needed.  Serve or transfer to a sealed container and refrigerate for up to 1 week



Homemade Potato Chips
Homemade Potato Chips
2 medium russet potatoes, unpeeled, sliced lengthwise, 1/16 inch
Canola oil, for deep frying
Sea salt to taste
Soak potato slices in ice water 30 minutes; drain well and pat dry with paper towels. In deep fryer, fry in 350F oil until golden brown and crisp, 2 to 3 minutes. 
Drain potato chips on paper towels, lightly sprinkle with sea salt.  Serve plain or with toppings and flavorings to taste
Tasty Toppings for Homemade Potato Chips
While still warm, sprinkle chips with one or more toppings:
 
Garlic or onion powder
Chili powder
Cayenne
Chipotle powder
Cracked black pepper
Cajun seasoning blend
Blue cheese crumbles
Grated Parmesan cheese
Grated sharp cheddar cheese
Crumbled fried bacon
Chopped Roma tomatoes
Thinly sliced green onions

Queso Fundido
Serves 12
A classic Mexican appetizer brimming with hot and gooey cheese.  Perfect on a Cinco de Mayo party menu

1/2 lb. fresh Mexican chorizo or other hot pork sausage
1 tablespoon vegetable oil
1 medium white onion, finely diced
1 small red and small green bell pepper, finely diced
1 lb. Monterey Jack or Mozzarella, shredded. Make sure it's a good melting cheese.
Chili powder to taste
3 roma tomatoes, diced. Blot any excess liquid from diced tomatoes
Chopped fresh cilantro and oregano for finishing
Tortilla chips and crostini
Preheat oven to 400 degrees.  In a large skillet, cook and crumble the sausage until browned. Remove and drain sausage on paper towels. Drain off fat and wipe out skillet with a paper towel. 
Return skillet to heat and add oil. When hot, add onions and peppers and cook until soft and brown on the edges, about 8 minutes. Remove from heat and set aside.
In a medium-sized ovenproof skillet or baking dish, layer the ingredients as follows: 1/3 of the cheese, 1/2 the sausage, another third of the cheese, then onion and pepper mixture. Add some of the remaining cheese, sausage, top with rest of cheese. Sprinkle the top with chili powder.
Place into the oven for about 5 minutes. Bake until cheese is totally melted, hot, and slightly bubbling. Do not overcook.
Remove from the oven, top with the diced tomatoes and herbs. Serve hot with tortilla chips and crostini. 

Easy Chiles and Cheese
Char the poblano over the open flame of a gas stove burner, turning until the pepper is blackened on all sides. Let peppers rest in a bowl covered with plastic wrap for about 10 mins. Rub the skin and charred bits off the peppers and proceed with the recipe
3 tablespoons vegetable oil
1 cup thinly sliced white onion
Salt
1 pound poblano or Anaheim chiles (about 6 medium chiles), charred, peeled, with stems, seeds and veins removed and flesh cut into narrow strips
1 cup strong beer
6 ounces medium-sharp Cheddar or Muenster, cut into thin slices
Heat the oil in a deep, nonreactive, medium skillet or shallow flameproof casserole. Add the onion, season with salt and cook over moderate heat until translucent.

Add the chile strips, cover the pan and cook until just tender but not soft, about 4 minutes. Add the beer, increase the heat to high and boil uncovered, until it is absorbed by the chiles, about 7 minutes. Spread the slices of cheese over the chiles and heat until melted. Stir. Serve immediately with tortillas chips, French bread slices or crackers
 


Yes, mini baked potatoes make excellent easy appetizers. They go well with finger sandwiches and shrimp, beef or chicken appetizers. Also great with salads, burgers and roasted beef or chicken. Have for breakfast with fried eggs and sausage.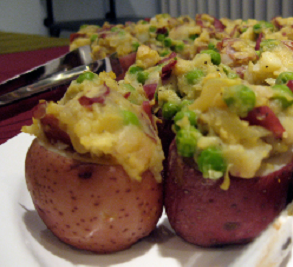 Baby Potatoes with Green Peas and Mint Chutney
20 small potatoes, red or white
1 tablespoon or more olive oil
Salt

Preheat oven to 400 F. Scrub potatoes and dry with paper towels. Cut a thin slice off of the bottom of each potato so it will sit upright.
Toss potatoes with oil and salt until evenly coated. Place on a baking sheet and cook until soft inside and crisp outside, about 30 minutes. Cool to warm. Cut a small cross on top of each potato and squeeze gently to split open.
Alternatively for larger potatoes, scoop out the flesh and mix with your favorite ingredients

Just before serving top each opened potato with the following ingredients, alone or in combination. Use about 1/2 to 1 teaspoon per ingredient depending on the size of the potato. Do not overstuff.  


Potato Toppers
Butter and freshly ground black pepper
Sour cream and caviar
Sour cream and finely chopped chives or parsley
Parmesan cheese and ground rosemary
Finely minced garlic or green onion, pinch of cayenne pepper or red pepper flakes
Finely diced tomato and crisped, finely crumbled bacon
Minced cooked vegetables and olive oil
Minced beef and blue cheese
Diced black olives and feta cheese
Chutneys; compound butters
Easy Cheese-Stuffed Mushrooms
Depending on size of mushrooms, will serve about 10-12

1-1/2 pound medium fresh mushrooms
8 Ounce Cream cheese; softened
Dash of salt
Dash of Worcestershire sauce
Dash of ground nutmeg
Freshly ground black pepper
1 Cup Grated Parmesan cheese

Wipe excess dirt from mushrooms with a dry paper towel. Remove stems. Place caps on greased baking sheet. Combine remaining ingredients except 2 tablespoons Parmesan cheese. Mix well. Spoon enough mixture in each mushroom to fill and be slightly mounded.
Sprinkle a little of the remaining Parmesan cheese on each mushroom. Bake in a 350 degree pre-heated oven for 20-25 minutes. Sprinkle with extra cheese if desired. Serve at once
Cheese Tortilla Roll Ups
Serves 4-6
These classic roll-ups can be varied in many ways. Use your favorite spreads or cheeses or use turkey, roast beef, pepperoni or salami
1/4 cup soft cream cheese with chive and bacon; or any available flavor
4 small-sized flour tortilla; also try flavored tortillas
8 slices American cheese
8 slices smoked cooked ham

Spread one tablespoon cream cheese on each tortilla. Top with two slices of ham and cheese. Roll up tightly. Wrap each roll securely in plastic wrap. Refrigerate.
Cut each roll into six pieces, secure each slice by running toothpick through middle. Serve with chunky salsa. Makes 24 pieces.



Saucy Meatball Appetizers
Makes about 30 meatballs
1/2 pound beef
1/2 pound breakfast sausage (pork)
1 cup seasoned bread crumbs
1/4 cup grated Parmesan cheese
2 tablespoons chopped fresh parsley
1/2 teaspoon basil
1/2 teaspoon salt
1/4 teaspoon pepper
2 tablespoons vegetable oil
1 26-ounce jar tomato pasta sauce

In a large bowl, thoroughly combine ground meat, bread crumbs, Parmesan cheese, eggs, parsley, basil, salt and pepper. Form into 1 1/2" meatballs.

In a large skillet, thoroughly brown meatballs on all sides in vegetable oil; drain fat. Add sauce. Simmer, covered, 20 to 25 minutes or until meatballs are thoroughly cooked. Serve as an appetizer with French bread slices
Appetizer Meatballs in Chipotle Sauce
Makes about 30 meatballs

Meatballs
1/2 pound finely ground beef
1/2 pound finely ground pork
1/3 cup finely chopped onions
2 tablespoons flour
1 tablespoon fresh minced cilantro
1/2 teaspoon dried oregano
1/4 teaspoon ground cumin
1 egg, beaten
3 tablespoons vegetable oil

Sauce
1 tablespoon vegetable oil
1 onion, chopped
2 garlic cloves, chopped
1 cup tomato sauce
2 chipotles canned in adobo sauce, stemmed and chopped
2 tablespoons adobo sauce
1/2 cup beef broth

Combine all the meatball ingredients, except the oil, and mix well. Form into 1 1/2" balls. Brown the meatballs in the oil, remove, and keep warm.

To make the sauce, add the oil to the pan and saute the onion and garlic until soft. Add the remaining sauce ingredients, bring to a boil, reduce the heat, and simmer for 15 to 20 minutes until the sauce is thickened.

Place the sauce in a blender or food processor and puree until smooth. Return the sauce to the pan, add the meatballs, and heat through.  Serve hot with tortilla chips and sour cream
Hawaiian Sausage Appetizers
Makes about 24-32 meat balls

1-1/2 lb bulk pork sausage
20 oz. can pineapple chinks in light syrup
1/2 cup packed brown sugar
1/4 cup lemon juice
2 tablespoons cornstarch
2 tablespoons soy sauce
1/2 cup small diced green pepper

Shape sausage into 1/2 to 3/4 inch balls. Place in single layer in baking pan. Bake in 400 F oven 25 minutes, or until cooked; drain well on paper towels.
Meanwhile, drain pineapple, reserve syrup. Add enough water to syrup to measure 1 cup; combine with brown sugar, lemon juice,cornstarch and soy sauce in large saucepan. Cook and stir until sauce boils and thickens. Fold in green pepper, pineapple chunks and drained cooked sausage balls. Serve hot on toothpicks or skewers with bread rounds and pickle slices
Sausage balls can be made up to 2 months in advance and frozen or up to 2 days ahead and refrigerated well covered
Cheese And Sausage Snacks
3 cups baking mix, like Bisquick
1lb bulk pork sausage roll
1 lb. grated cheddar cheese
1 sweet onion, finely chopped
3/4 cup whole milk

Blend sausage and onion in a food processor. Remove mixture to a large bowl and add remaining ingredients. Mix well. Drop from a teaspoon onto a greased cookie sheet. Bake at 425 degrees for 10 -15 minutes until browned. Makes about 24-36 snack balls depending on size
Honeyed Sesame Chicken Wings
Serves 4-6 as appetizer, recipe easily doubles or triples

Marinade
1 teaspoon red pepper flakes
1/2 to 1 teaspoon chili powder
1/2 to 1 teaspoon ground ginger
Finely grated zest of one lime
1 pound chicken wings
2-3 tablespoons cooking oil
2 tablespoons soy sauce
2 tablespoons hoisin sauce
2 tablespoons honey
2 garlic cloves, grated
1 teaspoon sesame seeds

To make the marinade: combine the pepper flakes, chili powder and ground ginger.  Blend well.  Put chicken wings in large bowl and thoroughly rub the spice mixture into the chicken wings with fingers.  Cover bowl and chill for at least 2 hours to allow flavors to meld. 

Heat the oil in a large non-stick, heavy-bottomed skillet or a wok.  Add the chicken wings and cook until golden and crisp, about 10-15 minutes.  In a wok, turn chicken frequently.  In a skillet allow to brown on one side before turning to brown on other side.  Drain any excess oil and return skillet/wok to the heat.

Add the soy sauce, hoisin sauce, honey, garlic and sesame seeds to the chicken wings, turning to coat thoroughly.  Reduce the heat and cook, turning the pieces frequently, about 20 minutes or until juices run clear and chicken is charred in places. Serve hot, warm or at room temperature


Barbecued Chicken Wings
Serves 4-8 as appetizer
35 chicken wings, tips removed and cut at joint into two pieces
1 stick butter
1 cup brown sugar
1/2 tablespoon sauce
1/2 cup dry red wine
2 teaspoons dry mustard
2 large garlic cloves, crushed
1/4 cup fresh lemon juice
Fresh ground pepper to taste

Place chicken wing pieces in large flat pan. Combine other ingredients and pour over chicken making sure wings are well coated.  Refrigerate and marinate at least 1 hour or overnight. 

Remove wings from marinade and shake off excess. Save marinade for basting if needed.

Place pan in 350F oven and bake for 35-45 minutes or until wings are browned and crispy.   Alternatively, cook wings on a charcoal grill, 4-6" from medium coals, 20-25 minutes, brushing frequently with leftover marinade.



Ginger Sesame Chicken Wings
Serves 6-8, easily doubles
Serve these chicken wings as a hot delectable appetizer on a tailgate party menu or cocktail party menu

Marinade
2 pounds chicken wings
1/4 cup soy sauce
1 2-inch piece fresh ginger, peeled
2 garlic cloves
1/4 teaspoon freshly ground black pepper
1/4 teaspoon red pepper flakes
1 egg, beaten
1/2 cup dry breadcrumbs
1/3 cup sesame seeds
1/4 cup butter, melted

Place chicken wings in a large bowl.  Blend soy sauce, ginger, garlic, black pepper and red pepper flakes in a blender of food processor until all ingredients are minced and blended.  Pour over chicken and mix well with hands.  Cover and marinate chicken for 2 hours at room temperature or overnight in the refrigerator. Stir chicken occasionally. 

Preheat oven to 400F.  Butter large baking dish. Stir beaten egg into chicken and marinade.  Combine breadcrumbs and sesame seeds in another bowl.  Remove chicken wings from marinade one at a time, shaking off excess egg mixture. Dredge/toss chicken in breadcrumb mixture. 

Place chicken wings in single layer in the prepared dish.  Drizzle with melted butter.  Bake until chicken is brown and crisp, about 45 minutes.