Tailgate Party Menus



When we think of a tailgate party we think of the crowded parking lot of the stadium or arena of your favorite sports team or musical act. But consider these tailgating party menus anytime you want to open up your trunk, wagon, jeep or SUV to the hungry public.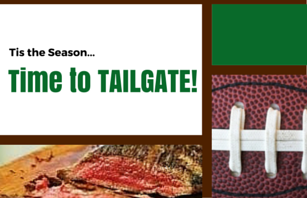 You can host a tailgating party near the lake, in the park, even in your driveway for a neighborhood block party.  The menu and food you choose must travel well and taste good at room (or parking lot) temperature.

Transporting Food
Before the fans, fun and food of the tailgate party you need to plan how to transport perishable and nonperishable food items. Be mindful of maintaining the quality and safety of the food you will be serving:
Wrap meats, poultry and seafood securely to prevent their juices from getting into other foods
To cushion and protect food items and breakables, use what you have on hand such as dish and bath towels, blankets, bedspreads and pillows. All clean of course
Bubble wrap and other types of packing material will stabilize and insulate foods during transport
Keep lightweight and delicate items like butter, eggs and pasta all together packing the heaviest items on the bottom



To keep cold foods cold:
Insulated bags and thermal chests and containers are obvious choices for maintaining hot and cold temperatures. They are sold with and without gel cold packs
For large quantities of food, ice is better then gel packs and blocks or chunks of ice are more effective then ice cubes
Make sure foods are well-chilled or frozen before placing in insulated bags, ice chests or containers
In a chest or insulated bag, put in a layer of ice, the food, then a top with a layer of ice
Use freezer strength Ziploc bags as "cold packs". Fill the bags with water and flatten to freeze. Be careful not to overfill the bags
Freeze bottles of water which will be consumed later. Be sure the bottles are kept very clean in the process and layer them underneath and on top of cold foods


To keep hot foods hot:
Aluminum foil is great for retaining heat especially when hot dishes are double wrapped
Cook hot dishes as close to departure time as possible. Immediately double wrap with aluminum foil
Pack hot foods (and cold foods for that matter) together so the dishes keep each other hot (or cold)
Use layers of newspaper, clean throw rugs, thick bath towels and comforters as insulators
Only put out small amounts of foods at a time and keep the bulk of the foods at safe temperatures



Big and Delicious
Prepare the brisket at home 1-3 days in advance. Wrap brisket slices in foil and reheat on grill. Serve on hard rolls with the onions and your favorite accompaniments
Just Right Tailgate Menu
Super simple last minute tailgate menu idea.  Cook chicken breast at home and keep (mostly warm) tightly wrapped in foil or grill as desired. 

Super Simple Lime Chicken Breast

Potato rolls, pita bread or flour wraps for making sandwiches

Condiments such as mayo, mustard, fresh tomato and shredded lettuce, thinly sliced red onion

Store Coleslaw, Potato Salad or Pasta Salad
Chips, Dip, Salsa


Super Cool
Not everyone can or wants to use a grill for their tailgate party.  Try these recipes that can be served cold or at "parking lot" temperature.  

Cozy Twist
Purchase ready-made soup or make your own. For the chicken wings, double or triple the recipe to prepare 20 to 36 wings. Any of the dessert choices would be a sweet ending
Sausages and Shrimp Fest
Simply Special
What could be easier? Pack the boiled shrimp in a container. Place container on top of a Ziploc bag filled with ice. Serve with cocktail sauce and saltines. 

All Bases Covered
This satisfying menu brings something for everyone. Start off with all the usual nibbles, snacks and beverages. End this feast with anything chocolate!