Easy Mexican Chicken Recipes
These Easy Mexican Chicken Recipes are an simple way to sample Mexican American cuisine.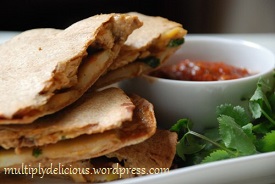 Chicken Chili Quesadillas
Recipes

---
---
Chicken Chili Quesadillas
Makes 48 wedges, serves 12-20 as an appetizer
Try this chicken quesadilla recipe as an appetizer on a cocktail party menu.  If you can't roast the poblano chili peppers, simply slice into strips and saute in olive oil until tender
4 large boneless & skinless chicken breasts
4 tablespoons olive oil
1/2 teaspoon salt
1/2 teaspoon chili powder
1/2 teaspoon cumin
1/2 teaspoon black pepper
2 cloves garlic, minced
2 medium poblano chili peppers
16 6-8 inch flour tortillas
3 cups grated cheddar cheese (mild, or sharp)
2 cups grated Monterey Jack cheese
Salsa and/or guacamole -optional
In a large bowl mix together the olive oil, salt, chili powder, cumin, black pepper and minced garlic. 
Spread this mixture over the chicken breast and let sit at room temperature for 1 hour.  If you have the time, cover with plastic wrap and marinate in the refrigerator for 2-4 hours. 
Heat grill or broiler and cook chicken until done (approx. 5 minutes on each side). Cool to room temperature and shred into 1/4-inch pieces.
Meanwhile, over gas burner or under broiler, place poblano pepper and char skin until black all over, rotate as necessary. Place pepper in a bag and close.

After about 15 minutes remove pepper from bag and remove charred skin,  seeds, and stem. Cut pepper into 1/2-inch strips.
Place 8 tortillas on table and top each with 3/4 cup of cheese, 1/2 cup of shredded chicken and divided poblano strips. Top with remaining tortillas.
Heat an 8-inch or larger skillet over medium high heat. Place chicken quesadillas, one at a time in skillet and cook until golden brown and puffy, about 1 minute.   Turn over and cook another minute.
Let cool slightly before cutting into 6 wedges. Serve with salsa or guacamole if desired.

Chicken Enchiladas
Serves 6
1 Tablespoon Plus 1/3 cup oil
2 (4 ounce) cans chopped green chilies
1 Large Clove garlic, minced
1 (28 ounce) can tomatoes, drained and liquid reserved
2 Cups Chopped onions
2 Teaspoon Salt
1/2 Teaspoon Oregano
3 Cups Shredded, cooked chicken
2 Cups sour cream
2 Cups grated Cheddar cheese, plus extra for topping
15 Corn tortillas
In a skillet over medium-high heat, heat 1 Tbsp oil. Add the onions and cook until soft.  Add chilies and garlic; sauté until garlic is soft. Add tomatoes, breaking up large pieces.  Add 1 tsp salt, oregano and 1/2 cup reserved tomato liquid.
Simmer uncovered until thick, about 30 minutes. (You can add more reserved tomato liquid if sauce gets too thick too quickly.)  Remove tomato sauce from heat and set aside.
Place the shredded chicken, sour cream and cheese into a large bowl and mix well
Heat 1/3 cup oil in a skillet over medium-high heat until hot. Dip tortillas in hot oil for a few seconds or until they become slightly limp.  Drain well on paper towels.
Fill tortillas with chicken mixture. Roll up and arrange side by side, seam down, in a 9x13x2-inch baking dish.
Pour tomato sauce over enchiladas.  Top with shredded cheese and bake at 350 degrees until heated through, about 20 minutes.

Beer-Glazed Chicken Tacos
Servings: 4-6
These savory beer-glazed chicken tacos are served in a chili spice sauce.  Prepare the chicken up to two weeks ahead of time.  Seal tightly and freeze
3-4 half boneless chicken breasts, skin removed
1 tsp cumin powder
1/4 tsp cayenne pepper
1 tsp crushed thyme
1/2 tsp garlic powder
1/2 tsp onion powder
1/2 teaspoon salt
1/2 teaspoon ground black pepper
1 tablespoon flour
2 tablespoons olive oil
1 tablespoons butter
2 cloves garlic, chopped
1-2 jalapeno chiles, seeded and finely minced
1/2 cup to 3/4 cup beer
Handful of fresh cilantro, chopped (optional)
For the spice blend, combine cumin, cayenne pepper, thyme, garlic and onion powders, salt, pepper and flour.
Cut chicken breast into roughly 1/2 inch pieces and place in medium mixing bowl.  Sprinkle chicken with spice blend and rub spices into chicken with your hands.  Let sit at room temperature for about 20 minutes if desired (better if you do).
In a large heavy non-stick skillet, heat the oil and butter and add about 1 cup of the chicken pieces at a time. Sauté over medium heat until golden. Remove to a plate.  Cook the rest of the chicken adding more oil as needed. Drain excess oil but do not clean pan. 
Over medium-low heat place all the chicken pieces back into the pan and add the jalapeno chiles, garlic and the beer.  Scrape bottom of pan to mix in browned bits (deglaze).  Cover and reduce heat to low. 
Cook for about 15 to 18 minutes, stirring frequently.  Add a tablespoon or so of beer or water as the chicken begins to glaze. 
Serve in heated taco shells or flour tortillas with your favorite taco or fajita fixings.  Also delicious over rice, pasta or mashed potatoes. 


Lime-Rubbed Chicken Tacos with Corn Guacamole
Serves 6 to 8
Thanks to Pati's Mexican Table

Lime Rubbed Chicken
1 1/2 pounds boneless chicken breasts
2 tablespoons fresh-squeezed lime juice
2 tablespoons olive oil
1/2 teaspoon salt
1/4 teaspoon freshly-ground black pepper, or to taste
1 tablespoon chopped fresh rosemary, or 1/4 teaspoon dried

Corn Guacamole
2 large ripe avocados, halved, pitted and diced
1 jalapeño chile, roasted and chopped
2 garlic cloves, roasted, peeled and minced
3/4 cup corn kernels, shaved from corn, or cooked from thawed
3/4 cup cherry or grape tomatoes, halved or chopped
1 tablespoon fresh-squeezed lime juice
3/4 teaspoon kosher or sea salt, or to taste

10-12 corn tortillas, homemade or store-bought

Make the Chicken:
Mix the lime juice, olive oil, salt, pepper and rosemary.  Pour on top of the chicken. Cover and refrigerate from 1/2 hour up to 12 hours.

Heat a medium-sized pan over medium-high heat. Add corn or safflower oil; once it is hot but not smoking, add the chicken. Sauté until golden brown and cooked through, about 5 minutes per side.
Remove from the pan, place on chopping board to cool. When cool enough to handle, slice into diagonal strips about a 1/2-inch wide.

Make the Guacamole:
Place the jalapeño and garlic cloves in a small baking dish under the broiler, for 6 to 9 minutes, until completely cooked through, soft and skin is charred. Once cool enough to handle, peel garlic and mince along with chiles.

Place diced avocado in a mixing bowl. Add the charred and minced garlic and jalapeños, gently tossing everything together well. Incorporate the corn and tomatoes. Squeeze the lime juice on top, sprinkle the salt and mix together.

In a hot skillet, heat the tortillas, about 1 minute per side.  Fill with chicken and top with the guacamole.