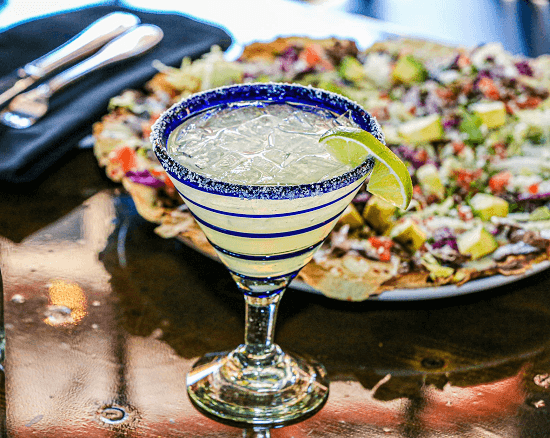 Cocktail Party Menus
Putting together theses sumptuous cocktail party menus should be a pleasure. Have fun, after all, you're throwing a party!
These "pint-sized" parties are a great way to toast friends and family and enjoy good drinks and great food. Too often hosts choose easy (albeit lame) potato chips and onion dip....resist the temptation! Be all about the food!

It is time to BOMO..buy one make one. This will save you time and keep your party jitters to a minimum.  Check out the many choices of pre-made appetizers in your supermarket. Purchase the highest-quality you can afford and pair with your homemade goodies.  For instance, prepare easy Pan Fried Onion Dip with purchased vegetable chips or toasted baguette slices.

WHAT TO BUY?
Dips, spreads and flavored hummus; smoked salmon; prosciutto, salami and pepperoni; prepackaged fruit, cheese and veggie platters; pre-made salads, toppings and dressings





Cocktail Party Menus



Sassy Southwestern Cocktail Party
Serve this lively menu with Sangria, Mint Martinis, Mojitos and Mexican Tea Punch

Sweet and Savory Popcorn and Nuts

Green Chile and Cilantro Salsa

Spicy Black Bean Salad
(omit ham if desired)

Southwestern Chicken Legs or Wings
Serve with Herbed Yogurt Dip with fresh oregano instead of basil and lime wedges

Blood or cara cara oranges and radish slices

Purchase pecan cookies, mocha chocolate cookies or brownies
Soirée For 12
Serve this sweet and savory menu with wine cocktails and mixed vodka drinks. Purchase the vegetable and fruit platters or go to easy appetizer recipes for tips on creating your own
Sweet and Spicy Candied Pecans
Vegetable Tray with Ranch Dip or Orange Mayonnaise

Seasonal Fruit Tray with Strawberry Yogurt Dip
Mix strawberry yogurt with a touch of sour cream and honey
Chicken Chili Quesadillas

Crabmeat Stuffed Mushrooms

Crispy Mini Egg Rolls with Sweet and Sour Sauce

Flavor-Packed Night
Serve with vodka or gin mixed drinks. Bold red or white wines, beer and cider
Garlic and Pepper Marinated Olives

Roasted Chili Tomato Salsa
Serve with tortilla or pita chips, vegetable crudités and Cheddar cheese slices

Shrimp Cakes
Serve with Aioli, Tarter Sauce or Green Mayonnaise and lemon wedges

Wined Teriyaki Beef Strips
Serve with buttered French bread slices or mini croissants. Pass purchased teriyaki sauce if desired

Melon slices and strawberries, sprinkled with mint leaves
Get Ready for Flavor Cocktail Party Menu
This menu pleases with a variety of flavors and textures

Out of this World Garlic Dip
Serve with crackers, crispy flatbread and celery, carrot and cucumber sticks
Asian Shrimp Cakes
Serve with Easy Mango Salsa
Natchitoches Meat Pies
Cut dough into 3-4" circles for bite-size appetizers
Strawberries with Kirsch and Orange  Zest

Crispy Cookies


Easy Does It Cocktail Party Menu
This easy appetizer buffet comes together with some purchased items and sauces

Seasonal Fruit, Cheese, Vegetable Tray
With Yogurt Dip and Ranch Dressing

Also see Fruit and Cheese Appetizers

Assortment of Crackers, Pita Chips, Crisp Flatbread Crisps
Crabmeat Stuffed Mushrooms
Or purchase

Purchased Miniature Spring or Egg Rolls with Sweet and Sour Sauce
Chicken Satay With Peanut Sauce
Or Purchased Chili Sauce

Moroccan Kebabs with Minted Yogurt Dip


Holiday Soiree

The holidays are a perfect time to show off your bartending skills! French Connection and Mint Martini are good drinks for this menu. Also serve hot cider and Brandied Spice Coffee. Find these and other spirits at Drink and Party Punches
Mixed Nuts - Olives
Marinated Cheese Appetizers
Serve with crackers; crispy flatbread. Add sliced pears, apples or dried figs and apricots
Carrot Sticks
Cold Fillet of Beef with Garlic Red Wine Vinaigrette
Serve with specialty breads, crackers
flavored mustards, horseradish sauces and butters
Barbecued Tandoori Shrimp Salad

Cranberry Cream Spread with Ginger Snaps
Mix whipped cream cheese with dried cranberries, a pinch of sugar and dash vanilla. Spread on cookies or gingerbread

Purchased Gourmet Cookie - Brownie Platter


Last Minute Party Time
Serve easy to make drinks or even ask guests to bring their favorite beverages.

Purchased Dip or Guacamole
Serve with potato, pita or bagel chips. This recipe can be easily cut in half
Tapenade
Serve with crisp crackers and Feta cheese cubes

Sweet and Sassy Shrimp Kabobs

Pork Bites with Sweet Apple Chutney
Here's a simple menu addition

Turkey and Cranberry Muffins
Split your favorite orange mini muffins in half. Place a piece of deli turkey and small dollop of whole cranberry on top. Good additions: Swiss cheese and/or green onions. Prepare 2 muffins per guest, about 1 pound of sliced turkey and 1 can of whole-berry cranberry sauce
Southern Nights

The Cocktails: Mint Juleps, Mojitos, Daiquiris, bourbon based mixed drinks, iced tea and iced coffee based cocktails, cordials and liqueurs, non-alcoholic flavored ice teas and lemonade, hot coffee
Nuts and Olives
Assorted Crispy Crackers
Tender-Crisp Vegetable Crudités and Creamy Garlic Dip
Creole Boiled Shrimp On Ice with Horseradish Salsa
Grilled Sweet Onion and Arugula Finger Sandwiches
Lemon Chiffon Cake and Fresh Strawberries
Also consider:
Chicken Pecan Finger Sandwiches
Mini Crab Cakes with Remoulade Sauce
Strawberries and Chantilly Cream


Roll Out the Red Carpet

This menu is very easy elegance. Feature drinks your guests will consider Hollywood trendy and sophisticated. Champagne (definitely), Cosmopolitans, Sex on the Beach, other Vodka Martinis filed with olives, specialty coffees.

Nuts and Olives
Assorted Crackers and Chips
Herb-Crusted Beef Roast with Horseradish Sauce
Sliced thinly with Dark Breads and French Bread
Flavored Mustards, Horseradish Sauces and Butters
Raw Vegetables on Ice with Herb Dipping Sauce
Fruit and Cheese Board

Mini Chocolate Cakes
Also consider:
Baby Lamb Chops with Baby Baked Potatoes
Tender-Crisp Vegetables with Creamy Garlic Dressing
International Smorgasbord

For an uncomplicated party theme, decide on your favorite ethnic or national cuisine and design a menu based on its' traditional finger foods and dishes.

The Cocktails: Feature beverages from around the world or at least sound like they are such as, Irish Coffee, Singapore Sling, Manhattan, White Russian, Virgin Island Daiquiris.
Pickled vegetables, roasted red peppers, pickles olives, nuts, cheeses, assorted crackers and chips
Cumin-Scented Moroccan Kebabs with Minted Yogurt Dip
Barbecued Tandoori Shrimp Salad

Sesame Flatbread
Italian Cookies or French Pastries
Also consider:
Purchased Greek Salad or Antipasto from your favorite deli or salad bar
Grilled Sausages with Mustard and Tortillas
Favorite New Orleans Shrimp Salad


Poker Party

This menu suits any kind of card party or board games party. Serious card players like foods that are not messy. Set-up the food table away from the action and provide plenty of napkins and wet wipes.
The Cocktails: Offer traditional mixed drinks such as rum and cola, scotch and soda, gin and tonic and bourbon and water. Bottled beer and brandy are also welcomed. Also ginger ale and other sodas, tea, coffee and mineral water

Spinach Dip in Bread Bowl

Marinated Cheese Skewers
Assorted Crispy Crackers
Orange, Grape and Almond Fruit Salad
Roast Beef and Horseradish Finger Sandwiches
Potato chips, pretzels, pickles, olives
Vanilla Wafers and Sugar Cookies
Also consider:
Mini Crab Cakes with Remoulade Sauce
A Wine Tasting Party

Do you like it? Would you buy it? That's all you need to know for an informal wine tasting party. Select a few wines you are familiar with that go with your menu (ask your wine merchant for help) Also ask a guest or two to bring a compatible bottle
Also offer cordials and liqueurs, non-alcohol flavored ice teas and lemonade, hot coffee

Nuts and Olives
Ginger Orange Chicken on Curried Toast Canapés
Top with Apple or Mango Chutney
Skewered Shrimp Marinated in Lime-and-Basil Vinaigrette
Roasted Pork Tenderloin
Serve with tomato sauce and dinner rolls
Simple Mixed Green Salad
Lemon Sorbet and Crispy Sugar Cookies
Also consider:
Rosemary-Garlic Roast Beef Tri-Tip