Hot and Cold Crab Dip Recipes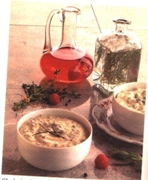 Everyone will love these hot and cold crab dip recipes.  Resist the urge to eat them by the spoonful!  Crab dips are a must have party appetizer! 
Use any type of crab meat you prefer, lump, claw or backfin.   Serve with crispy crackers, warm pita bread, French bread, flatbread or vegetable crudités.  
No crabmeat?   Substitute about the same amount of cooked, chopped shrimp for the crabmeat or use half crab and half shrimp or lobster
One cup of dip will serve about 4 people as an appetizer
For all recipes, pick over fresh crabmeat to remove any shells and cartilage
Make hot or cold dip up to one day in advance.  For the hot crab dip, store in ovenproof dish and keep chilled.  Let dish sit at room temperature about 15 minutes before baking as directed. 
Keep seafood appetizers chilled by putting the serving bowl in a larger bowl of ice
Simple Cold Crab Dip
Makes about  2 cups
Use this recipe as a starter for adding your own special touches such as minced garlic and fresh herbs or other seasoning salts such as Cajun or lemon pepper.
1 (8 ounce) package cream cheese, softened
1/2 cup sour cream
2 tablespoons mayonnaise
1/4 teaspoon lemon zest
1/4 teaspoon Old Bay seasoning
1/4 teaspoon hot sauce
1 1/4 cup crabmeat
3 green onions, thinly sliced
In a medium bowl, mix cream cheese, sour cream, mayonnaise, zest, Old Bay and hot sauce.  Gently fold in crabmeat.  Taste for seasoning.  Serve chilled
 
In a large bowl, combine cream cheese, sour cream, green onions, horseradish, lemon juice, Worcestershire sauce, salt, and pepper; stirring until smooth. Gently stir in crabmeat. Cover and chill. 
Simple Hot Crab and Cheese Dip
Makes about 2 1/2 cups
1 cup fresh crabmeat
1 cup mayonnaise
1 cup Swiss cheese, grated
1/2 cup scallions, minced
Freshly ground black pepper
Mix the crabmeat, mayonnaise and grated cheese in the top of a double boiler. Cook over medium heat until melted through.
Stir in scallions and black pepper. Spoon onto toasted baguette or crackers. Serve hot.

Spicy Hot Crab Dip
Makes about 2 ½ cups
Make dip up to 1 day in advance.  Do not bake.  Store in a tightly sealed container in the refrigerator.  Bring dish to room temperature before baking as directed.
1 (8 ounce) package cream cheese, softened
1/2 cup sour cream
2 tablespoons mayonnaise
1 1/2 tablespoons lemon juice
2 teaspoons Worcestershire sauce
2 green onions, thinly sliced
2 tablespoons fresh chopped parsley,
1 teaspoon dry mustard
Garlic powder to taste
1/2 cup shredded sharp Cheddar cheese
3/4 pound fresh crabmeat
3 dashes hot sauce
Pinch hot pepper flakes (optional)
Old Bay or other seafood seasoning, to taste
Preheat oven to 325º. Lightly grease a 1 quart baking dish.  In a medium bowl, mix cream cheese, sour cream, mayonnaise, lemon juice, Worcestershire sauce, dry mustard, garlic powder and about 2 tablespoons of the Cheddar cheese.  
Fold in crabmeat, hot sauce, red pepper flakes and some of the seafood seasoning.   Transfer the mixture to the prepared baking dish.  Top with remaining Cheddar cheese and seafood seasoning. 
Bake in the preheated oven 30 minutes, or until bubbly and lightly browned.  Serve hot or warm
Baked Artichoke and Crab Dip Appetizer
Makes about 2 1/2 cups
1 cup jarred artichoke hearts, chopped
1 cup crabmeat
1 cup light mayonnaise
1 cup grated parmesan cheese
1/2 cup Italian seasoned breadcrumbs
1 tablespoon butter
1/2 lemon, juice of
Mix artichokes, crab meat, mayo, parmesan and lemon juice in a bowl.  Spoon mixture into a baking dish. 
Saute breadcrumbs with butter until lightly toasted. Spoon breadcrumbs over artichoke-crab. mixture.  Bake in a 350 degree oven for 20 minutes or until mixture is melted
Rich Hot Crab Dip for a Crowd
Makes about 4 cups
This flavor-packed seafood appetizer recipe is a super rich with cream cheese, sharp cheddar cheese and half and half.  The browned bread topping adds crunch and a toasty flavor.   

3 tablespoons unsalted butter
2 medium shallots, minced
1/4 tsp. cayenne pepper
3/4 tsp. Old Bay seasoning
1 1/2 tsp. dry mustard
3/4 cup half-and-half
8 oz. cream cheese, cut into small pieces
1 3/4 cups sharp white Cheddar cheese (about 4 oz.), shredded
3 T. fresh lemon juice
2 tsp. Worcestershire sauce
10 oz. lump crab meat, picked over for cartilage
1/2 cup chopped fresh flat-leaf parsley
2 slices white bread, crusts removed, torn into 1/4-inch pieces
1/2 teaspoon paprika
Preheat oven to 350 degrees with the rack in the center.  Melt 2 tablespoons of the butter in a medium saucepan over low heat.  Add the shallots and cook slowly until soft, about 10 minutes. Stir in the cayenne, Old Bay and dry mustard until well-combined.
Pour the half-and-half into the saucepan, raise heat to low-medium and bring to a simmer.  Slowly whisk in the cream cheese, a few pieces at a time. When the cream cheese is fully incorporated, whisk in the Cheddar cheese a little bit at a time. Stir the mixture for 2 minutes, being careful not to boil or scorch. 

Remove from the heat. Add the lemon and Worcestershire and stir to combine. Add the crabmeat and half the parsley and stir gently.  
Transfer the mixture to an ovenproof baking dish and sprinkle with the bread pieces. Dot the top of the bread pieces with the remaining tablespoon of butter.

Sprinkle with the paprika. Bake for 18 to 22 minutes, until the bread pieces are golden and the dip is hot. Garnish with the remaining parsley.  Serve with additional pieces of torn bread