Quantity Appetizer Recipes
These tasty quantity appetizer recipes are the perfect way to kick off your next big family gathering or church function. Here you will find recipes for salsas, guacamole, shrimp kebabs and more
Cooking for a crowd need not be a chore with these easy favorites. Most recipes will serve 25-50 guests.  

More Quantity Appetizer Recipes


Salsas are best the day they are made but will keep for several days covered in the refrigerator. Make this salsa up to 3 days in advance.

Fresh Tomato Salsa
Makes about 5 cups, serves 50
2 medium sweet onions, diced
4 14½ oz. cans diced peeled tomatoes, drained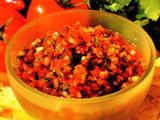 4-5 tablespoons fresh lime juice
2 teaspoons Kosher salt
3 fresh hot chiles, minced or to taste
½-1 teaspoon sugar
3/4 cup cilantro, loosely packed then chopped
Combine all of the ingredients (except cilantro) in a large bowl. Chill but serve at room temperature. Stir in the cilantro just before serving





Fiery Hot Salsa/Sauce
Makes about 3 cups and serves about 25-36.
Serve with chips or toasted pita wedges or with veggies, cheese, shrimp or chicken tenders
1½ pounds ripe tomatoes, quartered
¾ cup cilantro leaves, loosely packed
½ cup white onion, chopped
½ cup minced hot chile peppers, or to taste
¾ teaspoon salt, or to taste
Red pepper flakes to taste (for extra heat if desired)
Combine all of the ingredients except red pepper flakes in a food processor. Pulse then mince until desired consistency. Add pepper flakes to taste. Serve at room
temperature



Guacamole For a Crowd
Makes about 8 cups, serves about 30, doubles easily
1/2 pound Roma tomatoes, roughly chopped
1/2 large onion, roughly chopped
3 garlic cloves, smashed
3/4 cup cilantro, packed (or to taste)
2-4 Serrano or Jalapeño peppers, chopped (or to taste)
Juice of 2 lemons
1/2 teaspoon Kosher salt
8 large or 10 smaller ripe avocados
Place tomatoes, onion, garlic, cilantro, chiles, lemon juice ans salt in a food processor or blender. Process until smooth. Leave in bowl. Cut open the avocados,remove pits and scoop the flesh into the processor. Pulse until almost smooth with some chunks of avocado present. Season with additional salt and lemon juice if needed.


Taco Bean Dip
Makes about 6 cups, serves 25-35. Doubles easily,but only use an additional 3/4 cup salsa and 3/4 cup sour cream
1 15 oz. can refried beans
1 cup plain salsa
1 cup light sour cream
8 ozs. shredded sharp Cheddar cheese
2½ tablespoons taco seasonings
1½ tablespoons ground cumin
1 cup thinly sliced green onion
2 tablespoons minced pickled jalapeño peppers
In a food processor, combine beans, salsa, sour cream, Cheddar cheese,taco seasoning and cumin. Puree until smooth. Stir in the green onions and jalapeños. Cover and refrigerate. Can be prepared and stored up to 3 days.



Cocktail Sauce for 50
Makes about 6 cups

This homemade sauce is also great on burgers, hot dogs and French fries. TIP: Add the horseradish a little at a time until desired taste is achieved
5 cups ketchup
1 cup prepared horseradish, or to taste
1½ tablespoon Worcestershire sauce
1/2 cup lemon juice
1½ teaspoon hot pepper sauce, or to taste

Combine all the ingredients well. Cover and chill until serving time



Tapenade
Makes about 2 cups, serves 20-25

45 pitted Kalamata olives (about 2 cups), coarsely chopped
1½ tablespoons rinsed, drained, and chopped capers
2 teaspoons fresh lemon juice
4 teaspoons olive oil
1/2 tsp anchovy paste (optional)
Fresh cracked black pepper

Combine olives, capers, lemon juice, olive oil, anchovy paste, and pepper. Mix well. Serve with crispy crackers and cheese



These sausages would taste great with Low-Fat Creamy Garlic Dressing. Double or triple the ingredients to serve a crowd

Sweet and Smokey Sausages
Makes 7 dozen
2 packages beef or pork cocktail sausages, (40-50 sausages per pack)
2 1/2 cups light brown sugar
1 1/2 - 2 lb bacon
Wooden toothpicks
Preheat oven to 375F. Cut the bacon slices into thirds lenghtwise. Wrap each sausage with a piece of bacon. "Sew" the toothpick into the bacon and sausage to secure and place in a shallow baking dish. Sprinkle the brown sugar over the sausages.
Cover the dish with foil and bake for 30 minutes. Remove the foil and cook for an additional 30 minutes until the bacon is crisp and the sausages are throughly heated. Serve warm
These treats are very popular party pleasers. Letting the mixture rest in the refrigerator allows the flavors to intensify
Cheese and Sausage Snacks
Makes about 7 dozen
2 lb pork sausage
1 1/2 cups baking mix
16 oz shredded extra-sharp cheddar cheese
1/2 cup finely chopped sweet onion
1/2 cup finely chopped celery
1/2 tsp garlic powder
Preheat oven to 375F. In a large bowl mix all of the ingredients thoroughly. Cover and chill for at least 3 and up to 24 hours. Roll mixture into 1-inch balls and place on an ungreased baking sheet(s). Space at least 1-inch apart.
Bake at 425 for 12 -15 minutes until golden brown. Serve warm
Variations:
Use an equal amount of ground turkey and Gruyère or Swiss cheese
Add 1/2 cup finely diced fresh jalapeños
Add 1/2 cup finely chopped fresh parsley, basil or cilantro



This recipe easily doubles to create more kebabs

Sweet and Sassy Shrimp Kebabs
Serves 25-35

4 pounds medium or large shrimp, peeled and deveined
1 cup orange juice, fresh is best
6 tablespoons fresh lemon juice
1 cup ketchup
1/2 cup soy sauce, low sodium if possible
3 tablespoons sesame oil
2½ tablespoons brown sugar
4 garlic cloves, smashed
About 50 long bamboo skewers, soaked in cold water for at least 30 minutes.

Combine all ingredients in a large mixing bowl and stir well to coat shrimp completely. Let marinade for up to 6 hours in the refrigerator.
Thread the shrimp onto the skewers first by piercing the tail and then the head. Allow 2-3 shrimp per skewer depending on size of shrimp. Grill or broil the shrimp for about 1-2 minutes per side or until brown and slightly charred in spots. Arrange on tray and serve with purchased dipping sauce or alone