Meat and Vegetable Trays for 50
These images will spark your imagination and give you an idea on how to create beautiful meat and cheese trays and appetizer platters.  Choose a combination of savory, sweet, creamy, crunchy and zesty ingredients.  
Helpful Hints for Meat, Vegetable and Cheese Trays for 50

Use the meat and cheese trays for guest to prepare sandwiches. Serve thinly sliced or shaved meats and thinly sliced cheeses


To set up meat and cheese trays for appetizers, cut meat and cheeses in cubes or chunks and provide toothpicks or skewers for guests to serve themselves


I

f you are serving other foods such as a main course and side dishes, reduce these amounts 

by 1/2 to 1/3



Use larger amounts of more popular items, such as turkey, ham and cheddar cheese
Always consider color and flavor combinations when determining placement


Meat and cheese may be rolled, folded or stacked and garnished with leaf lettuce, parsley and colorful vegetables


For cheese trays without meat, use about 6 lbs. of cheese in total


Blanch vegetables such as asparagus, broccoli, green beans to enhance texture and improve flavor. Serve with one or more large quantity dip recipes


Add assorted fruits to meat and vegetable trays as garnish such as strawberries, cantaloupe chunks, pineapple and cherries


Ingredient amounts are suggested places to start.  Please use your best judgement based on your budget, whether or not other food is being served and the appetite of your guests .






Meat and Cheese 
Ideas and suggested amounts to serve 50.  Amounts can be doubled to serve 100

Meats
Shaved, thinly sliced or in chunks
10 lbs. total, in combination

Assorted Cold cuts
Corned Beef
Roast Beef
Ham
Pastrami
Deli Turkey
Cocktail Sausages


Cheeses
Thinly sliced or cubed for appetizers
4 lbs. total, in combination

American
Cheddar
Edam
Gouda
Monterey Jack
Pepper Jack
Colby
Munster
Provolone
Breads
100-125 bread slices; 60-75 rolls;
2-2½ lbs crackers

Sliced white, wheat
Small buns, rolls
Mini croissants
Mini pita pockets
Pumpernickel mini slices
Rye mini slices
Tortilla chips
Kettle-cooked potato chips
Breadsticks
Crispy specialty crackers
Saltines or other crackers
Lady fingers

Condiments and Garnishes
Use suggested amount of each
Softened butter, 1-lb
Mayonnaise or salad dressing, 1½ cups
Mustard, 1 cup
Horseradish Sauce, 1 cup
Leaf Lettuce, 3 lbs
Sliced tomatoes, 7 lbs.
Sliced onions, 2 lbs.
Pepperoncini
Cornichons or gherkins
Olives
Nuts, seeds, fried chickpeas, wasabi peas
Fresh Fruits - berries, grapes, sliced apples, pears
Dried fruits - apricots, raisins, pineapple
Soft mints, chocolates, wrapped candies 


Vegetables
Approximate amounts to serve 50. Use 5 lbs. in combination
Asparagus spears
Broccoli florets
Baby carrots
Carrot sticks
Cauliflower florets
Celery sticks
Cherry tomatoes
Cucumber spears or rounds
Green beans
Green onions
Jicama
Mushrooms
Pea pods
Radishes
Red, green, or yellow bell peppers
Zucchini spears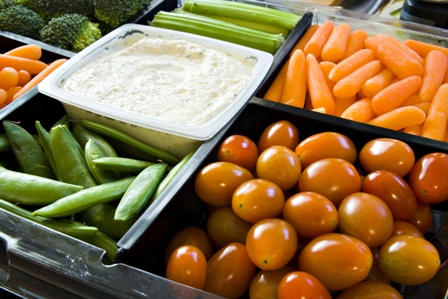 Relishes
3 lbs., in combination
Black or green olives
Dill pickle spears
Pickled beets
Pickled onions
Giardiniera
Sweet pickles
Chives
Herbs
Scallions
Dips and Sauces
You will need about 1-1 1/2 quarts in total.  Purchased or homemade
Blue Cheese
Creamy Herb
Sour Cream and Onion
French Onion
Thousand Island