Host a Cocktail Party

In the mood for some fun? Don't wait for an e-vite, take the lead and throw a fabulous cocktail party!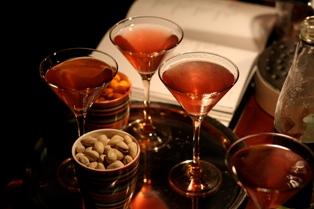 If the thought of planning an elaborate party dampens your spirits, consider hosting an intimate cocktail party instead.  It is a less pressured way to bring together family and friends for fun, food and good cheer.   Best of all, it may only require a day or two for party menu planning.   
A cocktail party can be highly sophisticated or informal and lighthearted. The smaller, intimate atmosphere lends itself to lively conversation or playing cards and board games.  

Cocktail parties are great for neighborhood gatherings and are the party of choice for fundraising, networking and marketing events.
Also called an appetizer party, it usually takes place in the early evening, on any night of the week, between 5 p.m. and 8 p.m. Of course the real start and end time will depend on how you and your guests like to party. 

Cocktail Party Themes and Ideas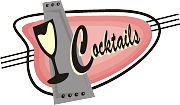 For a fun cocktail party idea, set the theme around the alcohol.  Choose one special drink or type of alcohol.  For example, champagne cocktails, Absolute vodka martinis or Margaritas.  Have only 1 or 2 other liquors and non-alcoholic beverages available.
How about a singles social? For this you would need to invite an equal number of men and/or women. Each person in turn invites one single friend.  
Speaking from personal experience, discourage your guests from inviting "exes" to the party. Jealousies and tempers can flair as the fun, flirting and drinking begins! 
Plan your cocktail party in time for a special televised event such as the Olympics, a football game, the Grammy Awards, the premier or finale of a popular TV show or a great classic movie presentation.  Decorate with appropriate paraphernalia such as posters or pennants.  
An open house is a free-wheeling cocktail party idea. It's a great way to party with a large number of guests, just not all at one time.  Host an open house to meet the neighbors, kick off a family or class reunion or start the holiday party season.  

This cocktail party will have different start/end times. For instance, half of the invitations could have times of 5 to 8 p.m. and the other half could be 6 to 9 p.m.
Cocktail Party Menus and Recipes

The Ambiance
Make the bar the center of attention. If you do not have a stand alone or built-in bar, improvise by using a high table, bookcase or desk.

You can also use a pass-thru breakfast bar, kitchen island or any cleared counter space you can set-up exclusively for alcohol and supplies. Wherever you set-up shop, make sure your guests can move about freely to avoid unfortunate spills or accidents.
Be the host with the "mostest".  At the beginning of the party, stay near the front door to greet guests and get a cocktail in their hands pronto. "Work" the crowd by keeping conversations going and not allowing anyone to feel left.
When setting up a room for a cocktail party create areas for people to gather. If space permits, bring in your most comfortable chairs, ottomans and floor pillows.   Make sure they have access to cleared tables or spaces for placing plates and drinks.   
Lighting changes moods.  A dim, warmly lit room will create an intimate and relaxed atmosphere and make your guests glow!  

Second only to lighting is music. Consider the ages and experiences of your guests and choose a mixture of genres that will appeal to all.  Avoid anything too bombastic and keep the volume at a reasonable level so conversations can be heard. 
The Drinks
Believe it or not, this is the easy part.  Alcohol is expensive.  If your budget is tight resist the temptation to stock every type of alcohol available in the liquor store.  Focus on vodka, bourbon, red wine and beer to start.  Then consider gin, scotch, rum, tequila and white wine.
Simplify matters by offering only one or two fun "signature drinks", such as varied flavored martinis or frozen blender drinks.  Make these drinks "on the menu" and don't feel obligated to offer a full bar.   
Add a few bottles of sparkling water and sodas, and you're all set.  Don't forget non-drinkers by having non-alcoholic beverages on hand.

To make bartending an easier job, mix all the base ingredients (except the alcohol) of your specialty drinks and have it ready to go at your quests' request. You can also serve the virgin concoction to your non-drinking friends.

These are only suggestions, first think about the kinds of alcohol your crew likes to drink.


Apple Martinis
Makes about 3-1/2 cups or 6 martinis

1 cup vodka, chilled
1 cup chilled orange juice
1 cup chilled apple juice
1/2 cup chilled orange liqueur
Thin apple slices

Combine vodka, juices and orange liqueur. Pour over ice into a martini shaker or pitcher. Strain into chilled martini glasses. Garnish with an apple slice.
Get Started with these Fun Mixed Drink Recipes
More Drink Recipes



Cocktail Party Food
When you think of cocktail party food, appetizers and hors d'oeuvres immediately spring to mind. These tasty morsels are so much fun.  Admittedly they are time-consuming to create but are oh so good.  
Explore these fun and festive cocktail party menus to find the food that will take your party over the top! 


Bar Supplies 
Less is always more as far as bar supplies and garnishes. If you have to purchase or replace your bar items, consider first the kind of mixed drinks you will be making. If you are only offering scotch and soda you will not need cocktail shakers, olives and toothpicks. 

Items to consider:
Swizzle sticks
Frilly toothpicks
Wine Openers
Shot glasses
Bottle openers
Cocktail shake


Mixers and Garnishes:
Tonic water
Bottled water
Fruit juices
Ginger Ale
Cola
Bloody Mary mix
Lemons and limes
Olives
Cherries
Pickled onions
Hot sauce