Flavorful Drink Recipes

What's Your Pleasure?  Popular Drink Recipes

The alcoholic drinks you serve your party guests varies widely based on such things as time and type of party,  location, budget and personal preferences.  Here are some popular drink recipes plus a few different options that will cater to different tastes.
Beer is a classic choice for many casual gatherings and is offered in a variety of types. Cocktails and mixed drinks are sure hits at parties. Red and white wines are often appreciated at more formal or upscale parties. 

Provide a selection of spirits like vodka, gin, rum, whiskey and tequila.  Remember you don't have to stock every liquor and every kind of mixer.  Prepare for some of the classics like as Sidecars, Mojitos, Martinis and Margaritas.  To satisfy more tastes, try wine cocktails or sweet alcoholic punches
Always be mindful of the legal drinking age in your state. Please serve and drink alcohol responsibly. 

More...
Serving Alcohol
Food and Wine
Host a Cocktail Party
Mixed Drink Recipes
Each drink recipe serves one or two unless otherwise indicated

Brandy
---
Brandy is a spirit typically made from fermented grapes or other fruits.  It can be served as an after dinner drink or made into a cocktail.  FYI, Cognac is a brandy made from grapes in the Cognac region of Southwest France. 
Between The Sheets
1 ounce brandy
1 ounce Cointreau
1 ounce light rum
1 teaspoon lemon juice
Crushed ice
Fill mixing glass with crushed ice. Add liquid ingredients. Shake and strain
into a rocks glass filled with ice cubes.
Sidecar
1 1/2 ounces cognac (or brandy) 
3/4 ounce orange liqueur 
3/4 ounce lemon juice, freshly squeezed
Orange twist or wedge
Sugar rim (optional)

Coat the rim of a coupe glass with sugar, if desired, and set aside.  Add the cognac, orange liqueur and lemon juice to a shaker with ice and shake until well-chilled.
Strain into the prepared glass and garnish with an orange twist if desired. 
Sidecar Cocktail
French Connection
2 ounces brandy
1 ounce amaretto
Splash triple sec

Fill a rocks glass with ice. Add brandy and amaretto and stir. Top with splash of triple sec and serve
Merry Cherry
1 1/2 ounces vodka
1/2 ounces cherry brandy
1/2 ounces brandy
Maraschino or fresh cherry for garnish
Combine liquid ingredients in a mixing glass filled with ice cubes.  Stir well and strain into a martini glass.  Garnish with a cherry.  
Gin
---
Gin Rickey
1-1/2 ounces gin
1 tablespoon fresh lime juice, (juice of 1/2 lime)
6 ounces club soda, (or to fill)

Fill a highball glass with ice. Add gin and lime juice. Fill with club soda and stir. Garnish with a wedge of lime.


Mint Martini
4 ounces gin
1/2 ounce white vermouth
1/2 ounce Peppermint Schnapps
Colored sugar
Candy cane
Ice

Shake contents in cocktail shaker with ice. Rim glass with lemon juice and dip into colored sugar. Pour in drink mixture. Garnish with candy cane.
Red Gin
1/2 ounce gin
2 teaspoons cherry brandy
Pitted cherry on toothpick skewer
Stir gin and brandy in a mixing glass filled with ice cubes. Strain into a cocktail glass. Garnish with cherry skewer. 
Rum
---
Mojito
Mojitos for a Crowd
Makes 6-8 drinks

2 cups ice cubes, plus more for serving
8 large mint sprigs, plus more for garnish
1/3 cup sugar, superfine if available
1 cup fresh lime juice ( use 6-8 limes)

2 cups light rum
8 dashes bitters (omit if desired)
1 liter club soda, chilled
In a large pitcher add ice, mint, sugar and lime. With a wooden spoon, beat the mint leaves against the sides of the pitcher to "bruise" them and release their oils. Stir in rum and bitters.
Strain if desired and store in freezer until service. To serve, place mint leaf garnish in glass so it comes up the sides. Add ice, then rum mixture and top off with club soda. Delish!

Zombie Drink Recipe

1 ounce light rum
1 ounce dark rum
1/2 ounce grenadine
1/2 ounce triple sec
1 ounce apricot brandy
2 ounces orange juice
2 ounces sour mix, bottled
1 splash Rose's Lime Juice
1 dash 151-proof rum
1 lemon slice
Cracked ice
Ice cubes

Fill a cocktail shaker with cracked ice. Add light and dark rums, grenadine, triple sec, apricot brandy, orange juice, and sour mix. Shake well and strain into a tall glass filled with ice cubes. Top with a dash of 151-proof rum and garnish with a lemon slice.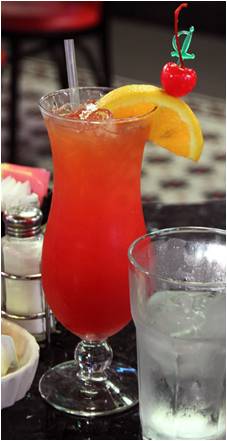 Hurricane
New Orleans Hurricane

1 ounce dark rum
1 ounce light rum
1/2 ounce Galliano**
2 ounces passion fruit syrup
1/2 ounce orange juice
Splash Rose's lime juice
Splash pineapple juice

Fill a mixing glass with cracked ice. Add rum, Galliano, passion fruit syrup, and orange juice. Shake and strain into highball or tall glass filled with ice cubes. Top with a splash of lime juice and a splash of pineapple juice.
**Galliano is a liqueur flavored with anise, citrus and ginger
Rum Runner Drink Recipe

1/2 ounce light rum
1/2 ounce dark rum
1/2 ounce crème de banana
1/2 ounce blackberry brandy
1/2 ounce grenadine
Sour mix
Pineapple juice
Splash of orange juice
1/2 ounce 151 rum
Ice

Pour light and dark rums, crème de banana, brandy and grenadine into a tall glass. Add sour mix and pineapple juice until the glass is full. Add a splash of orange juice. Pour into another glass with ice; shake. Top with 1/2 ounce of 151 rum.
Scotch
---
Godfather
1-1/2 ounces Scotch
1/2 ounce amaretto
Fill a rocks or old fashioned glass with ice. Add scotch and amaretto and stir.
Rob Roy
1-1/2 ounces Scotch
1/2 ounce sweet vermouth
STRAIGHT UP: Fill a mixing glass with cracked ice. Add Scotch and sweet vermouth. Stir and strain into a chilled cocktail glass. Garnish with a cherry.
ON THE ROCKS: Fill a rocks glass with ice cubes. Add Scotch and sweet vermouth and stir. Garnish with a cherry.
Tequila
---
Cranberry Margarita
Lime slice
1 oz. Triple Sec
Granulated sugar, in bowl or saucer
2 1/2 oz cranberry juice
1 1/2 tequila
5 ice cubes
1 oz lime or lemon juice
Lime slices for garnish
Rub margarita glass rim with lime slice and dip in sugar.  Combine liquid ingredients with ice, shake well. Pour drink into a glass and garnish with lime slice and serve. 
Frozen Strawberry Margaritas
Serves 6

Lemon or lime slices
Salt
1/4 cup tequila
2 oz Triple Sec
1/4 cup frozen limeade concentrate
1 cup frozen strawberries
8 cups crushed ice
Rub margarita glass rim with lime or lemon slice and rub in salt.  Combine other  ingredients in a blender and process until slushy.  Pour drink into prepared glasses and garnish with a lemon or lime slices
Vodka 
---
Simple Martinis by the Pitcher (Cosmos)
Makes 6 drinks, double ingredients for 12 drinks

1/4 cup fresh lime juice, plus extra for garnish slices
2 teaspoons sugar
4 cups ice cubes
1 1/2 cups vodka, chilled
1/2 cup cranberry juice

Mix lime juice and sugar in a bowl or cup until sugar dissolves. Add ice cubes to a pitcher or large martini shaker. Add lime juice mixture, vodka and cranberry juice and stir or shake until chilled. Strain into a pitcher or leave in martini shaker. Set in the freezer until serving time.
Variations: Substitute 1/4 cup vermouth for the lime, sugar and cranberry juice for a plain vodka martini
Substitute the lime juice for other citrus juice and the cranberry with other fruit juices. For example: lemon and orange juice; grapefruit and pineapple; lime and apple; lime and mixed berry juice.
Dirty Martini
Dirty Martini

1 1/2 oz gin or vodka
1/2 oz dry vermouth
1 teaspoon olive brine
Olive for garnish
Combine liquid ingredients into a cocktail shaker and shake well. Strain into martini glass and garnish with olives
Salty Dog Drink Recipe
Salt
Lime wedge
1-1/2 ounces vodka
5 ounces grapefruit juice, or to fill
Ice cubes

Pour salt into a saucer. Rub lime wedge around the rim of a highball glass. Dip the glass into the salt to coat rim. Fill the glass with ice cubes. Add vodka and grapefruit juice and stir.
Spicy Bloody Mary
1-1/2 ounces vodka
3 ounces tomato juice
1/2 ounce lemon juice
1/2 teaspoon Worcestershire sauce
1-3 dashes Tabasco sauce, or to taste
1 pinch celery salt, or to taste
1 pinch salt
1 pinch pepper
1 stalk celery
1 lime wedge
ice cubes
cracked ice

Combine liquid ingredients and seasonings in a cocktail shaker. Shake with cracked ice and strain into a tall glass filled with ice cubes. Garnish with celery stalk and wedge of lime. Omit vodka for a Virgin Mary



Watermelon Cocktail
5 cups seedless watermelon chunks, plus wedges or balls for garnish
3 tablespoons lime juice, plus lime wedges for garnish
2 tablespoons sugar, depending on the sweetness of the watermelon
3/4 cup tequila, vodka or rum

Combine the watermelon, lime juice and sugar to taste in a blender and blend until very smooth. Strain through a fine-mesh strainer into a small pitcher. Stir in the liquor. Fill 4 glasses with ice. Pour the cocktail into the glasses and garnish with watermelon balls.

Whiskey 
---
Whiskey Sour
1 lemon, Juiced
1/2 teaspoon powdered sugar
2 ounces blended whiskey
Cracked ice

Fill a mixing glass with cracked ice. Add lemon juice, whiskey, and sugar. Shake and strain into a sour glass filled with ice cubes. Garnish with a slice of orange and a cherry.

Rusty Nail
1 oz blended whiskey
1 oz Drambuie
Lemon twist

Pour the whiskey and Drambuie over ice and garnish with lemon


Wine Cocktails
---
Basic Wine Spritzer
4 oz white wine
Club soda
Lime wedge for garnish
Fill a white wine glass or highball glass with a little or lot of ice. Pour in the wine. Top with club soda. Garnish with a lime wedge.
Variation: Use red wine and orange slices

Grand Dame
Serves about 6

6 tablespoons Grand Marnier or other orange-liqueur
1 750-milliliter bottle of sparkling wine or champagne
Orange wedges for garnish

Add orange liqueur to a champagne flute or equivalent. Slowly pour champagne into glass, holding glass at an angle to increase the "fizz". Garnish with orange wedges



Apple Sangria
Serves 4

1 bottle dry white wine
1/3 cup apple or other fruit flavored vodka
1/3 cup orange liqueur
1 cup pineapple juice
1 cup fresh apple slices
1 cup fresh pear slices
1 cup fresh orange slices
1/2 cup lemon slices
3 tablespoons sugar

Combine wine, vodka, orange liqueur and pineapple juice in a large pitcher. Mix in sugar thoroughly until dissolved. Add in all fresh fruit.
Store in refrigerator until ready to pour. Sangria taste better the longer it sits. Serve over ice.

Punches and More
---
Holiday Eggnog
Serves 10-12

1 qt. prepared dairy eggnog
12 ounce blended whiskey
1 3/2 ounce rum
Mix all ingredients in a large punch bowl. Sprinkle with cinnamon and nutmeg if desired
Easy Does-It 'Nog
Makes about 12 servings

This is great "eggnog" without the eggs. It is much lighter, has fewer calories and super simple to make

1 1/2 cups dark rum
3/4 cup brandy
3 tablespoons vanilla extract
1 1/2 cup white sugar
3 quarts whole milk (do not use low-fat or skim)
Ground nutmeg and cinnamon

Combine all of the ingredients, except nutmeg and cinnamon, in a large pitcher. Mix well until the sugar dissolves. Store in refrigerator until well chilled. Also delicious gently warmed

Hot Cider for a Crowd
Serves about 16, makes 1 gallon

The brandy is added to each serving so guests can enjoy with or without alcohol

4 cinnamon sticks
2 teaspoons allspice berries
2 teaspoons whole cloves
Zest of 1 orange
1 gallon natural apple cider
1-2 cups brandy

Bring the spices, zest and 1 cup of water to a boil in a saucepan. Reduce heat and simmer about 15 minutes or until very fragrant. Remove from heat. Pour cider into a stockpot or large saucepan. Add spice mixture and simmer over low heat until cider is warm. Add desired amount of brandy to each mug and ladle in hot cider.


Sunny Holiday Punch
Serves 10-12

46 ounces canned pineapple juice, chilled
28 ounce bottle mineral water or club soda, chilled
6 ounces can frozen orange juice concentrate
1 each lemon or lime, thinly sliced
2 cups fresh or frozen strawberries
750 milliliters champagne, chilled

Combine all ingredients in a punch bowl. Garnish as desired.


Irish Coffee
1 ounce Irish whiskey
1 cup of coffee
Sugar
Whipped cream

Pour the whiskey into a cup rimmed with sugar. Fill strong, hot coffee. Cover surface to brim with chilled whipped cream.
Mexican Tea Punch
Serves 8 
2 Cups tequila
2 Cups strong, cold tea
1 Cup pineapple juice
1/4 Cup honey
1/4 Cup water
1/4 Cup lime juice
1/4 Cup lemon juice
1-1/2 teaspoons cinnamon; ground
1-1/2 teaspoons aromatic bitters

Mix all ingredients and chill. Stir and serve over ice