Mixed Drink Recipes
Making popular mixed drinks is not difficult at all. Use these tips, instructions and mixed drink recipes to impress and refresh your guests


Start with the Basics
Many popular and classic mixed drink recipes start with a simple syrup. Using a sugar syrup is preferable to waiting for sugar to dissolve in cold liquids.
This sweet blend can be used at once or stored almost indefinitely in the refrigerator in a tightly sealed glass container.
Simple Syrup Recipe
2 oz water
1 cup granulated sugar
Place sugar and water in a saucepan and bring to a boil. Reduce heat, stir to blend and simmer gently for about 5 minutes until sugar is completely dissolved and a syrup is formed. Cool.




Mix It Up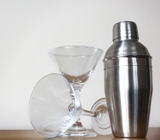 Mixed drinks are of course a mixture of various alcohols plus tasty ingredients and flavorings such as fruits, juices, creams.
The most popular mixed drinks come together by being stirred, shaken or blended



Stirred
A stirred drink begins by putting the ingredients in a large or tall glass with ice. Gently stir. Strain or remove the ice if desired. Pour into a serving glass and enjoy.
Stir mixed drinks when you are using alcohols and flavorings that are thick and syrupy such as triple sec, sugar syrup and fruit filled.
Shaken
Most alcohol does not easily blend with juices, syrups or cream. The best way to get the party started is to use a cocktail shaker to create tasty mix.

Cocktail shakers come in a large variety of shapes and sizes. They are all composed of a metal or glass base container, a top and a separate or built in strainer.
Partially fill the shaker with ice and pour the ingredients on top, alcohol and all.
Place cap on top and shake, shake, shake for 15-20 seconds. Pour liquid through the strainer. Shaken mixed drinks are usually not served on ice.


Blended
You guessed it, time to pull out the blender. Add fruit and other flavors, then alcohol and ice. Make sure to add fruit first to assure it gets finely chopped and pureed.


Here are some of best and most popular mixed drink recipes; stirred, shaken and blended
Champagne Cocktail
Serves 1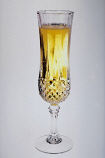 1 sugar cube
A few drops bitters**
1/2 oz cognac
4 oz Champagne
Maraschino cherry
Drop sugar cube in the bottom of a Champagne flute. Sprinkle bitters onto cube. Add cognac. Top with Champagne and add the cherry. 
Minty Mimosas
Makes 2 drinks
8 fresh mint leaves + more for garnish
2 cups fresh orange juice
1 cup champagne
Thin orange slices for garnish
Lightly crush leaves and place at the bottom of two champagne flutes.  Add orange juice and slowly add champagne.  Garnish each glass with mint leaves and a thin orange slice.
**Bitters refers to an alcoholic beverage created from herbs, fruits, spices, and roots. It has a bitter or bittersweet flavor. Bitters are not meant to be consumed alone but are used to add a little kick to many classic cocktails.
Bitters can also be used in cooking soups, stews and sauces.
Angostura is the most popular brand of bitters

Sex on the Beach
Serves 1
1 oz vodka
1 oz peach schnapps
2 oz orange juice
2 oz cranberry juice
Orange slice
Combine all ingredients in an ice-filled glass. Stir well. Remove Garnish with orange slice
Salty Dog
Serves 1
Salt
Lime wedge
2 oz vodka
5 oz grapefruit juice
Pour salt into a saucer. Rub the lime wedge around rim of glass and dip the glass in salt to coat the rim. Stir in vodka and grapefruit juice and add ice. Garnish with lime wedge

Kamikaze
Serves 1
1-2 oz vodka
1/2 - 1 oz triple sec
2 teaspoons lime juice
Combine ingredients in a glass with ice. Stir well and serve with or without ice.
Manhattan
Serve 1
1 1/2 oz rye whiskey
1 1/2 oz sweet vermouth
Dash of bitters
Maraschino cherry
Combine all the ingredients except cherry into a glass with ice. Stir well. Strain into a martini or short glass. Garnish with cherry

Singapore Sling
Serves 1
Juice of 1/2 lemon
1 teaspoon powdered sugar
2 ounce gin
1/2 ounce cherry brandy
Carbonated water (to fill)
Mix and serve!

Old Fashioned
Serves 1
2 ounces blended whiskey
2 dashes bitters
1 teaspoon water
1 teaspoon sugar
Ice cubes
1 lemon twist
1 orange slice
1 maraschino cherry
Pour bitters and water into an old fashioned glass (short and stout). Add sugar and mix well. Add whiskey and stir. Add ice cubes. Add juice from lemon twist and drop into glass. Garnish with an orange slice and cherry.

Mint Julep
Serves 1
2 1/2 ounces bourbon
7 sprigs mint
1/2 ounce simple syrup
Place six of the mint sprigs in a tall glass. Add simple syrup and **muddle the sprigs and syrup well. Add 1-1/2 ounce of the Bourbon and stir.
Fill glass with ice cubes and add the rest of the Bourbon. Stir well and garnish with an orange slice, a lemon slice, and the final sprig of mint.
Enjoy y'all!
**Muddling refers to crushing the mint into the syrup to release the herbs' flavorful oils

Tequila Sunrise
Serves 1
3/4 grenadine
2 oz tequila
4 oz orange juice
Maraschino cherries and orange slices for garnish
Fill a glass halfway with ice. Pour grenadine and let it settle on the bottom of the glass. Mix tequila and orange juice in a separate glass and slowly pour in glass with ice and grenadine. Garnish with fruit.

White Russian
Serves 1
1-2 oz vodka
1 oz Kahlua
1 oz light cream
Combine ingredients in a cocktail shaker with cracked ice. Shake well and strain into a glass with ice.
For a Black Russian omit the cream

Long Island Iced Tea
Serves 1
Not tea at all. Careful, very lethal
1/2 ounce vodka
1/2 ounce gin
1/2 ounce light rum
1/4 ounce tequila
1/2 ounce triple sec
1 tablespoon fresh lemon juice, or to taste
6 ounces cola, or to fill
Cracked ice
Ice cubes
Fill a cocktail shaker with ice. Add liquors and lemon juice. Shake well. Strain into a tall glass filled with fresh ice cubes. Fill with cola. Garnish with a slice of lemon and a sprig of mint and serve with a straw.


Brandy Alexander
Serves 1

1 1/2 ounce brandy
1 ounce crème de cacao (dark)
1 ounce heavy creme
1 scoop crushed ice
Mix all ingredients in a shaker. Strain mixture into a cocktail glass.

Basic Frozen Daiquiri
Serves 1
About 3/4 cup ice cubes
1 1/2 oz light rum
1 tablespoon orange liquor
1 1/2 oz lime juice
1 teaspoon sugar
Orange slices and maraschino cherries
Add ice cubes to a blender jar and pulse to chop the ice cubes slightly. Add the rest of the ingredients and blend until smooth. Pour into a tall glass or cocktail glass.
Garnish with orange slices and cherries

Blue Hawaii
Serves 1
1 ounce blue Curacao
1/2 ounce dark rum
1/2 ounce light rum
1 ounce orange juice
5 ounces pineapple juice, (or to fill)
3 ounces crushed ice

Pour crushed ice into blender. Add Curacao, rum, pineapple juice, and orange juice. Blend until smooth. Pour into large glass. Garnish with an orange slice, pineapple chunk, and cherry on a toothpick.