Quick and Easy Recipes

Check out these quick and easy recipes, some containing 5 ingredients or less.  All tasty and all perfect on a brunch or luncheon buffet menu.  The simple serving suggestions will have your guests thinking you've cooked all day!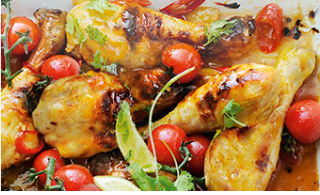 Sticky Drums
Serves 4
Try with equal amounts of chicken wings.  Serve with cherry or grape tomatoes and limes for a pretty presentation.  Recipe easily doubles or triples.  
2 lbs chicken drumsticks
1 (11.2 oz) jar mango chutney
1 tsp crushed red pepper flakes
2 limes
¼ cup cilantro
1 cup cherry tomatoes
Preheat the oven to 350°F. Place the drumsticks in a 9x13-inch baking dish and toss with the mango chutney and red pepper flakes. Bake for about 1 hour on the middle rack, turning halfway.  

Quarter the limes and coarsely chop the cilantro. Remove the dish from the oven, toss with the tomatoes, and garnish with lime wedges and fresh cilantro.
Thanks to Giant Foods

Easy Party Punch
Serves 16-18
1 46 ounce can unsweetened pineapple juice
1 46 ounce can apple juice
2 1-liter bottles 7-up, chilled
Punch one hole in each can of juice with a can opener and freeze juices in the cans. Remove juice from freezer 1 hour in advance, or sit cans in a sink of warm water for 10-15 minutes. It should be slushy. Mix up in large punch bowl and serve.
 
Marinated Cheese Appetizers
Serves 6-8
8 ounces of firm cheese, like cheddar or Colby
1 tablespoon dried herb blend, such as Herbes de provinces, Italian, Greek
1 tablespoon lemon juice
1 teaspoon lemon zest
2 cloves garlic, finely minced (optional, but tasty)
2 tablespoons extra virgin olive oil
Freshly ground black pepper
1/4 cup fresh parsley, finely chopped
Cut cheese into 3/4 inch cubes. Combine the remaining ingredients, preferably in a glass container.  Add the cheese cubes and toss to coat.  Cover tightly and refrigerate at least 4 hours to let the flavors blend.  Skewer 1-2 cubes on a toothpick. Place on serving platter and pour any remaining marinade over all.
  

Easy Chicken in a Roll
Serves 4, recipe doubles or triples easily
8 refrigerator crescent rolls, any brand
1/2 package seasoned cooked chicken strips, chopped
1 TB prepared pizza sauce
Separate the 8 crescent roll triangles. Mix the sauce and the chicken, and divide the mixture equally among the triangles. Pinch closed the triangles so that chicken is completely surrounded. Bake for 20 minutes at 375.
Place chicken rolls on a platter lined with shredded lettuce.  Serve with Herbed Yogurt Dip , Sweet Apple Chutney, Pan Fried Onion Dip or your favorite purchased sauce or dip

Broccoli Salad
Serves 6-8
2 Bunches Broccoli tops, chopped into 1/2" pieces
1 Pound Bacon, cooked, drained & diced
2 Cups Cheddar Cheese, shredded
Dressing
1 Cup mayonnaise
1 Tablespoon sugar
1 Tablespoon white wine vinegar
Microwave broccoli tops for about 1 minute or until slightly softened; cool (optional). Toss broccoli, bacon, and cheese. Chill. In separate bowl combine dressing ingredients.
Chill. Just before serving, add dressing to broccoli mixture and toss to coat. Serve cold

Lemony Spinach with Garlic and Hot Pepper Flakes
Serves 4

Quick and easy spinach recipe.  This also works well with Swiss chard and kale. The natural moisture of the leaves and the water from washing will help steam the greens

4 tablespoons olive oil
3 garlic cloves, finely minced
Pinch of nutmeg
1/4 teaspoon red pepper flakes, or to taste
1 pound spinach, whole leaf or 2 10-ounce packages.  Remove any tough stems, wash and drain well. Coarsely chop
1-1 1/2 tablespoons fresh lemon juice
Salt and freshly ground pepper to taste

Heat 3 tablespoons of the oil in a large sauté pan over medium-high heat. Add the garlic, red pepper flakes and the nutmeg. Stir and cook the garlic mixture about 30 seconds. Add the spinach and cook, stirring and tossing until the leaves begin to wilt and all of the water has evaporated, about 5 minutes. 
Add the remaining olive oil and some of the lemon juice.  Stir and cook for 2 minutes more. Season with salt and pepper and more lemon juice, to taste. Cover to keep warm.



Chillin' Chili
Serves 4-6
1 14.5 oz can Kidney beans
1/2 lb ground sirloin; the leaner the better
1 can tomato soup
1 Tablespoon chili powder
1 small Onion, chopped
Combine all of the ingredients into a large saucepan.  Bring to a boil. Turn down and simmer about 30 minutes.
Serve over rice with shredded cheese and sour cream or use as a base for a taco salad.  Try as a topping for hot dogs and burgers. 


Grilled-Vegetable Sandwich
Makes 4 sandwiches
Use a variety of vegetables for this recipe.  Also use the broiler instead a grill.  A grilling machine will also work well here
1 teaspoon  dried oregano
2 tablespoons  chopped fresh basil (optional)
1/2 teaspoon  salt
1/2 teaspoon  fresh ground black pepper
1 1/2  teaspoons  wine vinegar
3/4 cup  olive oil
1 eggplant -- cut into 1/2-inch slices
1 zucchini -- cut into 1/2-inch slices
2 red bell peppers -- cut into wedges
1 red onion -- cut into 1/2-inch slices
4 large  crusty rolls -- split
4 tablespoons  store-bought pesto
4 leaves  romaine lettuce
2 tomatoes -- sliced
Light the grill. In a large bowl, combine the oregano, the basil, salt, black pepper, vinegar, and oil. Add the eggplant, zucchini, bell peppers, and onion and stir to coat.
Grill the vegetables in batches, turning once, until lightly browned and tender, 10 to 15 minutes per batch.
Spread the inside of each roll with 1 tablespoon of the pesto. Sandwich the grilled vegetables, lettuce, and tomatoes in the rolls.

Barbecue Beef Pie
Serves 6-8
1 lb lean ground beef or turkey
1/2 cup chopped onion
18 oz jar barbecue sauce
2 cups shredded cheddar or Jack cheese
2 cups baking mix, any brand
1 cup milk
2 eggs
Heat oven to 400 degrees F. Cook ground beef and onion until beef is brown.  Stir in barbecue sauce. Spoon into ungreased 13x9x2" baking dish.  Sprinkle with cheese.
Stir together baking mix, milk and eggs until blended. Pour over beef mixture. Bake 25-27 minutes or until crust is light golden brown.
For a change of taste, use a similar amount of seasoned crushed tomatoes or tomato sauce in place of the barbecue sauce.  Add about 2 tsps of dried Italian herbs and salt and pepper to taste

Easy Savory Pork Chops and Gravy
Serves 4
On a buffet menu, serve the chops with purchased vegetable fried rice or mashed potatoes. 

To serve a crowd, purchase one pork chop per person.  Increase other ingredients as follows; to serve 8, use 2 cans of broth, 2 onions and 4 garlic cloves; for 16 servings use 4 cans of broth, 4 small onions and 8 garlic cloves.

2 tbs olive oil
4 small pork chops
1 14.5 oz can chicken broth, low sodium
1 medium onion finely chopped
2 cloves of garlic, chopped
Salt and pepper to taste
Put oil in frying pan and heat until hot. Brown the pork chops on both sides.  Add the chicken broth, onions, garlic. Simmer on low heat for about an hour, do not allow to boil. 
Tangy Beer Barbecue Sauce Recipe
Makes about 2 cups of sauce

This versatile barbecue sauce recipe is easy and delicious.  Spiked with beer, the sauce has a nutty, bold flavor.  Use on chicken, ribs or beef.  Also use as a great marinade 

1/2 cup butter; 1 stick
1 onion; finely chopped
1 garlic clove; finely chopped
3 tablespoon vinegar
1 cup chili sauce
1 cup water
2 tablespoon brown sugar
2 tablespoon Worcestershire sauce
1/2 tablespoon mustard
Juice of 1/2 lemon
1 can beer, brown ale recommended
2-3 dashes hot sauce
Salt and black pepper, to taste
In a large saucepan, saute onion and garlic in butter until the onions are transparent, about 10 minutes.  Add the remaining ingredients.  Bring to a boil. Reduce heat to low and simmer about 10 to 15 minutes.  Remove from heat. 

OPTIONAL: Pour barbecue sauce through a strainer to remove the onion and garlic. Adjust seasonings to taste.  If not using right away, place in a container and store in the refrigerator for about 1 week
Easy Pasta with Tomatoes and Cheese
Serves 4
1 16oz box pasta, use angel hair, spaghetti or linguine
1 can seasoned diced tomatoes.  Heat briefly in the microwave in a glass bowl
1 cup diced Pepperoni
1 tbl softened butter
2 cup shredded cheese, use easy melting cheese such as Havarti, Fontina or American
Salt and Pepper to taste
Cook pasta and drain.  In a large bowl, mix the pasta with the tomatoes, butter and pepperoni.  Sprinkle with cheese and blend.
Easy Homemade Pizza
1 14.5 oz can Italian stewed tomatoes
1 large uncooked pizza shell
3 tbls olive oil
About 6-8 white mushrooms, sliced
1 tbl dried herbs, such as Italian blend
1/2 cup grated Romano cheese
Drain tomatoes well. Saute mushrooms in 1 tbl. olive oil and 1 tsp water in a hot skillet about 3 minutes until softened and water is evaporated.  Brush pizza crust with 1 tbl olive oil. 
Arrange tomatoes and mushrooms on top. Sprinkle with dried herbs and cheese.  Drizzle pizza with last tbl. of olive oil.  Bake according to pizza crust package directions.


Fruit Pizza
Serves about 10
GLAZE
1 Cup Orange juice
3/4 Cup Water
1/4 Cup Lemon juice
3 Teaspoon Cornstarch
Dash of salt
1 Cup Sugar
SAUCE
8 Ounce Cream cheese
1 Teaspoon Vanilla
1/2 Cup Sugar
CRUST
1 Package Sugar cookie dough
FRUIT - You will about 3 cups of cut-up fruit.  After cutting fruit, place pieces on paper towels to drain completely.  Fresh is better then canned, try to avoid frozen fruit, too watery.  Best choices are peaches, grapes, bananas, strawberries and kiwi.
Mix ingredients for glaze and cook over medium heat until it boils and thickens. Cool. Spread cookie dough on buttered pizza pan.
Bake 350 degrees for 10 minutes. Cool. With an electric mixer blend ingredients for sauce and spread over cooled dough. Arrange fruit on top and pour glaze over. Refrigerate.  Bring to room temperature before serving.

Praline Ice Cream Sauce
Makes about 2 cups, serves 6
1 cup pecans, coarsely chopped
1 cup light brown sugar, packed
1/4 cup light corn syrup
1/2 cup half and half cream
2 tablespoon butter
1/2 teaspoon vanilla extract
OPTIONAL: Preheat the oven to 350 F. Toast the nuts for 5 minutes, then coarsely chop them.
In a small saucepan, combine the sugar, corn syrup and cream. Cook over medium heat, stirring frequently, until the mixture is smooth, about 5-6 minutes. Stir in butter, vanilla and pecans. Remove and cool completely.
To serve: briefly reheat in microwave or serve at room temperature. Spoon over your favorite ice cream. Store leftovers in the refrigerator.
---
---