Best Sandwich Recipes
Classic Turkey Club Sandwich

Consider these versatile sandwich recipes on your next breakfast, lunch or dinner party menu. Everyone loves a good sandwich and they are a handheld crowd pleaser.
Breakfast Sandwich Recipes
Breakfast Sandwich with Ham and Warm Apples
Serves 4
3/4 cup honey, divided
1/4 cup apple juice
2 tablespoons butter or margarine
2 crisp red apples, cored and sliced
8 frozen waffles, toasted
8 thin slices ham
To prepare syrup, place 1/2 cup honey and apple juice in small saucepan over medium heat; heat through. Set aside and keep warm.
Melt butter with remaining 1/4 cup honey in large nonstick skillet over medium-high heat. Add apples; cook and stir about 4 minutes or until apples are lightly caramelized and crisp-tender.
For each serving, place 2 waffles on plate, overlapping slightly. Top each waffle with 1 slice ham. Top with 1/4 of apple mixture and drizzle with 1/4 of syrup.
Tomato, Egg and Basil Breakfast Sandwich
Serves 4
8 thick-slices bread
1 tablespoon olive oil
2 tablespoon butter
2 cloves garlic, peeled and finely chopped
4 tablespoons Italian parsley, finely chopped
1/4 teaspoon hot pepper flakes
4 large eggs, lightly beaten
1 large ripe tomato, cored and finely diced.  Drain excess liquid
Salt and freshly ground pepper
12 large fresh basil leaves
Freshly grated Parmesan cheese
Lightly brush the slices of bread with olive oil, then grill or broil each slice. Set aside and keep warm.

Place butter into a medium-size sauté pan over low beat. When the butter melts, add the garlic, parsley, hot pepper flakes, and cook for 2 to 3 minutes.  Add the eggs and stir slowly over low heat until the mixture starts to form small curds, (careful not to overcook).  Gently fold in the tomatoes.  Add salt and pepper to taste.

Arrange the egg mixture onto the 4 slices of toasted bread. Top each with 3 basil leaves and sprinkle with Parmesan cheese. Cover with remaining 4 slices of toasts and cut in half. Serve immediately.
Classic BLT Sandwich
Bacon Sandwiches
One the best sandwich recipes in the world is the bacon sandwich or BLT. The typical BLT sandwich is of course, bacon, lettuce, tomato, mayonnaise on white sandwich bread.  Although nothing beats that perfect combination of ingredients, we all love variety. 

How to Cook Bacon
More  Bacon Recipes



Bacon Grilled Cheese Sandwich with Hot Guacamole
Makes 1 sandwich. Recipe easily multiplies
2 slices bacon
2 slices Italian or sour dough bread slices
1 tablespoon butter, room temperature
1/2 cup shredded extra-sharp Cheddar cheese
2 tablespoons prepared guacamole
Cook the bacon until crispy and set aside on paper towels to drain.

Butter one side of each slice of bread, sprinkle half of the cheese onto the unbuttered side of one slice of bread followed by the guacamole, bacon, the remaining cheese and  top with the remaining slice of bread with the buttered side up.
Cook in a hot skillet or grill pan over medium heat until golden brown and the cheese has melted, about 2-3 minutes per side.

BBQ Bacon and Turkey Sandwich
Makes 2 sandwiches
1/4 cup mayonnaise
1/4 cup sweet and tangy barbecue sauce
4 slices crusty Italian bread, lightly toasted
8 slices deli-style turkey
4 slices crisp-cooked bacon
1 cup sharp Cheddar cheese

Combine mayonnaise with barbecue sauce.  Spread the mixture on the toasted bread.  Arrange turkey on bread, then top with cheese and bacon. If desired, sandwich can be wrapped in foil to heat the meat and melt the cheese.

BLT for 50
7 pounds tomatoes, thinly sliced
2 - 3 heads iceberg or other leaf lettuce, washed and separated into leaves
150 thick sliced bacon, about 7 pounds; look for count on package
100 slices sandwich bread of choice
1 cup mayonnaise
8 ounces whipped butter 
Cook bacon according to directions and drain well on paper towels or paper bags. Spread 50 slices of bread with mayonnaise.  Place 3 bacon slices, 2 tomato slices, and a lettuce leaf on each. Spread whipped butter on remaining 50 slices of bread.  Place slices on top of sandwich.

Serve at once or individually wrap sandwiches in plastic wrap and store in refrigerator.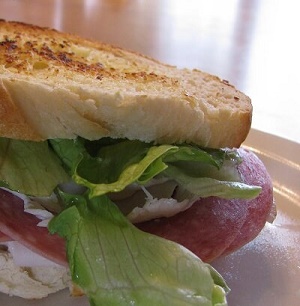 Salami and Cheese Sandwich
Deli Sandwich Recipes

Vietnamese Ham Sandwich
Makes 1 sandwich

1 Kaiser roll, horizontally cut in half, toasted 
4 thin cucumber slices
2 thin slices red onion
4 oz. deli ham, thinly sliced
1 Tbsp. sesame ginger dressing
1 Tbsp. roasted garlic mayonnaise
1 tsp. chopped fresh cilantro
1 tsp. chopped fresh basil
1/2 tsp. chopped fresh mint

Place cucumber, onion and ham on bottom half of roll.  Drizzle sesame ginger dressing over ham.  Spread garlic mayonnaise on top half of roll; sprinkle with chopped herbs.  Cover sandwich with top of roll and serve




Salami and Coleslaw Sandwich
Makes about 10 sandwiches wedges
1 1/2 pounds cabbage, about 4 cups finely shredded
3/4 cup mayonnaise1
1 tablespoon Dijon mustard
Salt and pepper to taste
2 tomatoes
1 large round loaf crusty bread
1/2 pound sliced deli ham
1/4 pound sliced salami
Shred cabbage. Combine with 3/4 cup mayonnaise, the mustard, salt and pepper. Slice tomatoes. Cut bread in two horizontally.  Pull out bread from both pieces leaving a 1" rim around the circumference.
Cover with ham, salami and tomato slices. Pile coleslaw over tomatoes and cover with top of bread. Cut into 12 wedges to serve.
Hot Pizza Sub Sandwich Recipe
Serves 8
Aluminum foil
Cooking spray
French bread loaf or 8 similar rolls
Olive oil (optional)
30 thin slices pepperoni
20 thin slices salami
10 thin slices deli ham
1 cup pizza sauce
1 cup thinly sliced Vidalia onion
2 teaspoons dried Italian seasoning
1 teaspoons red pepper flakes or ground black pepper
8 thin slices Mozzarella, Provolone or Muenster cheese
Preheat oven to 400°F.  Measure out foil to fit baguette or rolls. Spray with cooking spray. Slice French loaf or rolls lengthwise but not all the way through. Sprinkle olive oil on both sides of bread if using.  Evenly layer meats inside bread.  Spread pizza sauce over meats.  Top with onions, seasoning and pepper flakes.  Tightly wrap sandwiches in foil and bake 15-20 minutes until cheese is melted and sub is heated through.
Cuban Pork Sandwich
Makes 1 sandwich.  Adjust ingredients to make additional sandwiches
1 submarine or hoagie roll, split lengthwise
2 tablespoons prepared mustard
Sliced bread & butter pickles, to taste
1 ounce thinly-sliced roast pork
1 ounce thinly-sliced Swiss cheese
1 ounce extra-lean ham, thinly sliced
2 teaspoons butter
Open roll and spread inside surfaces with mustard, then top with pickles; layer on roast pork, cheese and ham; close sandwich. Lightly butter outside surface of roll and grill on a hot griddle (or in a 400ºF oven) until lightly toasted and cheese is melted. Serve hot.
Poultry Sandwiches
Chicken Breast Sandwiches with Yogurt and Cucumbers
Serves 4 
1/2 cup nonfat plain yogurt
1 small cucumber, shredded
2 tablespoons olive oil
4 chicken breasts (1 1/4-pounds), boned and skinned
1 medium onion, sliced thin
1 teaspoon salt
1/2 teaspoon pepper
1 tablespoon white wine vinegar
1 1/2 teaspoons chopped green onions or chives
4 pita bread pockets or 8 slices sandwich bread or 4 crusty rolls split 
In small bowl, mix together yogurt and cucumber and set aside.  Heat olive oil in nonstick skillet.  Add chicken and cook about 6 minutes.  Turn chicken, add onion and cook about 6 minutes more or until onion is clear and chicken is tender. Remove from heat. Cut chicken into thin slices and place in bowl. Add salt, pepper, green onions and vinegar and mix well.
On each piece of pita bread, spread 2 tablespoons yogurt cucumber sauce. Place chicken mixture in pita bread.  Serve at once or wrap in plastic and chill in refrigerator.  



Sweet Pepper Stuffed Chicken Sandwich Recipe
Serves 4 
This chicken sandwich recipe may seem long but well worth the effort. Perfect for an elegant but informal buffet menu
4 boneless, skinless chicken breasts
4 tablespoons olive oil
4 medium crusty sandwich rolls
1 clove garlic, peeled and cut in half
1 medium sweet onion, thinly sliced
1 red bell pepper, cored, seeded and cut into thick strips
1 yellow bell pepper, cored, seeded and cut into thick strips
1 teaspoon dried rosemary, crushed
8 Greek-style olives, pitted and chopped
Salt and freshly ground pepper
2 large tomatoes, thinly sliced
Brush chicken breasts with 1 tablespoon of the olive oil. Place over medium coals on the grill, or under broiler. Cook on each side until tender and no longer pink. Transfer to a plate and keep warm platter. 

Cut rolls in half lengthwise. Rub each side of the rolls with the cut side of the garlic then brush with 1 tablespoon of the olive oil. Grill or broil until golden. Set aside and keep warm.
In a medium-size sauté pan, warm 2 tablespoons of the olive oil over medium heat. Add onions, bell peppers and rosemary and sauté until tender. Stir in olives and salt and pepper to taste.

Cut grilled chicken breasts into thin slices. On the bottom half of each roll, layer chicken slices, pepper mixture and tomato slices. Cover with the top half of each roll and press down firmly so that the juices soak into the roll. Serve warm.  Alternatively, wrap sandwiches in foil and refriderate.  Heat in low oven until heated through

Tangy Caesar Chicken Sandwich
Serves 4
This recipe has the unusual step of simmering the crusty chicken in a tangy lemon juice mixture.  For extra flavor, brush rolls with olive oil and toast until golden
3 tablespoons all-purpose flour
1/2 teaspoon ground black pepper
4 chicken breast halves, boneless
Olive oil for sauteing
6 tablespoons lemon juice
4 cloves garlic, finely minced
4 teaspoons Worcestershire sauce
Dash hot pepper sauce
4 teaspoons grated Parmesan cheese, plus extra for garnish if desired
4 sandwich rolls, sliced lengthwise
4 tablespoons Caesar dressing
1 small sweet onion, thinly sliced
Shredded  romaine or butter lettuce leaves
Combine flour and pepper. Coat chicken with flour mixture, shaking off excess. 

Heat olive oil over medium heat.  Add chicken and lightly brown on both sides. Combine lemon juice, garlic, Worcestershire and hot pepper sauce; pour over chicken. Cover; simmer for 15 minutes or until chicken is done. Remove from heat and sprinkle cheese over chicken.

Spread dressing on one side of sliced rolls.  Arrange lettuce and onion slices on top of rolls; top with chicken. Add extra cheese if desired.  Serve immediately. 

Quantity Chicken Salad Sandwich Recipes
Seafood Sandwich Recipes
Shrimp Rolls
Serves 4
Use these simple shrimp salad rolls on a cool outdoor party menu. 

1 celery rib, finely chopped
1 tablespoon ketchup
3 tablespoons mayonnaise
Dash hot sauce to taste
1 pound small cooked and cooled shrimp, chopped 
4 top-split or French rolls, toasted (spread with butter before toasting for extra flavor)
2 green onions, sliced
Butter lettuce leaves

Mix the celery, ketchup, mayo, hot sauce and shrimp.  Chill at least one hour.  Fill rolls and top with green onions
Salmon Pesto Sandwich Recipe
Serves 4
1 14 3/4-ounce good-quality canned salmon
1/2 cup prepared pesto sauce
1/2 cup finely chopped sweet or red onion
1/3 cup oil-packed sun-dried tomatoes, chopped
3 tablespoons mayonnaise
2 teaspoons lemon zest
1/4 teaspoon salt
1 (8 inch) round focaccia bread OR 1 (12 inch) french bread loaf
Romaine or butter lettuce leaves
Place salmon in a medium bowl. Add pesto, onion, tomatoes, mayonnaise, lemon zest and salt; mix well.   

Split bread in half; layer lettuce leaves on bottom half of bread. Top with salmon mixture and top of bread. Cut into serving size slices.  Serve immediately or cover with plastic wrap and refrigerate up to 6 hours before serving.
More Sandwich Fillings
Tuna Salad Recipes for a Crowd
Shrimp Salad Recipes for a Crowd

Vegetarian Sandwiches
Grilled Veggie Wraps
Serves 6
Serve in tortilla wrap or as a sandwich filling in crusty rolls with Provolone or Swiss cheese  
2 zucchini, thick sliced
1 small onion, cut into wedges
12 mushroom caps or small Portabella mushroom, cut into wedges
1 Japanese eggplant, thick sliced
Assorted chunks of bell peppers (red green and yellow)
1 cup bottled marinade
In large resealable plastic bag, combine all ingredients and marinate in refrigerator for 30 minutes or overnight. Either thread onto skewers or place vegetables in grill basket and grill until tender. Alternatively, cook in skillet until browned and tender or oven roast at 450ºF until tender.
Make Ahead: Wrap fillings can be made 1-day in advance and refrigerated.