Outdoor Party Menus

.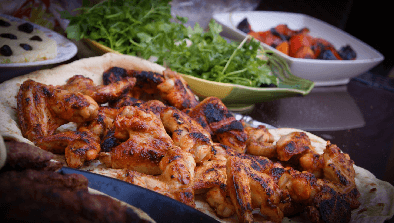 BBQ Chicken
We all love outdoor parties. Think laid back weekend relaxation! The time to consider an outdoor party menu is for: baby showers, birthday celebrations, graduations, wedding receptions, anniversary parties and bridal showers.

Treat the gang to extra-special drinks, summer salads, grilled meats, seafood and vegetables.  Open your imagination to something a little different on the grill.

You will definitely see smiles and hear accolades when you serve a sizzling backyard BBQ menu like Down Home Elegant with trout wrapped in prosciutto and fiery T-bone steaks.

Watch your guests' mouths water when you host a Luau Party and serve honey grilled shrimp and grilled bananas and pineapple. 

If burgers are your thing, host a Burger Bash and serve juicy sliders, nutty veggie burgers and fragrant salmon burgers all on the same menu.
And don't forget the classic tailgate party! Watch the fans cheer for onion smothered brisket sub sandwiches and lamb skewers with a mustard dipping sauce.
Many of these outdoor menu items can also be broiled or pan-roasted instead of grilled. So if the weather doesn't cooperate or you don't have outdoor space, you can still enjoy a party feast indoors. These dishes will also work well on any outdoor or indoor buffet

Go to party planning for more information and tips. Then come back here to sample our collection of tasty cookout menus for your next outdoor party.



Outdoor Party Menus


Indoor/Outdoor Party Menu
Rainy day or no grill? That's ok, this easy menu is delicious anytime anywhere. The fried chicken can be eaten hot, cold or at room temperature. If serving cold, make sure chicken cools completely before storing in the refrigerator.
Watermelon Strawberry Lemonade
Olive and Bacon Stuffed Eggs

Fiery Oven Fried Chicken Tenders
OR
New Orleans Fried Chicken

Tortellini and Sautéed Vegetable Salad

Something for Everyone Outdoor Party Menu
A deliciously different menu that everyone will love

Sweet and Spicy Watermelon Salsa
Serve with salty crispy corn tortilla chips   
Fresh Corn, Avocado and Tomato Salad
Easy Family Favorite Brisket
Brisket is prepared on the stove

Tossed Salad Bar
Adjust for number of guests

Cool Breeze Outdoor Party Menu
This outdoor menu is perfect for chilin' out on a hot day and features chilled salads and make-your-own sandwiches.  This is also a great menu for indoors when the weather refuses to cooperate. 

Homemade Salsa
Serve with tortilla or pita chips

Pear, Pecans and Blue Cheese Salad
Serve with Orange Balsamic Vinaigrette

Any Best Potato Salad

Pineapple Glazed Turkey Breast
Serve cold/room temp with sandwich fixings
Baked Ham with Orange Sherry Sauce

Serve cold/room temp with sandwich fixings
Meaty Outdoor Party Menu 
Rough and Ready Grilling
or 
Grilled or Oven Roasted Potatoes

Roasted Broccoli Salad with Sesame Seeds
Labor Day Leisure
Don't want to spend all day on the grill?  Grilled Ginger Sherry Pork Chops are done in about 15 minutes.
Rum Runner

Homemade Potato Chips
Vegetable Stir Fry
Make it easier using veggies from the salad bar 
Chocolate Cake and Strawberry Ice Cream




Sunny Seafood Outdoor Party Menu
This menu is fresh and bright
Grilled Corn with Herbs and Cheese
Cool and Comfy
This lovely menu doesn't require a grill and can be enjoyed on a balcony, terrace or shady deck.

Easy Gazpacho
With or without crab

Toasted Shrimp Rolls

Bacon Caesar Salad
Adjust servings and substitute bacon for the shrimp

Corn on the Cob

Strawberries and Whipped Cream



Economical Extravagance
Well, you know what I mean. Thrifty but with just a touch of class. Start with skewers of cherry tomatoes, bocconcini and basil leaf. See skewer appetizers for more ideas. Also add Easy Ambrosia
Summer Holiday Punch or Sangria
Hamburgers Au Poivre
Try fixins' such as sautéed mushrooms, blue cheese and arugula

Creole Potato Salad
Serve with tomato slices on a bed of lettuce
Chips, dips, snack mixes, etc


Easy Does It
This simple outdoor party menu can be put together in less then an hour. Start with easy appetizers if you wish. Add your favorite breads, tortilla chips and salsa. You can enjoy this menu any time of year.  
Grilled Spicy Sausages
Go for chorizo, brats, spicy smoked kielbasa or hot links. Pre-cook in wine or skip this step and head straight for the grill

Grilled Sweet Potato Wedges
Spinach Salad with Mango
Substitute mango chunks for the strawberries in this recipe

Berry Easy Cream Pie
or
Frozen Yogurt with Mixed Fruit