Mardi Gras Menu Ideas
Coming up with creative Mardi Gras menu ideas need not be complicated.  All you need is traditional New Orleans dishes, a bar full of potent beverages and a merrymaking spirit. 

Serve up a fun meal inspired by Fat Tuesday and celebrate like they do in the Big Easy.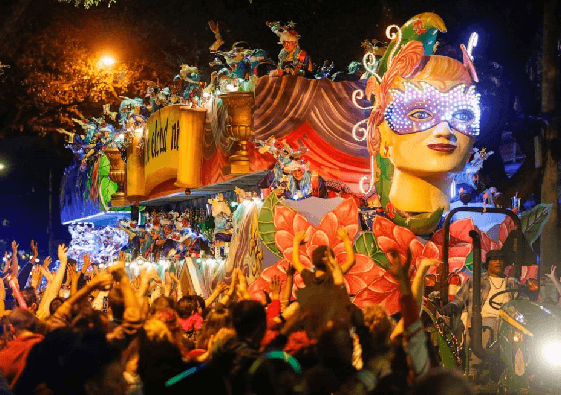 Traditional Mardi Gras Menus and Recipes

Fat Tuesday
(Mardi Gras in French)
February 21, 2023

The Colors of Mardi Gras

The Mardi Gras colors,  purple, green and gold, can be seen throughout the state, incorporated into everything from road signs to food
Purple = Justice

Green = Faith

Gold = Power
I was born and raised in New Orleans and have enjoyed countless Mardi Gras celebrations. I once thought that Mardi Gras only had meaning to New Orleanians. Now I realize that the whole world LOVES this party! 
Typically, New Orleanians do not host "house" parties during the day. Come on...the party is in the streets! Growing up, Mardi Gras day would often start with buttery shrimp and grits, along with scrambled eggs, bacon and biscuits.
My fondest memory is of my mom's special fruit filled bread pudding (recipe below) that we would have for breakfast. What a treat!



My mom would also prepare salty oven-roasted peanuts in the shell.  We would take them along as we headed to the parades on Claiborne Ave., to collect doubloons and the famous Zulu coconuts.
We would then walk down to a now closed "hole in the wall", Mule's, and have the best hot sausage po'boys ever!


---
Hot sausage is a spicy, paprika-laden pork sausage similar to raw chorizo, not surprisingly once called chaurice in Louisiana.
Super delish with red beans and rice!
---
As I got older, I still partied in the French Quarter, indulging on Hurricanes and Lucky Dogs (local hot dog carts).  
At midnight, all over the city, police cars would blast their sirens to signify the end of the fun.
After the street celebration ended we would often gather at a friend's home to feast on gumbo, catfish po-boys, shrimp Creole, and of course, more potent cocktails. 
I have not lived in the Big Easy for many years now and I must often "educate" my Northeastern friends on the proper way to party. 

Here are some of the Mardi Gras menus I have created to celebrate this crazy, debauched time of year. 


MORE:
Classic New Orleans Recipes



Mardi Gras Menu Ideas


Creole Boiled Shrimp On Ice
Spicy Black Bean, Zucchini and Corn Salad
Salad Greens
Apple, Onion and Cheddar Sliders


---

Shrimp Salad Finger Sandwiches
Creole Gumbo
Creole Potato Salad
Green Salad with Sliced Tomatoes and Olives
Mama's Fresh Fruit Bread Pudding


---

Garlic and Pepper Olives
Spicy Nuts and Popcorn
Tropical Fruit Skewers
Fried Catfish Po-Boys
Bananas Foster Crisp


---

Tortillas with Toasted Corn Salsa
Orange and Avocado Salad
Quick and Easy Shrimp Creole
French Baguettes and Butter





Easy Party Punch
Raw Vegetables On Ice
Muffulettas
Potato Chips
Ice Cream with Praline Sauce


---

Quick Barbecued Shrimp
Orange, Grape and Almond
Chef Deb's Creole Red Beans and Rice


---

Hot Wings for 50 
Creole Deviled Eggs
Tossed Salad Bar for 50
Jalapeño-Honey Glazed Ham For 50
Cornbread Stuffing


---

Crispy Popcorn Shrimp
Grillades and Grits
Strawberry and Spinach Salad


Pain Perdue
Serves 4-6

Pain Perdue is French for "lost bread".  Lost bread is Louisiana speak for French toast.   Use a crusty French baguette or rolls for this one.  A lovely treat for your Mardi Gras day breakfast.  Serve alongside eggs and sausage with Spicy Rémoulade Sauce
4 eggs
1 cup evaporated milk or half and half
2 tsp sugar
8-10 slices French bread or sandwich bread
½ tsp pure vanilla extract
2-3 tbsp butter
Beat eggs thoroughly. Whisk in sugar, milk and vanilla.  Pour the egg mixture into a shallow glass dish. 
Heat a large skillet or griddle to medium-low and add butter until it melts. 
Dip each slice of bread into the egg mixture, coating well on both sides.  Drain off excess liquid into the dish.  Do not oversoak the bread slices.
Cook bread until golden brown on first side, turn and brown the other side. 
Serve lost bread right away with butter, syrup and/or powered sugar. 
Mardi Gras Salad
Serves 4-6
This bright salad features the traditional Mardi Gras colors of purple, green and gold.  For the salad greens use a mixture of green leaf, spinach and arugula.
4-5 cups salad greens
1 cup finely sliced purple cabbage
1 cup finely sliced yellow bell pepper
Arrange salad greens in a large bowl or platter. Layer cabbage and bell pepper on top. Serve with Honey Mustard Vinaigrette

Honey Mustard Vinaigrette
1/2 cup white vinegar
1 tablespoon honey
1 tablespoon Dijon mustard
1/2 teaspoon ground black pepper
2 teaspoons salt
2 teaspoons minced garlic
1 cup vegetable oil
In a small bowl, whisk together the vinegar, honey, mustard, pepper, salt, garlic and oil until thoroughly combined. Chill until serving.


Quick and Easy Shrimp Creole for a Crowd
Serves 12
If you have the time and the inclination, this speedy Shrimp Creole can be given a flavor boost by poaching the shrimp and adding a generous sprinkling of sliced green onion before serving.  If the mixture is too thick, thin with low-sodium chicken broth
4 (14 1/2-oz.) cans stewed tomatoes with juice
1 medium green bell pepper, chopped
1 large onion, chopped
3/4 cup chopped celery (about 3 large ribs)
21/2 tablespoons olive oil
3 garlic clove, minced
3 teaspoons hot sauce or to taste
2 teaspoon Creole/Cajun seasoning blend
Salt and freshly ground black pepper to taste
2 pound medium shrimp, peeled and deveined
2 tablespoons chopped parsley

In a food processor, pulse the tomatoes until roughly chopped and still chunky, do not over process.  Alternatively, use a potato masher or to sharp knives to break up the tomatoes. 
Sauté green pepper, onion, and celery in hot oil in a large nonstick skillet, about 10 minutes or until tender and lightly browned.  Add garlic, and sauté about 1 minute or until fragrant. Stir in chopped tomatoes, hot sauce and seasoning blend.
Bring to a boil; reduce heat, and simmer, uncovered, 30 minutes.   Taste for seasoning and add salt, pepper more seasoning blend, if needed.
Stir in shrimp, cover, and simmer 3-5 minutes or just until shrimp turn pink.  Add parsley and serve over hot white rice.



Mama's Bread Pudding with Fresh Fruit and Nuts
Serves 8 to 10
Use a mixture of soft fruits such as strawberries, blueberries, blackberries, peaches, pears and bananas.  My mom added maraschino cherries, but that's optional.
3 cups milk
3 large eggs
5 to 6 cups stale French, Italian or sandwich bread; torn into 1-inch pieces
1 cup granulated sugar
1/2 teaspoon vanilla extract
1 teaspoon cinnamon
1/4 teaspoon nutmeg
1/2 teaspoon lemon zest, optional
2 cups fresh fruit, cut into 1/2 inch pieces
1/3 cup pecans; toasted and chopped (optional)

Heat oven to 350°. Butter an 11" x 7" or 8" x 8" baking dish.
In a large bowl, whisk together the milk, eggs, sugar, vanilla, spices and lemon zest.   Add the bread and let sit about 30 minutes to allow bread to absorb liquid.
Stir fruit and nuts (if using) into the bread mixture.  Pour into the prepared baking dish. Set the baking dish in a larger pan and set in oven. Add enough hot water to the larger pan to come half-way up the sides of the baking dish. 
Bake for about 1 hour, or until the bread pudding is set and lightly browned on top.  Serve warm or at room temperature (but never cold)

Whiskey Sauce
1 stick butter
1 egg
1 cup confectioners sugar
1 jigger of bourbon or to taste
In a double boiler, cook butter and sugar until completely dissolved. Add egg, beating very quickly so that it won't curdle. When the mixture smoothes add whiskey. 

Cut bread pudding into serving pieces and place in deep dish. Add warm whiskey sauce to the top of the pudding.  Store leftover sauce in the refrigerator.  Briefly warm in microwave before service
  

New Orleans Fried Chicken
Serves 4
This recipe comes close to the fried chicken at the famous New Orleans restaurant,  Jacques-Imo's.  Adding chopped pickles to the hot chicken lends a salty, sour tang to the velvety chicken meat.  Using evaporated milk adds richness without the fat of cream.
If cutting up a whole chicken is not your thing, use an equal amount of your favorite parts
1 1/2 cups vegetable or peanut oil, for frying
1 (12-ounce) can evaporated milk
1 cup water
1 large egg, lightly beaten
Salt and freshly ground black pepper
1 (3 1/2-pound) chicken, rinsed, patted dry and cut into 8 pieces
1/2 cup all-purpose flour
1/2 cup dill pickles, chopped
1/4 cup flat-leaf parsley, chopped
In a large, heavy skillet, heat the oil to 350º. In a bowl, whisk together the evaporated milk, water and egg and season generously with salt and pepper.
Season the chicken with salt and pepper and dip each piece in the milk mixture and then in the flour. Add the chicken to the skillet and cook over moderate heat, turning often, until golden and cooked through, about 25 minutes.
Lower the heat so that the chicken doesn't brown too quickly.  Transfer the chicken to a rack to drain, then arrange the pieces on a platter, sprinkle with the pickles and parsley and serve.
Grillades
Serves 10-12
Here is a comforting and warming but lesser known dish in the New Orleans culinary repertoire.  The whole dish is often referred to as "grillades and grits" because it is traditionally served over hot buttery grits.  Try it, I know you'll love it.  Good for breakfast, lunch or dinner.  Try with Creamy Cheesy Garlic Grits. 
Also scrumptious over rice, pasta and mashed or baked potatoes.  Taste even better the next day.  Recipe can be cut in half to serve a smaller crowd
3 tbsp. vegetable oil
5 pounds beef round steak, pounded thin and cut into 3" squares
Vegetable oil as needed
4 tbsp. flour
2 medium onions, finely diced
1 green bell pepper, small dice
3 garlic cloves, minced
2 tsp dried thyme
2 bay leaves
3 cups low-sodium chicken stock
1 (14.5 oz) can tomatoes
1 tsp brown sugar
2 tbsp. tomato paste
Salt and ground black pepper to taste
1/2 cup chopped parsley
Hot pepper sauce
Heat oil in a large heavy-bottomed pan over medium-high heat.  Working in batches, quickly brown beef, removing to a plate when done. 
Add additional oil to the pan to equal 4 tablespoons.  Add flour and make a medium dark roux LINK.  Add onions and peppers, sauté until onions are translucent.
Stir in garlic, thyme, bay leaf, chicken stock and tomatoes and sugar.  Add browned round steak and any accumulated juices.  Bring up to a boil and reduce to a simmer.  Thoroughly mix in tomato paste and cook covered, until beef is tender, about 45 minutes. 
Check for salt and pepper and add  to taste if needed. Remove bay leaves and stir in fresh parsley  Serve over hot grits and pass the hot sauce.