BBQ Menu

s

Check out these BBQ menus for your next outdoor party menu.


Lazy Day BBQ Menu
No muss no fuss...super easy BBQ menu


Fresh Corn, Avocado and Tomato Salad

Sweet Pepper Stuffed Chicken Sandwich
and/or

Grilled Chicken Chili Quesadillas

Purchased Cookies, Ice Cream, Cake

Friendly Feast
This protein packed menu is balanced by plenty of veggies and fruit
Lime-Rubbed Chicken Tacos with Corn Guacamole
Grill or pan sear chicken breasts
Italian Sausage with Apple Slaw

Potato Salad with Tuna, Tomatoes and Peas
Serve alongside a butter lettuce, cucumber and radish salad

Indoor-Outdoor Fun
This menu can be cooked and served both indoors and outdoors. If you like, add a pasta salad or potato salad to round out this low-carb meal
Grilled or Broiled Round Steak with Beer BBQ Sauce
Mexican Chicken Legs
(grilled version)
Grilled Shrimp and Grapefruit Salad with Citrus Vinaigrette

Lemony Green Bean and Tomato Salad


Taking It to the Beach

This outdoor party menu is great for a picnic or beach party, easy to pack and go. Put the shrimp in plastic bags in a cooler with ice. Slice the avocados, tomatoes and strawberries just before serving.
Creole Boiled Shrimp On Ice with Horseradish Salsa
Sliced Radishes and Crackers
Grilled Sausages with Mustard and Tortillas
Avocados and Tomato Slices with Blue Cheese Dressing
Green Bean and Olive Pasta Salad
Strawberries and Chantilly Cream


Down Home Elegant

The trout and steaks take a little time to prepare but the rest of the menu comes together in no time. Serve this delicious menu with strong beer, raspberry iced tea and red wine
Flatbread, French rolls, garlic bread

Grilled Prosciutto-Wrapped Trout with Mustard Dill Sauce

Fiery Grilled T-Bone Steaks

Super Easy Potatoes Au Gratin or Creole Potato Salad

Green Salad

Special Apple Crepes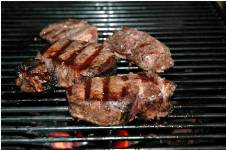 Everybody's Favorites

Add a fresh green salad and juicy watermelon and pineapple slices to bring this one home. Serve with margaritas and flavored waters.

Avocado Spread
Serve with salsa or hummus and chips and crackers

Super Garlic Shrimp

New York Strip Steaks

BBQ Mexican Fried Chicken

Orzo Stuffed Peppers with Feta, Olives and Herbs

Luscious Lemon Tart
or
Lemon Meringue Pie


Southern Charm

This BBQ menu has a Southern slant so go with the flow and serve mint tea and pink lemonade

Tender-Crisp Vegetable Crudités and Creamy Garlic Dip

Easy Orange Cornbread Muffins

Chili Barbecued Chicken Recipe

New Orleans Shrimp Salad
Fresh beefsteak tomato slices with Remoulade Sauce (below)
Remoulade Sauce
Yields about 1 cup

1/2 cup mayonnaise
2 tablespoons minced gherkins, not sweet
1 tablespoon Dijon mustard
1 tablespoon drained finely chopped capers
1 tablespoon finely chopped flat-leaf parsley
2 teaspoons finely chopped chives, shallots or sweet onion
1 teaspoon minced garlic
Freshly ground pepper

Mix all ingredients until well blended. Chill before serving



Light Surf and Turf

See these tips on preparing lobster tails. If lobster tails are out of the question
go for grilled trout or salmon. Serve with Mimosas or other champagne drinks

Lemon-Grilled Lobster Tails

Grilled Steak and Cheese Salad with Pink Mayonnaise

Twice Baked Potatoes with Bacon and Green Onion

Grilled Corn

Flaming Tequila Mangoes

Lime Sorbet
Vegetarian Grill

Who says veggie lovers can't enjoy the great outdoors? This menu can be served as is or as accompaniments to grilled meats or seafood or just because it is sooooo good!
Watercress Salad with Grilled Red Onions and Cheddar

Creole Potato Salad
Lemon-Garlic Grilled Vegetables

Watermelon and Feta Salad
Holiday BBQ Menu

This easy surf and turf is classic burgers and chicken with a gourmet twist. Serve this fresh idea with lemonade, iced tea and Mimosas. Add whipped cream to the strawberry pie for a cool and creamy ending.

Crab Salad Lettuce Wraps

Lemony Green Bean and Tomato Salad

Garlic Ketchup Grilled Chicken

Hamburgers Au Poivre

Fresh Strawberry Pie