Christmas Appetizers
These Christmas appetizers are something special but not especially hard to make.  Serve with punch, eggnog or other specialty holiday drinks.   
---
Cheese Fondue for Christmas Appetizers
Serves about 8-10

Dipper Suggestions:
Cubed crusty bread, mushrooms, cauliflower and broccoli florets, smoked mini-sausages, ham cubes or  large shrimp or anything that taste great with melted cheese. 

8 Ounces Natural Swiss cheese, diced
8 Ounces Gruyère cheese, diced
2 Tablespoon flour
1 Clove garlic, halved
2 Cup Dry white wine
1 Tablespoon Lemon juice
3 Tablespoon Kirsch
Sprinkle of red pepper or paprika for color

Place cheese in plastic bag; sprinkle with flour. Toss until cheese is coated.
Place garlic halves into a 3-quart non-reactive saucepan; add wine. Heat over low heat just until bubbles rise to surface (wine must not boil).  Remove garlic and stir in lemon juice.  Add cheese, about 1/2 cup at a time, stirring constantly with wooden spoon. Stir until cheese is just melted.
Stir in kirsch. Pour into ceramic fondue pot over low heat. Use long-handled forks to spear bread cubes; then dip and swirl in fondue with stirring motion. 
Very Merry Cherry Salsa
Makes about 1 cup
This unusual and special salsa is savory, sweet and spicy.  Perfect to stimulate appetites for the big holiday meal.  Serve with cheese and crackers, tortilla chips and pork or chicken appetizers or entrees 
1 1/3 cups frozen unsweetened tart cherries
1/4 cup coarsely chopped dried tart cherries
1/4 cup finely chopped red onion
1 tablespoon finely chopped fresh jalapeños, or to taste
1 clove garlic, finely minced
1 tablespoon chopped fresh cilantro
1 teaspoon cornstarch
Coarsely chop frozen tart cherries. Let cherries thaw and drain, reserving 1 tablespoon cherry juice.   When cherries are thawed, combine drained cherries, dried cherries, onion, jalapeños, garlic and cilantro in a medium saucepan; mix well.
Combine reserved cherry juice and cornstarch in a small bowl; mix until smooth. Stir into cherry mixture. Cook, stirring constantly, over medium-high heat until mixture is thickened. Let cool.
Fruit-And-Nut Balls
Serves about 12
1/2 cup pitted dates
1/2 cup raisins, dark or golden
2 tablespoons cocoa or carob powder
1/2 cup walnuts
1/2 cup sunflower seeds
Walnuts, ground
Grind together dates, raisins, cocoa (or carob powder), walnuts and sunflower seeds in a food processor.  Press the mixture into 24 small balls. Roll in the ground nuts. Store in an airtight container.   Serve with cocktails or as a light dessert


Mini Sausage Quiches for a Crowd
Serves 20-25, 2 mini-quiche each
You will need 1-2 mini-muffin pans for this recipes.  Use could also use a medium-sized muffin pan and make about half the amount of quiches.  Divide dough into fourths to measure. Cook in batches.  Great on a brunch menu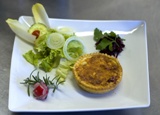 1 cup softened butter
6 ounces softened cream cheese
2 cups all-purpose flour
1 pound pork sausage or other flavored sausage or ground meat
2 cups grated Swiss cheese or Gruyère or good quality Jack or sharp Cheddar
2 tablespoons sliced green onions or finely minced shallots or garlic
4 eggs
2 cups half-and-half
1/2 tsp. salt
1/2 tsp. ground red pepper
Preheat oven to 350 degrees F.  Beat the butter and cream cheese in a mixing bowl until smooth and creamy.  Slowly mix in the flour until well blended. Refrigerate dough for about 1 hour.  In the meantime, crumble and fry the sausage or ground meat until done.  Drain excess fat completely.  Set aside to cool
Roll dough into 45-50 1-inch balls (if using mini-muffin pan).  Press each ball into the greased muffin cups.  Sprinkle even amounts of sausage into each dough-lined muffin cup.  Sprinkle cheese and green onions evenly over sausage.
Whisk the eggs, half-and half, salt and red pepper until well blended.  Pour into each filled cup.  Do not overfill.  Bake for 20-30 minutes or until set but still semi-soft in center. Serve hot or warm with fruit salad or green salad. 



Black Olive Spread 
Makes about 1 1/2 cups
Serve with crackers, chips, vegetables or with chicken or seafood  appetizers or entrees 
1 cup mayonnaise
1/4 cup black olives, ground
2 cloves garlic, minced
2 teaspoons lemon juice
1/4 cup parsley, chopped
Salt and pepper, to taste.  Remember olives and mayo are salty
Combine mayonnaise, black olives, garlic, lemon juice and chopped parsley. Add salt and pepper to taste.

Baba Ghanoush for 50
10 1/2 pounds eggplant
2 1/4 cups chopped onions
3 tablespoons chopped fresh parsley
1/2 cup minced garlic
1/2 cup fresh lemon juice
1/4 cup olive oil, not extra virgin
1/3 cup tahini paste
1 1/4 tsp. red pepper flakes or to taste
1 tablespoon ground cumin
Salt to taste
Preheat oven to 425 degrees.  Cut eggplants in half.  Place cut side down on oiled baking sheets and bake until soft. Cool, peel, chop and combine until smooth.
Add onions, parsley and garlic to eggplant and mix well.  Mix lemon, olive oil, tahini, red pepper and cumin.  Taste and add salt as needed.   Chill.  Serve with pita points, bagel chips or other crackers and breads
Batter-Fried Mushrooms with Yogurt Dip
Serves 6-10
2 cups all purpose flour
1 tablespoon Kosher salt
1-1/2 teaspoon garlic powder
1 teaspoon baking powder
1-1/2 cups regular beer
Oil for deep frying
36 medium-sized cremini mushrooms, whole
.
Combine flour, salt, garlic powder, and baking powder in med bowl. Add beer and whisk until smooth. Cover and chill 30 mins. Whisk when ready to use. 

Heat oil to 375 F. Holding stem, dip each mushroom into batter, covering cap completely. Fry in batches until golden brown. Allow oil to return to 375 F before adding next batch.  Drain well. Serve with Yogurt Dip.  
Avocado Spread
Serves about 4-6
2 avocados, seeded, peeled and mashed
1 - 8 ounce package cream cheese, softened
2 tablespoons butter
2 teaspoons lemon juice
4 drops hot pepper sauce
2 stalks celery, cut into 3-inch pieces
1/4 pound fresh mushrooms, stems removed
1 each green and red bell pepper, seeded and cut into thick strips

Garnishes: fresh chives, parsley sprigs, radish slices, olive slices, pecan or walnut halves
Blend avocados, cream cheese, butter, lemon juice and hot pepper sauce in blender or food processor until smooth.  Spoon filling into celery pieces, mushroom caps and pepper strips or use pastry tube to pipe filling onto vegetables. Garnish each as desired and serve.
Curried Crab Dip
Serves about 8
1/2 cup dried currants
Boiling water, as needed
1 pound cream cheese, softened
2 tablespoons good-quality curry powder
2 tablespoons mayonnaise
1/3 cup coconut milk
1/3 cup minced green onions or chives
1/3 cup finely diced red bell pepper
1 pound backfin or claw crabmeat
Crackers or gingersnaps for serving
Preheat oven to 350 degrees F. In a small bowl place the currants and just enough water to cover. Let stand for 15 minutes. Drain, reserving the liquid, and put the currants aside.
In a large bowl combine the cream cheese, curry powder, mayonnaise, coconut milk, green onion, and red bell pepper. Beat until smooth and somewhat creamy. Mix in the crabmeat, currants, and reserved currant liquid.
Transfer the mixture to a greased casserole dish and bake for 25 to 30 minutes. Serve hot or warm with Melba rounds, water crackers, or ginger snaps.
---
---