Backyard 
BBQ Menus
These backyard BBQ menus offer a slight change of pace but are easy and delicious. 
Elegant Backyard BBQ Menu
Here is a huge BBQ menu with a variety of good tastes

Prosciutto Wrapped Melon with Honey Vinaigrette
Nuts and Olives
Assorted Bread Basket with Orange Butter
Cut recipe in half or quarters

Grilled New York Strip Steak with Brandied Mushrooms
Grilled Fish and Pepper Kabobs
Roasted Red Potatoes

Lemon-Garlic Grilled Vegetables

Chocolate Peppermint Ice Cream Pie


So Fresh Backyard BBQ Menu

Grilled Honey Ham

Shrimp Salad Rolls

OR 
Hot as Hell Shrimp
Serve on toasted rolls with lettuce and remoulade
Watermelon Strawberry Lemonade
Lime Sorbet
Sugar Cookies



Lazy Day Grillin' for a Crowd
This backyard BBQ menu is designed for a larger crowd...when everyone decides to drop by! Don't sweat it, this one is easy
Crispy breads, cheeses, chips and dips
Grilled Orange Chicken Breast
Double recipe to serve 24
Tossed Salad
Add Blue Cheese for extra zip
Purchased Dessert


Burger Bash 

Prepare out of the ordinary fixins' like roasted or pickled jalapeno peppers, caramelized pepper and onions and roasted or grilled tomatoes.
Serve with an assortment of Kaiser rolls, croissants, onion or olive bread or foccaccia. Add a fresh green or fruit salad
Salmon Burgers

Best Potato Salad




Classic BBQ Flavors
Not so traditional tradition. All the flavors needed for the perfect backyard BBQ menu, with a little change of pace. Serve with fruit punch or fruit teas
Raw Vegetables on Ice with Herb Dipping Sauce
Danish Turkey Burgers
Serve with BBQ sauce, sliced pickled jalapenos,sliced red onion, arugula leaves
Avocado and Tomato Slices
Fudge Brownies and Orange Sherbet



Simple Savory
Glazed Turkey Steaks

Twice Baked Potatoes

Grilled Asparagus with Lemon and Cheese

Easy Tiramisu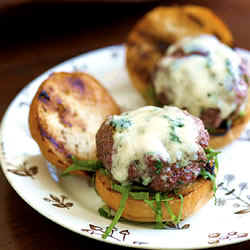 Backyard BBQ Brunch

Just add a salad of tomatoes and avocado to complete this meal

Garlic Ketchup Grilled Chicken
Juicy Sliders
with Creamy Horseradish Mayo
Pasta with Shrimp, Tomatoes and Basil

Luau Party
Savory tropical flavor and colors. Start off this feast with pineapple punch or other tropical drinks
Baked Sweet Potatoes
Buttery Grilled Bananas and Pineapple
Pistachio Ice Cream or Orange Sherbet


Easy and Savory
Serve with this outdoor meal with lemonade, fruit punch or fruit teas

Spicy Tomato Bruschetta

Grilled Round Steak with Beer BBQ Sauce

Savory Sweet Island Chicken

Lemon Garlic Grilled Vegetable Salad
Serve on a bed of salad greens with olive oil and white wine vinegar


Elegant Champagne Menu
Any excuse to serve champagne. This simple elegant menu would compliment grilled meats and other seafood. For non-champagne lovers serve sparkling cider and mineral water
Grilled Salmon Salad with Roasted Red Potatoes
and Creamy Dijon Dressing

Sweet and Savory

Enjoy these tropical flavors with iced tea. Add a green salad for even more refreshment
Easy Jerk Chicken

Grilled Sweet Potato Wedges

Watermelon Salad with Feta and Lime