Sweet Potato Recipes

Maple Glazed Sweet Potatoes with Bacon and Thyme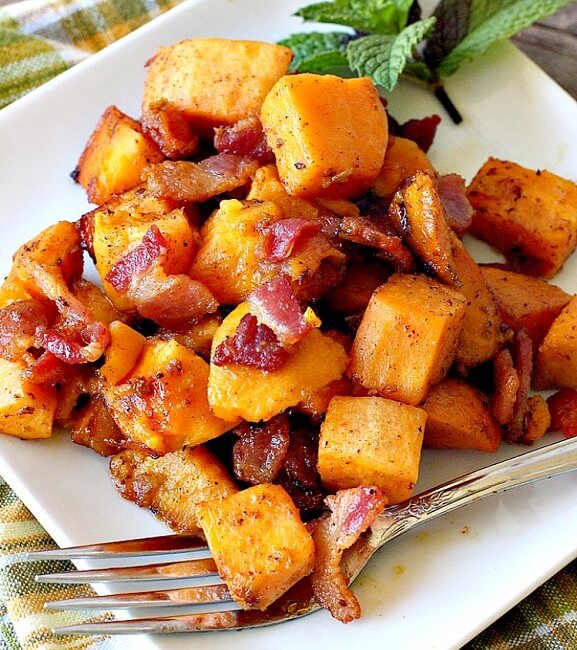 Serves 8
1½ cups chicken stock.  You might also use 1 cup chicken stock and 1/2 cup orange juice
3/4 cup pure maple syrup
2 tablespoons apple cider vinegar
Pinch of salt
6 slices bacon
1 large sweet onion, thinly sliced
4 sweet potatoes, peeled and thinly sliced
2 teaspoons fresh thyme leaves
1⁄2 teaspoon freshly ground black pepper
Preheat oven to 325°F. In a small saucepan combine chicken stock, maple syrup, cider vinegar and salt.  Bring to a boil over low-medium heat and simmer for 15-20 minutes until mixture is thickened and reduced by half.
Meanwhile, cook bacon until just crisp. Remove bacon, drain on paper towels and set aside.  Pour off all but 1-2 tablespoons of fat from pan and add onions.  Cook until soft and beginning to brown. 
In a large baking dish, place a layer of potatoes, a layer of bacon and onion and sprinkle with thyme and pepper.  Pour some of the maple syrup mixture over potatoes.  Continue layering until the ingredients are all used.  Bake for about 30-45 minutes or until potatoes are tender.  Occasionally baste with pan juices. 




Candied Sweet Potato Recipe for 50
16 pounds sweet potatoes
1 pound 12 ounces light brown sugar
2 cups water
8-ounces butter
1/2 tsp salt
Steam or boil cleaned potatoes in skins until tender.  Cool.  Peel and cut into halves lengthwise. Arrange in shallow pans.   Mix sugar, water, margarine, and salt. Heat to boiling point.  Pour over potatoes.   Bake at 400°F for 20-30 minutes.




Stuffed Sweet Potatoes
Baked stuffed sweet potatoes are easy, nutritious and easy to prepare. Top with your favorite flavor combinations that are savory, pungent and sweet.

Clean and dry sweet potatoes and bake at 400°F for 40-60 minutes.  Cut potatoes down the middle and lightly mash and spread pulp.
Topping Suggestions:
Spinach sauteed with chopped garlic; chopped sun-dried tomatoes and chopped olives.  Add sauteed sausage or diced cooked bacon if desired

Cooked chorizo; chopped roasted pepper; chopped olives; sour cream; sliced green onion; hot sauce or salsa

Cornbread and sausage stuffing; dried cranberries; butter-sauteed peas; green onions



Quick Teriyaki Pork and Sweet Potatoes
Serves 4

2 medium sweet potatoes, peeled, cut in 3/4-inch cubes
1 tablespoon oil
1 pound boneless pork loin, cut in 3/4-inch cubes
1-2 garlic cloves, thinly sliced
2 cups whole green beans, fresh or frozen
1/2 cup bottled teriyaki glaze or sauce
1 teaspoon orange zest

In large skillet, combine sweet potatoes and 1/2 cup water.   Bring to a boil. Reduce heat to medium-low; cover and cook 8 to 10 minutes or until potatoes are tender.  Drain and remove potatoes from skillet.   Heat oil in skillet over medium-high heat until hot.  Add pork cubes and cook until evenly browned.  Add garlic slices and cook until softened, about 30 seconds 

Add green beans and teriyaki glaze; mix well to coat.  Reduce heat to medium; cover and cook 8 to 10 minutes or until pork is done, stirring occasionally.  Stir in potatoes and orange peel and cook an additional 1 to 2 minutes or until thoroughly heated.   Serve with a green salad



Ham and Pineapple Stir Fry with Baked Sweet Potatoes
Serves 6
6 small sweet potatoes
2 tablespoons oil
2 garlic cloves, minced
1 cup chopped onions
1 tablespoon minced fresh ginger
1 cup chopped green pepper
1 tablespoon honey
8 ounces pineapple chunks
1 cup chicken broth
1/2 teaspoon five-spice powder
1 tablespoon cornstarch
1 tablespoon water
2 cups ham steak or cooked pork loin, cut into strips
1/2 cup toasted almonds
Bake sweet potatoes at 350F for one hour or until tender.   Heat oil in skillet. Saute onion, garlic, ginger and green pepper until tender. Add honey, pineapple chunks, chicken broth and five-spice powder.

Simmer for five minutes. Blend together the cornstarch and water until smooth. Stir into the broth.   Heat until boiling, stirring until thickened.

Stir in ham and almonds. Season with salt and pepper to taste. Heat through.   Place hot sweet potatoes on platter or individual plates. Cut through skin and coarse mash with a fork. Spoon ham onto potatoes. Add salt and pepper to taste and serve immediately. 


Sweet Potato and Arugula Salad
Serves 4-6
For a lighter meal, try this salad on a Thanksgiving menu in place of candied sweet potatoes. Dried cranberries or golden raisins would be a nice addition.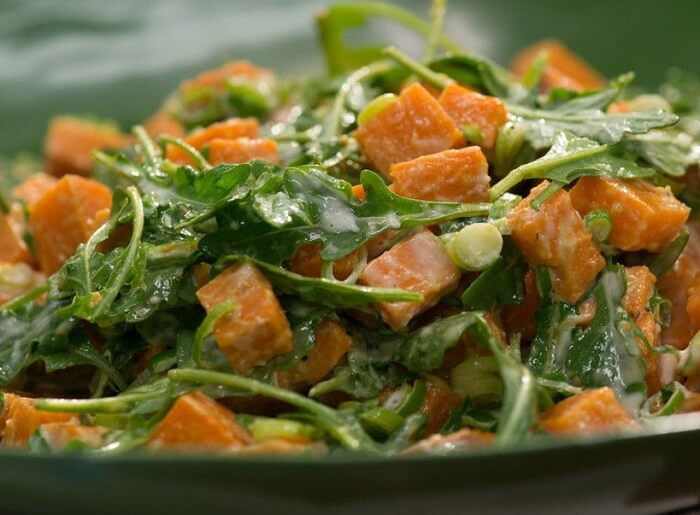 3 large sweet potatoes, washed, peeled and cut into 1" cubes
Olive oil
Sea salt freshly ground black pepper to taste
Pinch cayenne pepper, optional
5 ozs arugula
1/2 cup walnuts, pistachios, pecans or pepitas, toast if desired
4 tablespoon feta or parmesan cheese

Dressing
1/4 cup apple cider vinegar
3 tablespoons Dijon mustard
2 tablespoon honey
1/2 cup olive oil
Salt and pepper to taste
Preheat oven to 400F.  Line a baking sheet with parchment paper.  In a large bowl, toss the sweet potatoes with olive oil, salt and peppers. Transfer to the prepared baking sheet.  Bake 35-40 minutes until fork-tender and lightly browned, stirring the potatoes once or twice during bake.  Let cool completely.  

In a large serving bowl, combine the cooled sweet potatoes and arugula. Add the nuts and cheese.
In a small bowl, whisk dressing ingredients until well mixed. Add salt and pepper to taste, but remember cheeses contain salt.  Just before serving, pour the dressing over the sweet potato and arugula mixture and toss to coat.  Serve at room temperature.

Gingered Sweet Potato Pancakes
Serves 6
Give this unusual preparation technique a try tonight

1 1/2 pounds sweet potatoes, peeled and diced
1/4 cup yellow onion, chopped
1 tablespoon fresh ginger, minced
3 eggs
3/4 cup milk
1/2 cup flour
1 teaspoon salt
1/4 teaspoon pepper
1/4 cup green onions, sliced
Peanut oil, as needed for frying

Place a small amount of the sweet potatoes in a food processor and pulse until the potato pieces are about the size of grains of rice.  Repeat procedure with remaining potatoes.  Add the yellow onions to the last batch of potatoes and process until potatoes and onion are similar in size. 

Combine ginger, eggs, milk, flour and salt and pepper until well blended.  Add to potatoes in a large bowl and mix thoroughly.  Spoon potato batter into a skillet and fry with 1/8-inch of oil over medium heat until browned on both sides.  Serve hot with Sweet Yogurt Dip


Grilled Sweet Potato Wedges
Serves 4-6

Serve these with perfect with the pork tenderloin.

3 large sweet potatoes, cooked through, cut into about 6 wedges
Canola oil, for coating
1 tablespoon
Kosher salt and black pepper
1/4 cup maple syrup
2 to 3 tablespoons Dijon mustard

Toss wedges with oil and season with salt and pepper. Grill, turning once, until nicely marked. Whisk the syrup with the mustard. Brush the potatoes with the glaze and turn a few times to caramelize.   Total cooking time about 20 minutes, depending on your grill.
To Oven Bake:
Preheat oven to 400F.  Place glazed sweet potatoes on a parchment lined baking sheet.  Bake 20-40 minutes depending on thickness, turning half-way through cooking. 
Serve with Curried Ketchup


Curried Ketchup
Makes about 1 cup

1/2 small Vidalia or other sweet onion, coarsely chopped
1 cup ketchup
3/4 teaspoon curry powder

In food processor process onion until finely chopped, pulsing on and off.  Add ketchup and curry powder; process until well blended. Place in a small bowl. Cover.  Serve with potato wedges or fries. 



Sweet Potato Soufflé
Serves 4-6
3 cups cooked and mashed sweet potatoes, about 3 large potatoes
1 cup granulated sugar
3 eggs, beaten
1/2 cup milk
1 stick unsalted butter, melted
1 tablespoon vanilla extract
1/2 teaspoon salt

Topping:
1 cup packed light brown sugar
4 tablespoons unsalted butter, cut into cubes, at room temperature
1/2 cup flour
1 cup chopped pecans, toasted if desired
Preheat the oven to 400F. Lightly grease an 8-inch square baking dish.  In a large bowl, combine the sweet potatoes, sugar, eggs, milk, butter, vanilla, and salt. Pour the mixture into the prepared baking dish.

Topping: Combine the brown sugar, butter, flour and pecans in a separate bowl. Crumble the topping over the sweet potato mixture.

Bake for 20 to 25 minutes, until the topping is golden brown. Serve hot.
Scalloped Sweet Potato Recipe with Crunchy Pecan Topping
Serves 12

3 pounds sweet potatoes, peeled
1/2 cup all-purpose flour
1/2 cup brown sugar
1/2 cup pecans, chopped and toasted
1/3 cup unsalted butter, at room temperature
1 tsp. cinnamon
1 tsp. nutmeg
1/4 tsp. ground ginger
Pinch of salt
1/2 tablespoon orange zest
1-1/4 cups heavy cream, heated

Preheat oven to 350 degrees.  Bake sweet potatoes until just tender but not completely done, about 20-25 minutes for large.  Allow potatoes to cool, then slice into 1/2"-thick rounds. 

For topping: Use your fingers to combine flour, brown sugar, pecans, butter, cinnamon, nutmeg, ginger and salt in a small bowl. Set aside.  Grease a 9x13 baking dish. Place potato slices in pan, overlapping to create vertical rows.  Lightly heat cream in saucepan.   Add orange zest to cream and pour over potatoes.  

Bake at 375 degrees for 20 minutes. Crumble pecan topping over yams and continue baking until topping is golden brown and yams are tender, about 30 minutes more.


Simple Glazed Sweet Potatoes And Apples
Serves 6-8

6 medium sweet potatoes
3 apples, peeled & thinly sliced
1/4 cup butter
1/2 cup Brown sugar (packed)
1 tablespoon water

Bake sweet potatoes until tender, about 45 minutes.  Cool.  Peel and slice lengthwise in 1/2 inch slices . Layer 1/2 of the sweet potatoes in shallow 1 1/2 quart casserole. Cover with apples and then top with second layer of potatoes.

Melt butter in small saucepan; add sugar and water. Bring to a boil, pour over potatoes. Bake in a preheated 350 degree oven for about 45 minutes or until the apples are tender, basting occasionally


Stovetop Smothered Sweet Potato Recipe
Serves 4-6

1 pound sweet potatoes
1/2 cup brown sugar, more or less to taste
1 tablespoon butter
1 teaspoon nutmeg
Cinnamon stick
1 inch piece fresh ginger, peeled and smashed
Salt
Water
l tablespoon dry Sherry (optional)
Cornstarch (optional)

Peel and cut the potatoes into rounds or half-rounds.  Put a layer of sweet potatoes in a saucepan.  Sprinkle with sugar,  nutmeg, bits of butter and a sprinkling of salt.  Continue layering until all potatoes are used up.  Add water to cover.  Put in a stick of cinnamon and and ginger.  

Cook over a low heat, occasionally gently stirring, about 45 minutes.  When potatoes are cooked add a little sherry and thicken with a little cornstarch if desired



Gratin of Sweet Potatoes with a Bourbon Flambé
Serves 15-20

6 pounds large sweet potatoes
10 tablespoons unsalted butter, softened to room temperature
1/2 teaspoon salt
1/2 teaspoon ground black pepper
1/4 cup granulated brown sugar
1/2 cup bourbon, or to taste

Place unpeeled sweet potatoes in a large pot, cover with water.   Cook until almost tender but still firm.   Cool, peel and slice lengthwise in 1/4 inch round slices. 

Generously butter (about 1 tablespoon) a large baking dish (or two) and arrange the potato slices in an overlapping fashion.   Dot the remaining butter into the potatoes.  Season with the salt and pepper and sprinkle the sugar evenly. 

Heat oven to 325F and bake the sweet potatoes for 25-30 minutes.  Increase heat to 425F and bake for 15 minutes or until tender and lightly browned. 

Pour the bourbon into a small stainless steel saucepan.  Warm over low heat for about 20 seconds.  Carefully ignite the bourbon using a long match or lighter.   Quickly and carefully drizzle the flaming bourbon over the sweet potatoes.   The flame will die out on its' own, leaving a deep, rich flavor on the potatoes.