Thanksgiving Menus

When it comes to cooking and eating, nothing beats a 
Thanksgiving Menu
The lucky cooks (yes, I said lucky) of this important meal usually starts planning in October and always wish for a wonderfully scrumptious and memorable feast.
These Thanksgiving menus are designed to be taste-tempting and relatively easy.  Don't stop here. Mix and match these menu ideas with your favorite family or traditional recipes. 
At the same time, don't be afraid to break with tradition and cook dishes that your family and friends love year round such as pastas, soups and stews. 

Be sure to check out the Thanksgiving brunch menu below!

Please enjoy and Happy Thanksgiving!

Chef Deb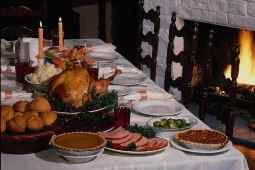 Give thanks no matter how the food turns out!
***Cut the work in half!  See ideas for cooking in advance and more holiday cooking tips
---
---


Thanksgiving Menus

Bring on the Heat Thanksgiving Menu
Warm spices and flavors create a sizzling and deliciously different menu
Cumin Scented Moroccan Kebabs with Minted Yogurt Dip
Spicy Shrimp Crostini Canape Recipe
Fresh Corn, Avocado and Tomato Salad

Chorizo, Cherry and Pecan Cornbread Stuffing

This Is It Thanksgiving Menu
 Simple, complete and easy to prepare
New Orleans Thanksgiving Menu

Give thanks with New Orleans style dishes. Life is made "Big Easy" by purchasing the smoked turkey...ready to heat and eat!  

Shrimp and Sausage Gumbo

Crab Stuffed Baby Peppers

Mardi Gras Salad

Smoked Turkey
or other Turkey Recipe

Cornbread and Sausage Stuffing with Pecans

Maple Glazed Sweet Potatoes with Bacon and Thyme

Green Beans with Mushrooms
Saute sliced mushrooms in butter. Add to hot green beans

Cranberry Orange Sauce
Add strips of orange peel to your favorite recipe. Remove before serving

Apple Pie with Ice Cream and Praline Sauce


Easy Elegance

Sweet and Spiced Pecans

Mini Crab Cakes with Mango Salsa
Herb-Rubbed Turkey with Roasted-Garlic Gravy
Scalloped Sweet Potatoes

Green Beans with Mustard and Mushrooms

Mixed Greens and Apple Salad
Place thin, tart apple slices over your favorite mixed greens, dressed with sweet and sour vinaigrette. Add a pinch of Kosher salt and top with finely chopped toasted walnuts if desired

Caramel Pecan Cheesecake

Thanksgiving for a Crowd
Serves 15-20 Guests

Sweet and Sassy Shrimp Kebabs
Tapenade

Herb-Rubbed Turkey with Roasted-Garlic Gravy

Pecan Cornbread Stuffing
Add 1½ cups chopped, oven-roasted pecans

Gratin of Sweet Potatoes with Bourbon

Buttered Peas

Waldorf Salad
Halve recipe to serve 25

Favorite Cherry Pie

Classic Thanksgiving

This menu is traditional with a few twists.  Add Baked Ham with Orange Sherry Sauce for extra servings and more leftovers!


Herb-Rubbed Turkey with Roasted-Garlic Gravy

Sausage, Roasted Pecan and Apple Stuffing

Mashed Sweet Potatoes with Streusel Topping
Green Beans with Basil Vinaigrette

Cranberry Orange Sauce

Apple Crisp with Fresh Whipped Cream

Orange Chocolate Pecan Pie

Mostly Easy Thanksgiving Menu

Curried Pumpkin and Apple Soup
Substitute 1 generous teaspoon curry powder for the cinnamon
Delicious with Cheddar cheese crackers or bread
Maple-Glazed Turkey with Pecan Gravy

Potatoes Au Gratin
or
Rich Garlic Mashed Potatoes
Glazed Carrots
Simple Tossed Salad

Favorite Cranberry Sauce
Rolls or Bread

Pear Pie with Spicy Crumb Topping


Thanksgiving Day Brunch
Perfect for after church or if you are not cooking the "main meal" but would like to otherwise celebrate with family and friends. Start with Champagne cocktails, fruit juices, coffee and tea


Made to Order Omelet Bar
Fillings: crabmeat, green onions, minced shallots, diced tomatoes, chopped mushrooms, white cheese
Sausages with Mustard and Tortillas
Also serve with sour cream

Asparagus Parmesan Rice Salad

Strawberry and Spinach Salad

Holiday Cookies, Fruit Dessert

Savory and Sweet

Italian Tomato Bruschetta
Or purchased appetizers in pastry

Pineapple Glazed Turkey Breast

Herb-Crusted Sirloin Tip Roast with Creamy Horseradish Sauce

Sweet Potato Soufflé

Oven Roasted Asparagus with Orange Vinaigrette

Pear and Blue Cheese Salad
Use a sweet and tangy vinaigrette here

Chocolate Toffee Trifle
Light Thanksgiving for One or Two

Easy Appetizers

Crab Salad Lettuce Wraps

Slow Roasted Lemon Chicken
or
Pineapple Glazed Turkey Breast
Serve with dinner rolls and butter

Pea Salad with Bacon and Parmesan Cheese

Pears and Chocolate Sauce