Holiday Cooking



Holiday cooking and entertaining can be quite a production number; finding the fancy linen and serving pieces that have been hiding all year; dusting off the "good" china and silverware and setting the table ten times over until you get it just right. I say....
Stop the MADNESS!

Today everyone is busy and stressed for time. Don't let holiday cooking be an uneasy, forced event. Holiday menus don't have to be complicated and time-consuming to be spectacular and delicious.
Design simple menus that are fun and flexible. For example, see the Easy Elegance menu. Here you can substitute peas for the green beans (easier to prepare). Purchase candied pecans and mini crab cakes, or use salted peanuts and pre-cooked shrimp.



Advance Tactics
Some consider holiday feasts the most important meals of the year. They are certainly the most fussed over. The good news is that there are many dishes that can be made several days ahead.  And with even earlier planning, there are many dishes that can be made weeks ahead of time and stored in the freezer. Can you taste the freedom? 
Prepare and freeze those dishes that are the most time consuming to make such as soups, beef or pork roasts or stews, stuffing, breads, rolls and unfrosted cakes and pies. 
If planning ahead is not your thing (really?) you can prepare components of the dish instead.  For instance, chop all the seasoning vegetables such as onions, celery, peppers and garlic, 1-2 days before you cook the dishes.  Cook the sausage for stuffing and make cranberry sauce and vinaigrettes.  You could even make the gravy in advance.


Turkey Talk
This bird is generally the favored main course for most holiday celebrations. Through the years I have tried many flavoring combinations on this hefty fellow, but realize that butter, herbs and lemon are really all you need and is usually what your guests will prefer. 
When choosing the holiday bird, first decide if you want enough for seconds and next-day leftovers.

Identify the number of hearty eaters who will be at your table. For both situations it is wise to increase the amount of turkey by 25-50%

When purchasing your turkey and other cuts of meat, consider the size and capabilities of your oven. Also ask yourself, do you feel comfortable handling a turkey over 20 pounds? It is heavy!

Consider cooking more then one bird or other meats to equal the total amount you will need

Also remember, large cuts of meat require big roasting pans, lots of counter/table space and room in the fridge.

How Much Turkey to Purchase

Whole turkey - Allow about 1 pound of uncooked turkey per person. One pound of uncooked turkey will yield a little over 1/2 pound of cooked meat, minus the skin, bones and other inedible portions.

Turkey Parts - A whole turkey breast has more edible portions and you will need approximately 15-25 pounds of whole breast to feed 25-50 people. One whole turkey breast can weigh between 4-12 pounds.

For turkey legs and wings, figure that each guest will eat at least 2 pieces, which is about 20-30 pounds of turkey parts. You could do a combination
of whole turkey and turkey parts. The parts are much easier to cook and serve.

Quantity charts for purchasing holiday meats, sides and dessert
Turkey Stock for Gravy

To make the turkey stock for gravy, you will need about 6 celery stalks, and 1/2 pound each of carrots and onions for each 1 whole turkey you are 

preparing. You will also need to roast an additional 5 pounds of turkey drumsticks, wingtips, or necks to make 1/2 to 1 gallon of stock. Otherwise, you will need 1 gallon of purchased, low-sodium or unsalted chicken stock.

Quantity Recipes for Gravy and Sauces


Holiday Ham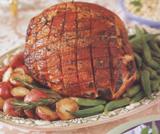 If you are serving both turkey and ham or some other meat, such as brisket or lamb, most people will eat both, and likely more turkey. With this in mind you may want to reduce the amount of turkey you purchase.


Other Meats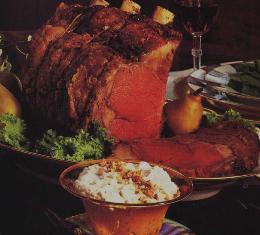 Some members of my family think it is taboo to serve any meat other than turkey for a holiday meal. But not everyone of your guests will like turkey or be able to eat it.
I love to serve other proteins because it not only lends variety to the meal but will hopefully give you more to serve guests and more leftovers for you!
Here are a few suggestions:
Herb-Crusted Sirloin Tip Roast with Creamy Horseradish Sauce
Pepper-Crusted Pork Tenderloin with Sweet Apple Chutney


Side Dishes

If you want to stay within a tight budget, here is where you can bulk up the meal. Holiday side dishes are generally starchy or creamy and filling. We like to serve stuffing and potatoes and peas. This fills and satisfies your guests but it can also save you money as you can buy less high-priced meats.
On the other hand (you decide), you can simplify your life by offering fewer side choices. You also don't need to prepare, for example, 12 servings of every side dish (if you are serving 12). Not everyone will eat a full serving of every dish. Potatoes and stuffing are always the main favorites.


Appetizers
I am an appetizer fanatic and love to prepare at least four canapés for my holiday celebrations. I like to make sure my appetizers are intensely flavored and usually with an international kick. These small bites are just enough to whet the appetite for otherwise mild holiday foods.
I like to have the appetizers and finger foods set up and ready when guests arrive. That way they can begin eating as soon as they walk in the door (this is how I would like to be treated).
Appetizers can be a bit time consuming. Power though with these easy, flavorful appetizer recipes.