Large Quantity Recipes for Pasta and Potatoes
Baked, hot and savory pasta and potato dishes are seasonal and everyday favorites. Pasta and potato side dishes are foolproof choices for serving large crowds of all ages.

These recipes plus variations will serve 50 or more quests.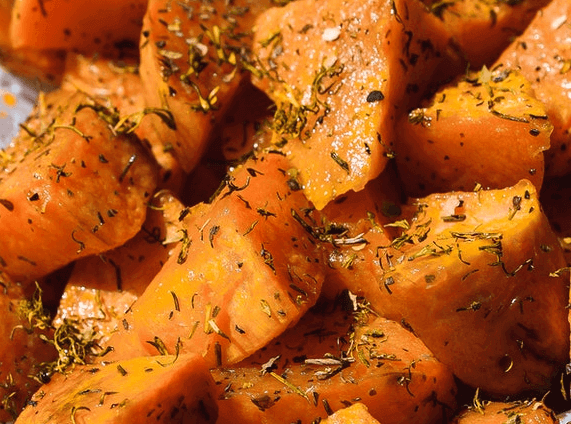 Roasted Sweet Potatoes with Thyme
The pans recommended for these recipes refer to large disposable aluminum pans. Look for these pans in your local discount or party stores for the best buys. 
Depending on your oven size, you may need to bake these quantity dishes at different times.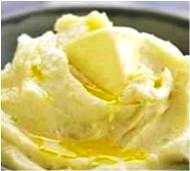 Buttery Mashed Potaotes
Place pans of pasta or potatoes on appropriately sized baking sheets to make it easier to get the pans in and out of the oven

The food quantities chart gives you valuable information on how much food to
These Questions and Answers will provide "real life" help from people like you who are cooking or large groups of people 
---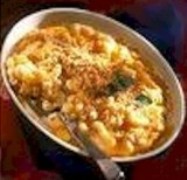 Toasty Macaroni and Cheese


Quantity Recipes for Pasta and Potatoes

Macaroni and Cheese for 50
This large quantity pasta recipe makes approximately 3 13" x 9" x 2" pans or 2 12" x 20" x 4" pans. Serving size is about 1 cup. This recipe can be cut in half to serve 25
3 1/2 pounds elbow macaroni or favorite short pasta (about 14 cups uncooked)
3 sticks butter or margarine
8 ounces all purpose flour
2 tablespoons salt
1 tablespoon dry mustard
1 medium onion, grated or finely minced
1 gallon whole milk
4 pounds sharp Cheddar cheese shredded. A combination of Swiss, Fontina, mozzarella, Colby or Monterey Jack may also be used
OPTIONAL TOPPING
1 pound bread crumbs
6 ounces melted butter or margarine
Preheat oven to 350º F. In large stock pot, cook macaroni according to package directions. Drain. Melt butter in the same stock pot or in a large saucepan. Stir in flour, salt, dry mustard and onion. Cook, stirring frequently, 5-10 minutes.
Add milk gradually, stirring constantly with a wire whisk. Cook until thickened and onions are softened. Add cheese to sauce and stir until cheese melts.
Pour over pasta and mix thoroughly. Pour into pans. If using topping, add bread crumbs into melted butter and mix well. Divide evenly and sprinkle over macaroni and cheese. Bake about 35 minutes or until hot and bubbling
Variations:
Bacon or Ham: Cook 2 pounds of bacon until crisp, cool, crumble. Mix bacon into cooling pasta. Reduce salt if necessary
Ham: Add 3 pounds chopped ham. Mix into pasta before adding cheese sauce. Reduce salt if necessary
Seasoned: Sauté 5 or more finely minced garlic cloves in 3-4 tablespoons of the butter



---

This baked ziti is much easier then it looks. Use 3 13"x 9"x 2" baking pans or 2 12" x 20" x 4" pans. Oil pans or use cooking spray. Recipe can be cut in half to serve 25
Baked Ziti with Four Cheeses
Makes 50, 1-cup servings

6 28-ounce canned whole tomatoes, or equivalent to 5 1/2 quarts
32 ounces tomato puree
1/2 cup finely diced onion
4 garlic cloves, finely minced
1 tablespoon dried basil, crumbled
3 teaspoons dried oregano, crumbled
1/2 cup fresh minced parsley
1 teaspoon black pepper
1 1/2 tablespoons salt, or to taste
12 cups uncooked ziti
6 cups cottage cheese
1 1/2 pounds shredded mozzarella
1 1/2 pounds shredded Swiss cheese
1/2 cup fresh chopped parsley
1 pound shredded provolone cheese
In a pot large enough to hold 3 gallons of salted water, cook ziti according to package directions. Add a tablespoon of vegetable oil to water. Drain well.
In a large stock pot or saucepan, combine whole tomatoes, tomato puree, onion, garlic, basil oregano, parsley and salt and pepper. Simmer for about 15 minutes or until heated through.
NOTE: Divide ingredients between the 2 or 3 prepared pans with each pan having two layers each as follows: sauce, cooked ziti, cottage cheese, mozzarella and Swiss. Repeat for second layer. Sauce on top, parsley, then provolone.
Cover pans with aluminum foil. Bake at 350º F for 25-30 minutes or until hot, bubbly and cheese is melted


Makes 50 3/4 cup servings of sauce + 1/2 cup pasta
Spaghetti and Meat Sauce
8 pounds ground beef or ground turkey or half and half
5 quarts tomato puree or canned diced tomatoes
1 quart water
1¾ quarts tomato sauce
1 pound sweet onions, chopped
4 cloves garlic, minced
3 bay leaves
2 teaspoons dried thyme
1 tablespoon dried oregano
1 tablespoon dried basil
2 tablespoons sugar
2 tablespoons Worcestershire sauce
1 teaspoon cayenne pepper, or to taste
1½ tablespoons salt, or to taste
5 pounds dry spaghetti or other pasta, cooked according to package directions
Brown beef in a large saucepan or Dutch oven. Drain off excess fat. Add remaining ingredients to cooked beef. Cook slowly, stirring frequently, about 45 minutes or until thickened. Remove bay leaves. Serve over pasta. Sprinkle with grated Parmesan cheese if desired
Variations:
Spaghetti and Meatballs: Omit ground meat from the above recipe. Follow the recipe on this page for Italian Meatballs and add the cooked meatballs to the sauce at the beginning of cooking time



Simple Lasagna for 75
This lasagna recipe makes 75 servings, depending on how large you cut each serving. Use 3 13"x 9"x 2" baking pans or 2 12" x 20" x 4" pans. Oil pans or use cooking spray. Recipe can be cut in half to serve about 35
6 lbs. ground beef, use a mixture of lean sirloin and chuck for best flavor
6 (6 oz.) cans tomato sauce
6 (6 oz.) cans tomato paste

12 tsp. salt, more or less to taste
9 tsp. oregano
6 tsp. onion salt
48 oz. small curd cottage cheese
12 cloves garlic, finely chopped
6 c. chopped onion
4 1/2 c. Parmesan cheese
3 boxes lasagna noodles
6 eggs
6 lbs shredded Mozzarella cheese
Preheat oven to 350 degrees F. Mix cottage cheese with eggs until well blended. Brown ground with onion and garlic (use butter for extra flavor or a non-stick skillet to reduce fat). Drain off excess fat. Add all other seasonings. Simmer 30 minutes.
Cook lasagna noodles. Layer the ingredients in the following order; first, meat sauce; second, noodles; third, cottage cheese mixed with eggs; fourth, Parmesan cheese and fifth, Mozzarella cheese.
Repeat and end with either Mozzarella cheese or meat sauce. Bake uncovered, 35-45 minutes until hot and bubbly. Let set 15 minutes before cutting.



Makes 50 - 3/4 cup servings. This recipe can be cut in half to serve 25
Mashed Potatoes for Fifty
16 pounds Russet or Yukon Gold potatoes
2-2½ quarts milk or half-half, heated
2 sticks butter, melted
3 tablespoons salt
Peel and eye the potatoes. Cut into even pieces. For large quantity cooking, boil potatoes in a large kettle or stockpot. Do not overload the pot. Use two pots or cook in batches, 25-35 minutes or until the potatoes can be easily pierced with a fork but do not fall apart.
Drain well in a colander and place hot potatoes in a mixing bowl. Mash by hand or beat with an electric mixer briefly. Add the hot milk, melted butter and salt. Continue mixing until desired texture is reached.
Helpful Hints
If you do not own a commercial sized mixer, prepare potatoes in 2-3 batches.

Potatoes must be mashed or whipped while they are hot or they will not hold together.
Potatoes can be made 1 week in advance and frozen in tightly sealed containers. Defrost in the refrigerator, 5-6 hours. Transfer to baking dishes and reheat in a low oven or in the microwave. Stir often.
They can also be made 1-2 days in advance. Store in tightly sealed containers in the refrigerator. Reheat as above

Makes 50 1/2 cup servings. Use 3 13"x 9"x 2" baking pans or 2 12" x 20" x 4" pans. Oil pans or use cooking spray. Recipe can be cut in half to serve 25
Au Gratin Potatoes
10 pounds potatoes, use Russet or Yukon Gold for best texture and taste
1 tablespoon salt
Cheesy White Sauce
3 sticks butter
3/4 cup flour
1 tablespoon salt
3 quarts milk
1½ pounds Cheddar cheese, shredded
OPTIONAL TOPPING
1½ cups dried bread crumbs
2 sticks butter, melted
Combine crumbs and butter.
Peel and cut potatoes into an even dice . Place potatoes in at least a 25-quart stock pot (or cook in batches). Cover with cold water, add salt and boil until just tender, 20-25 minutes (potatoes will finish cooking in the oven). Evenly divide potatoes between prepared pans. Sprinkle with olive oil if desired.
Preheat oven to 350ºF. Melt butter in 3-5 quart saucepan (recommend cook in batches). Add flour and salt and stir until smooth, 5-10 minutes.
Gradually add milk while stirring. Cook until slightly thickened. Add cheese to mixture and stir until melted. Pour over potatoes.
Gently distribute sauce in-between potatoes. Sprinkle bread crumb topping over potatoes, if using. Bake at 350ºF, 25-30 minutes or until heated through, bubbling and browned in spots

Helpful Hints
If you have never made white sauce it may be safer to make this recipe in 2-3 batches. Divide ingredients in half or into thirds.

White sauce can be prepared one day in advance and refrigerated in a tightly sealed container. Reheat in the microwave at a low power level. Stir often.



Baked Potatoes for a Crowd

50 large russet baking potatoes
2 c. extra virgin olive oil
3 Tbsp. salt
4 tsp. white pepper
Toppings
4 - 5 lb. sour cream
1 lb. bacon bits
2 lb. butter
4-5 bunches of green onions, finely chopped
2 lb. grated sharp cheddar cheese
If you are having a baked potato bar add more toppings accordingly.
Scrub the potatoes with a wire brush to remove all dirt and rough patches of the skin. Shortly before your bake time, use a fork to poke holes into the potatoes.

In a shallow bowl whisk oil and seasonings. Roll the potatoes lightly in oil. Preheat oven to 400F, loosely arrange the potatoes on a baking sheet (insure that none are touching) and bake for 30 minutes. Remove the potatoes from the oven and use tongs to turn the potatoes over, return to oven and continue to bake for an additional 30 minutes. Check the potatoes for doneness with a toothpick. The potatoes should be tender through to the center.
Helpful Hints
Rolling the potatoes in oil and seasonings is optional but assures a crisp skin and adds flavor to the spuds.
To keep the potatoes hot (I have personally never tried this but it seems like it might work); while your potatoes are baking, fill a cooler with hot water, when you are about to take your potatoes out, empty the water and dry out the cooler. Load the potatoes into the pre heated cooler. Your potatoes will stay hot for a long time.



Makes 50 1/2 cup servings. Makes enough to fill approximately 3 13"x 9"x 2" baking pans or 2 12" x 20" x 4" pans. Oil pans or use cooking spray. Recipe can be cut in half to serve 25.
Candied Sweet Potatoes For Fifty
16 pounds sweet potatoes
1 pound 12 ounces light brown sugar
2 cups water
2 to 2½ sticks butter, softened
1/2 teaspoon salt
Scrub potatoes. Boil or bake in skins until tender, about 25-40 minutes. When potatoes are cool enough to handle, peel and cut into halves lengthwise. Arrange in prepared pans.
***If boiling potatoes, do not crowd in saucepan or stockpot, cook in batches if necessary.
Mix sugar, water, butter and salt in a large saucepan. Heat to boiling point, stirring frequently. Pour over potatoes. Bake at 400ºF for 20-35 minutes or until heated through and bubbling.
Variations:
Sweet Potatoes with Apples: Reduce potatoes to 9 pounds. Peel and slice 5 pounds of tart apples, such as Granny Smith. Place alternate layers of sweet potatoes and apples in the baking pans and pour the hot syrup mixture over all. Bake for 35-45 minutes.
Orange-Accented Sweet Potatoes: Add 1/4 cup grated orange peel the the syrup. Cut 4-5 oranges into thin slices and place on top of potatoes
before baking.
Mashed Sweet Potatoes: Cook and mash sweet potatoes following procedure for Mashed Potatoes, except use 1/2 stick melted butter, 1¼ quarts
hot milk, 1/2 teaspoon nutmeg and 1/2 teaspoon cinnamon. Add salt to taste, starting with 1 teaspoon.

Helpful Hints
For all sweet potato dishes, enhance flavor by adding spices such as allspice, nutmeg, cinnamon, cardamom and cloves, singly or in combination, or use pumpkin pie spice. Start with 1/2 teaspoon and add more according to taste.

Use approximately three 6-7 pound cans (No. 10 sized can) of sweet potatoes to substitute for fresh potatoes. Some large supermarkets sell this sized can, especially during the holidays. Use the serving size guidelines on the can.


Go to top of Quantity Recipes for Pasta and Potatoes