Valentine's Dessert Recipes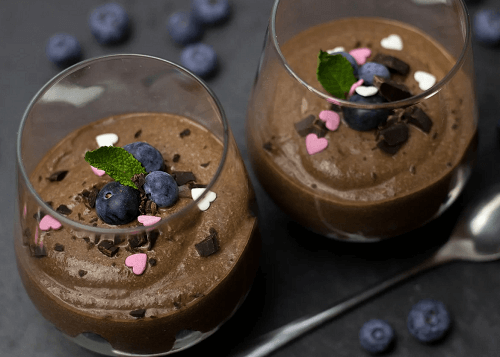 Easy Chocolate Mousse with Berries and Candy Hearts
Is a Valentine's Day dessert special?  Yah! Any Valentine's Day dessert is extra special decadent sexiness!  Think of warm and gooey, rich and dreamy, soft and ooohy......just like love!

Valentine's Day is the special time to show "the love" to all your special someones. 

Whether you're having a couples dinner party, a romantic interlude for two or treating the kids to something special...these easy Valentine's Day dessert recipes are the perfect sweet treats. 
Make them extra special by serving on your best dessert plates with red napkins. 


---
The type of flavors to think of when planning Valentine's desserts are chocolate (duh!),  strawberry,  orange, cherry, vanilla, mint, peppermint and lavender.   

The ingredients  to work with are chocolate pastry cream, sweetened whipped cream, tender pastry and succulent fruit

---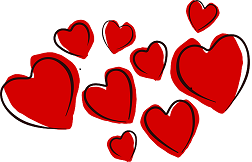 Valentines Dessert Recipes

Get the Ball Rolling
Makes about 30 depending on size

This sexy Valentine's dessert recipe combines two of everyone's favorites, chocolate and wine, to create a tasty piece of candy

6 ounces semisweet chocolate chips
2 1/2 cups finely crushed vanilla wafer
1/3 cup fruity red wine, such as a Port or Beaujolais
1/4 cup honey
2 cups ground walnuts
Granulated sugar

In 3-quart saucepan over low heat, melt chocolate chips and honey , stirring constantly.  Remove from heat. Stir in vanilla wafers, walnuts and wine. Shape into 1-inch balls; roll in sugar.

Store chocolates in tightly covered container.  Preferably, let stand several days to blend flavors. Flavor improves with age up to 4 weeks.
Strawberry Chocolate Cheese Parfait
Makes 2 servings

Kids will love this one too!

1 cup strawberries, sliced
1 tablespoon strawberry, cherry or orange liqueur
1/2 cup part-skim ricotta cheese
1-1/2 teaspoon granulated sugar
1-1/2 teaspoon whipping cream
1/2 ounce dark chocolate chips

In small mixing bowl combine strawberries and liqueur; set aside.  In a separate small mixing bowl, combine cheese, sugar, and cream.  Fold in chocolate chips.

Spoon half of the cheese mixture into parfait glasses or individual dessert dishes.  Top each with the remaining mixture. Serve immediately or cover and refrigerate until chilled.

Easy Pears and Chocolate Sauce
Serves 8, recipe can be cut in half


To make this Valentine's dessert recipe even easier, use warmed chocolate ice cream topping instead of making your own

Pears
2 2/3 cups water
1 teaspoon vanilla
2 cups sugar
8 ripe, small whole pears

Chocolate Sauce
2 squares of unsweetened chocolate
1/2 teaspoon vanilla
1 cup corn syrup
1 tablespoon butter

Combine water, sugar, and vanilla in a large saucepan and boil for several minutes. Then add the pears, and simmer, covered, for 10-25 minutes (depending on firmness of pears) until tender. Drain and cool.

Melt chocolate. Add corn syrup. Remove from heat. Add vanilla and butter. Stir well.

Arrange pears upright on serving dish. Place scoop of vanilla ice cream on plate. Pour the chocolate sauce over the pears and serve immediately. Serve with remaining sauce and cookies or sprinkled with chopped toasted almonds or walnuts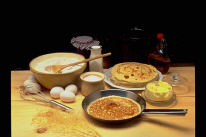 Apple Crepes
Special Apple Crepes
Serves 4
Filling
2 tablespoons margarine
1/3 cup sugar
2 teaspoons flour
3/4 teaspoon cinnamon
Dash allspice
Dash salt
4 cups apples, peeled and thinly sliced
1/2 cup water

Crepes 
1 cup flour
1-1/2 cups milk
2 eggs
1 tablespoon oil
1/4 teaspoon salt
Powdered Sugar
Vanilla Ice Cream
Prepare Filling
In a large pan, combine margarine, sugar, flour, cinnamon, allspice, and
salt over medium heat. Add apples and water. Cook until sauce thickens and
apples are tender.
Prepare Crepes
In bowl combine flour, milk, eggs, oil, and salt; beat with a rotary beater until  blended. Heat a lightly greased 6-inch skillet; remove from heat. Spoon in 2-4 tablespoons batter; lift and tilt skillet to spread batter evenly. 

Return to heat; brown on one side only. Invert pan to remove crepe.  Repeat with remaining batter.
Assemble
Place a little apple mixture on a crepe, then roll up. Repeat with remaining crepes.  Dust with powdered sugar,  top with a small amount of apple  filling, and serve with vanilla ice cream.



Super Easy Chocolate Mousse
Serves 6
1 cup semisweet chocolate morsels (6 ounces)
3 cups heavy cream, divided
2 tablespoons sugar
Whipped cream and chocolate shavings for garnish

Melt the chocolate morsels in the top of a double boiler. Whisk in 1 cup heavy cream until well blended. Remove from the heat. Let sit for 20 to 30 minutes until the mixture has reached room temperature.

In a large, chilled mixing bowl, combine the remaining 2 cups cream and the sugar. Use a handheld or electric mixer to whip them together until stiff peaks form.

Gently fold half of the melted chocolate mixture into the whipped cream. Add the second half and fold in gently.  Chill if desired

Spoon mousse into individual dessert cups.  Add a dollop of whipped cream and sprinkle with grated white or dark chocolate


Easy Rum Pots De Creme
Serves 2-4

1 cup milk
1 egg
1 teaspoon rum
6 ounce semi-sweet chocolate chips
2 teaspoons sugar
Pinch salt

Heat milk to boiling point. Place all other ingredients in an electric blender, and carefully add hot milk. Blend at low speed one minute. Stir with a rubber spatula to remove bubbles and assure chocolate is melted.  Pour into small dessert cups and chill several hours before serving.



Easy Tiramisu
Serves 10-12

5 ozs. chocolate liqueur, divided
20 ladyfingers
1 pound marscarpone cheese
4 ozs. dark chocolate, grated
1/2 cup espresso or stong coffee
2 eggs, separated
1/3 cup confectioner's sugar
Cocoa powder for topping

Mix 3 oz of the liqueur with espresso. Dip ladyfingers into this mixture and place in a single layer in a shallow 13"x9" baking dish.  Be careful not to over saturate the ladyfingers.

Beat together marscarpone cheese, egg yolks, sugar and the  remaining 2 ozs. liqueur until smooth.  In a separate bowl, whip egg whites until stiff.  Fold into cheese mixture.

Pour cheese mixture over ladyfingers; sprinkle with cocoa powder and refrigerate overnight.
Brandied Strawberry Yogurt
Serves 4

1 Pint Fresh Strawberries, cleaned and halved
3 Tablespoon Sugar
3 Egg yolks
1 Teaspoon Vanilla
1 Tablespoon Brandy
1/3 Cup Sugar
1 Dash Nutmeg
2 Cup Plain Yogurt
2 Tablespoon Sliced Almonds
1/4 Cup Chocolate shavings

Combine strawberries and sugar. Let stand 15 minutes. Beat together yolks, 1/3 cup sugar, vanilla, nutmeg, and brandy until smooth. Fold in yogurt.

Spoon strawberries into 4 dessert dishes. Cover with topping and garnish with almonds and chocolate.



Quick and Creamy Applesauce
Serves 2

1 Cup Applesauce; unsweetened
1 Cup nonfat yogurt.  Use plain, vanilla or apple flavors
1 Teaspoon Vanilla extract
1/2 Teaspoon Apple pie spice,  more or less to taste
3 Teaspoons Sugar, or to taste

Combine all ingredients in a bowl. Mix thoroughly. Spoon into martini glasses or small ramekins. Chill. Serve with thin apple slices, gingersnaps, chocolate or vanilla wafers 
Top of Valentine's Dessert Recipes