Grilled Vegetables

Grilled vegetables are a great way to prepare summer vegetables at the peak of their flavor.  Try as a side dish, sandwich filling or vegetarian main dish spooned over couscous or brown rice.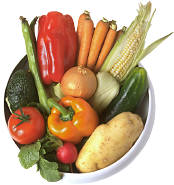 While grilled vegetables are best hot, you may prepare one day in advance.  Wrap in foil and reheat on the grill or in a low oven or microwave briefly in a microwave safe dish.   Add more olive oil if veggies become too dry
Try these grilled vegetable recipes on a brunch or luncheon buffet.  Also good as a side dish for a sit-down dinner party 
All of these recipes easily double or triple to serve a larger crowd
Grilled Corn with Herbs and Cheese 
Serves 4
2 teaspoons coarse sea salt
1 tablespoon chopped fresh parsley or basil
2/3 cup shredded Swiss or Parmesan cheese
7 tablespoons softened butter
1 small garlic clove, minced
Red pepper flakes or ground black pepper to taste (optional)
4 ears corn, husked and cleaned

Blend salt, herbs, cheese, butter and garlic in a container.  Add pepper if using. Heat a grill and grill corn, turning occasionally until tender and charred in spots, about 8 minutes.  Spread butter mixture on corn and top with cheese. 


Spicy Grilled Eggplant with Mint
Serves 4
For a savory spicy dip, cut and mash the grilled eggplant and enjoy with crispy flatbread
4 small Japanese eggplants, halved lengthwise
1/4 cup extra virgin  olive oil, plus more for drizzling
3 tablespoons chopped fresh mint, plus more for garnish
4 teaspoons chili-garlic paste or other hot sauce
1 tablespoon lemon juice
Sea salt and black pepper to taste
Lemon wedges
Sore the cut sides of the eggplants.  Whisk together the oil, mint, chili paste and lemon juice and salt and pepper to taste. Lay the eggplants on a plate and brush the cut side the mixture.  Let sit at room temperature up to 1 hour for flavors to blend. 
Light a grill.  Lay the eggplant cut side down on the grill and cook  until tender and well-browned on the cut side, about 10 minutes. 
Drizzle with olive oil and sprinkle with mint and additional salt if needed.  Serve with lemon wedges warm or at room temperature



Crispy Grilled Potatoes 
Serves 4
The potatoes are microwaved until almost cooked, then grilled to perfection.  This is also a great method  to make hash browns or any pan-seared potato dish
2 large Idaho potatoes
1/2 cup Dijon mustard
2 tablespoons extra virgin olive oil
1 tablespoon chopped fresh thyme or 1 teaspoon dried Italian blend
Sea salt and black pepper to taste
Light a grill.   Pierce the potatoes with a fork and microwave on high for 5-6 minutes.  You want to soften the potato but not cook all the way through.  
In a large bowl, whisk together the mustard, oil, herbs  and salt and pepper to taste.  Cut the cooled potatoes lengthwise into 4 wedges each.  Toss the wedges in the mustard mixture until well coated.
Lay the wedges on the grill over medium heat.  Cover the grill and cook until potatoes are tender and crisp on the outside, about 12 minutes. 

Lemon-Garlic Grilled Vegetables
Serves 4-6
Marinade
 3 tablespoons olive oil
 3 tablespoons fresh lemon juice
 2-4 garlic cloves, crushed
 1 tablespoon fresh thyme leaves or 1 teaspoon dried thyme
 1 tablespoon chopped fresh rosemary or 1 teaspoon dried rosemary
 1 teaspoon salt (optional)
 ½ teaspoon ground black pepper
 ¼ teaspoon cayenne pepper
Use your favorite combinations of veggies.  Here are some suggestions

 8 carrots, with tops trimmed
 2 small zucchini, halved lengthwise
 2 small yellow crookneck squash, halved lengthwise
 1 large red onion, thickly sliced
 1 red bell pepper, quartered, seeded
 2 ears corn, husks and silk removed, cut into 2-inch rounds
 1 bunch asparagus, woody ends trimmed
In medium-size bowl, combine marinade ingredients. Place vegetables in baking dish; brush all sides with marinade. Refrigerate 2 hours. Prepare grill (medium-high heat).
Grill veggies about 8 minutes, turning occasionally, until vegetables are tender-crisp and charred in spots. Transfer them to a platter and serve warm or at room temperature.