Birthday Party Menus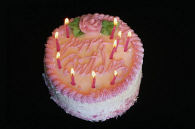 Birthday party menus should be special and tailored to please the guest of honor. Serve their favorite foods - all with your personal touch.
A birthday cake is the traditional dessert offering, but tiramisu and crème brulee are luscious and surprising alternatives
For a simple appetizer's only menu, include finger sandwiches, easy appetizers or canapés

Explore our brunch, lunch and dinner menus for more birthday party menu ideas


Birthday Party Brunch Menu
Preparing a whole beef roast is an easy buffet entree. Serve with breads, crackers and a variety of condiments and sauces
Tea, Espresso, Chilled Juices

Fruit in Wine 

Omelets with Zucchini, Garlic, Basil and Feta

Rosemary-Garlic Roast Beef Tri-Tip
Bread, Rolls and Crackers

Chutney, Cranberry Sauce, Baby Dill Pickles, Thin Cucumber Slices, Pickled Onions, Pickled Vegetables

Green Bean and Olive Pasta Salad
Salad Greens and Tomatoes

Cake or Desserts of Choice
Appetizer Birthday Party
For this birthday cocktail party serve Mojitos, Daiquiris or rum based mixed drinks.
Nuts and Olives

Ginger Orange Chicken on Curried Crostini 
        Tender-Crisp Vegetable Crudités and Creamy Garlic Dip

Crab Salad Lettuce Wraps

Cumin Scented Moroccan Kebabs with Minted Yogurt Dip

Sweet Onion and Arugula Finger Sandwiches

Birthday Sheet Cake or Easy Cake and Ice Cream
 

Fun and Tasty Birthday Menu
Serve these tacos with your favorite fixings. Set-up a fajita or taco bar for extra interest and fun
Spiced Nuts or Popcorn

Salsa and chips, pickled hot peppers, olives and relishes

Beer-Glazed Chicken Tacos

Spicy Vegetarian Chili over Rice

Orange and Avocado Fruit Salad

Bourbon Chocolate Cake


Seafood Birthday Party Menu
An unexpected combination of flavors make this birthday party menu flavor filled. Serve with a fruity cocktail. Learn how to cook lobster tails.

Cucumber Cream Canapés

Olives, Pickled Onions, Other Relishes

Barbecued Tandoori Shrimp Salad
Lemon-Grilled Lobster Tails

Zucchini and Red Pepper Pilaf

Assorted Dinner Rolls and Butter

Spiced Coconut Cake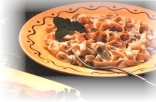 Quick Birthday Menu Idea
This almost vegetarian menu will satisfy any birthday girl or boy. Serve for lunch or dinner birthday celebrations.
Stuffed Mushrooms with Cheese and Bacon

Olives, Nuts and Other Relishes

Puttanesca Sauce with Rigatoni
Assorted Dinner Rolls with Butter

Roasted Beet Salad with Walnuts and Creamy Horseradish Dressing

Rum Orange Cake